San Francisco is synonymous with the music that grew out of the 1960's counter culture. Through Jan. 28, 2024, The Contemporary Jewish Museum presents "RetroBlakesberg: The Music Never Stopped," a solo exhibition of Jay Blakesberg' s most enduring photos from the rock scene he documented throughout his career. 
SEEING MUSIC AS CULTURAL MEMORY
Like listening to music, a photograph can release a flood of memories from the time and place it was taken. Music maps out our personal histories and acts as signposts, measuring our moments as they extend into years.
The exhibition brings together more than 200 photographs and ephemera from 1978 to 2008, when Blakesberg shot exclusively on film.
The photographs in the exhibition are printed on archival metal sheets manufactured by ChromaLuxe and produced by Magna Chrome and include images of the Grateful Dead, Joni Mitchell, Tracy Chapman, Neil Young, Soundgarden, Carlos Santana, and many other music icons.
Quianjin Montoya, the CJM associate curator of contemporary art, said of Blakesberg, "He documented San Francisco counter-culture movements following the Summer of Love, all the way through the punk and grunge scenes that emerged in the 1980s and 1990s."
DOCUMENTING A LIFE IN MUSIC
The exhibition begins with Blakesberg's photography from his formative years documenting live performances and exploring portraiture.
A love of live music brought the artist to photojournalism, and he took pictures of his favorite bands while still a teenager. During this time he had his first image published, and in the process he found his calling.
Blakesberg is known for his portraits of musicians and his ability to capture the atmosphere of a live concert. The smiling faces of fans, a frenzied guitar solo, and a singer caught mid-jump — the exuberance of performance is an energy coming from the artist, a kind of defiance that comes with true individuality.
Blakesberg has shot for every major music magazine in the last 30 years, has had his photos featured on hundreds of CDs, and has published more than a dozen coffee table books.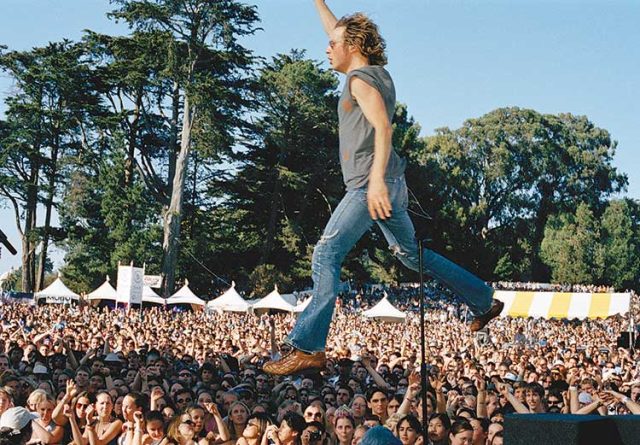 DOCUMENTARIAN OF THE BAY AREA MUSIC SCENE
"RetroBlakesberg: The Music Never Stopped" honors the Bay Area's most emblematic time. Live music creates a sacred time and space for people to come together, and no band epitomized that ritual like The Grateful Dead.
Blakesberg followed the Grateful Dead West, and ended up becoming known as a visual anthropologist of the modern-day hippie tribe that was born in San Francisco. He became known as an "official" photographer of the Dead, as evidenced by his photo books and stories that accompany them.
He started taking pictures of the band in the late seventies with his Pentax camera, and continued through 2015, when he was the photographer of the Grateful Dead's 50th anniversary "Fare Thee Well" concerts. Pictures taken on the road led to intimate photos at home and in the studio. Between the Dark and Light became a Grateful Dead Slideshow and Storytelling experience lecture tour and a subsequent coffee table book of photos.
Blakesberg has also published books showcasing his pictures of Primus and The Flaming Lips.
"I grew up as a Jewish kid in New Jersey in the wake of the Summer of Love, reading articles and books about the music and culture that came out of the Bay Area," said Blakesberg. "My move out West changed my life and defined my career. San Francisco, where I still live, has been the backdrop of much of my work — photographing B.B. King at the Paramount Theater in Oakland to Dolly Parton in Golden Gate Park, the Grateful Dead at the Warfield, to name a few. It's deeply meaningful to share this exhibition in my hometown of more than 35 years."
"RetroBlakesberg: The Music Never Stopped:" Thu.–Sun., 11 a.m.–5 p.m., Aug. 31–Jan. 28, 2024, $16, Contemporary Jewish Museum, 736 Mission St., 415-655-7800, thecjm.org
Sharon Anderson is an artist and writer in Southern California. She can be reached at
mindtheimage.com.