Celebrated artist Takashi Murakami will have his first-ever solo exhibition in the Bay Area. "Takashi Murakami: Unfamiliar People — Swelling of Monsterized Human Ego" will run through Feb. 12 at the Asian Art Museum.
Monstrosities and digital age anxieties
Born and raised in Tokyo, Murakami was influenced by manga and anime culture. Monsters took hold of his psyche at a young age. At the age of 8, he first saw Goya's terrifying 19th-century Saturn Devouring His Son in which a wide-eyed, open-mouthed specter consumes a bloodied, dismembered figure. "The monsters that Goya painted have traumatized me for life. At the same time, I have been fascinated by the specters in Shigeru Mizuki's manga and the grotesqueness of the monsters in Ultraman, the TV sci-fi series. When I submerge myself in my own primordial feeling and draw spontaneously, what springs forth effortlessly are images of monsters." 
The artist developed a painting approach to surfaces he called "superflat," a theory of not only the flat use of color found in his work, but also a flattening of high and low culture, a flattening of class differences, and a flattening of time.
Murakami's playful figures — which seem simultaneously cute and menacing — live in a vibrant candy-colored world. In Unfamiliar People — Swelling of Monsterized Human Ego, these distorted figures mimic a darker side of human identity. The swelling of egos refers to individuals who promote themselves relentlessly on social media, and live in front of screens in the place of real human interaction. The trappings of virtual realms, consumerism, and alienation in the 21st century are the elemental causes of "monsterization." Murakami explains, "After the pandemic started, some people who used to lead normal lives started to hold and loudly voice strong opinions, or turned out to be vaccine conspiracy theorists, or started attacking others out of an astonishingly intense sense of fear. Some who used to seem absolutely kind had abruptly changed, and I felt that it was impossible to understand human beings just by looking at the surface."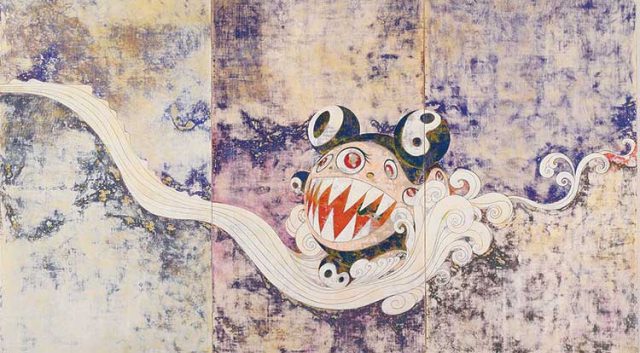 Recent monsters and older demons
"Swelling of Monsterized Human Ego" showcases more than 75 works including a selection of art from the late 1990s to the early 2000s demonstrating Murakami's enduring interest in monsters while illustrating his ongoing evolution. Themes of digital anxiety and monstrosity are explored through NFTs, paintings, sculptures, and historic artistic motifs. Unfamiliar People (2020–22) is an acrylic on canvas mounted on an aluminum frame. The exhibition is named after this painting, and is populated with psychedelic "monsterized" characters possessing extra sets of eyes, extra heads, curious thought balloons, jagged teeth and varying ghostly appendages growing out of their bodies while seemingly having no awareness of one another.
History is the inspiration behind Quinghua: Grass Carp, Chinese Perch and Lotus Flowers (2019–23), a gallery-spanning 31-foot-wide painting shimmering with iridescent fish scales and plant life rendered in a style reminiscent of traditional ceramics. The space becomes a rich ornamental environment of swimming fish in blue, green and pink. The Asian Art Museum's collection of Ming Dynasty wares motivated Murakami to paint a picture based on the design Lidded Jar with Design of a Lotus Pond (1522–66).
Red Demon and Blue Demon with 48 Arhats (2013) also connects to history through referencing late Edo-period imagery. Two massive demons are surrounded by arhats, traditional saint-like Buddhist figures who possess enlightenment and assist with their advanced spiritual powers and ability to heal. The demons confront the viewer with fanged teeth and bulging eyes, reminiscent of guardian animals placed in the gateways of Buddhist temples. The grotesque and the pious combine to create a mesmerizing image composed in the devastating aftermath of the March 2011 Tohoku earthquake and tsunami.
The metaverse is the perfect escape zone, and Murakami acknowledges our need to take flight into fantasy worlds. The artist's mash-up of historical imagery mixed with contemporary forms and values acts as a signpost, telling us where we are and where we can go from here through imagination. "Artists have the capacity to help expand this cognitive field…in the metaverse, the inherent duality between reality and fiction dissolves, creating a hyperreal existence that is buoyed by technology but fueled by the imagination we bring to it."
Takashi Murakami: Unfamiliar People — Swelling of Monsterized Human Ego | Thursday 1–8 p.m., Fri.–Mon. 10 a.m.–5 p.m. through Feb. 12, Free (first Sundays)–$20, Asian Art Museum, 200 Larkin St., 415-581-3800, asianart.org
Sharon Anderson is an artist and writer in Southern California. She can be reached at mindtheimage.com