As California's stay at home orders are extended, SFAI's City Studio program is offering to the public a free-for-all-ages collection of online drawing lessons using live models. Building on SFAI's history of offering free live-model sessions on Friday afternoons since the 1950s, the uploaded sessions create a custom learning platform. In a series of six different lessons in life drawing, beginners and more experienced artists are presented with opportunities to explore drawing techniques.
Like many of you, I used to go out. Events, plays, galleries, museums, concerts, films — you name it. As an arts writer and painter, this has always been a big part of my life. Since March, I've replaced these activities with reading and painting at home, and going on nature walks. Hard times can, of course, drive us a little crazy. But they can also give us a genius for living and a flair for the fun. Recently I spent a Sunday with my paints and canvases. In what felt like five minutes I'd burned up about seven hours. This is my new "going out."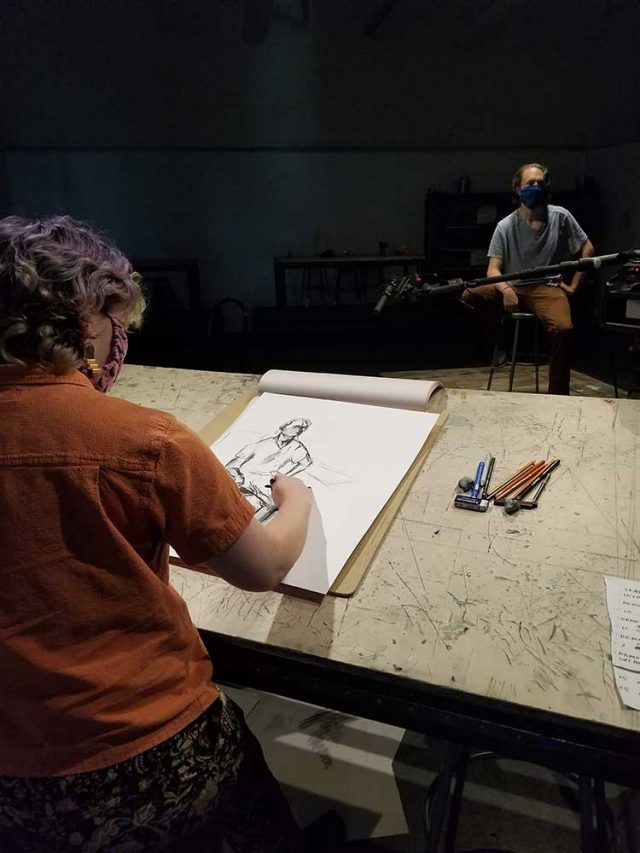 BACK IN ART SCHOOL
I recently attempted these online drawing classes. Life drawing takes me back to when I was studying for my Bachelor of Fine Arts degree in painting. The subdued lighting, the spotlight on the model, even the sound of graphite on paper while looking up at the figure transported me to another time. An unexpected luxury that I never had in art school is the enjoyment of going back and revisiting the episodes to fine tune the drawings or even attempt a different approach. These sessions feature models of all ages and themes such as: Black Joy, Drawing Activism, The Figure as Visual Poetry, and of course an Exploration of Drawing Materials.
Of course, it isn't just about using up time. We're all looking forward to life returning to a semblance of normalcy. Art, in my experience, can ground us in the present moment in a way that few things can. That focus on what is right in front of us fills the hours with something that feels meaningful.
SFAI'S CITY STUDIO PROGRAM
Now in its 16th year, SFAI's City Studio program engages youth with the intent to nurture their passion in the arts, strengthening their conceptual thinking and foundation skills, and to inspire their future interest in a creative life.
All drawing sessions are available online and remain available indefinitely for free:  https://sfai.edu/public-youth-education/open-drawing-studio.
Sharon Anderson is an artist and writer in Southern California. She can be reached at  mindtheimage.com.