Artist, curator, and teacher Frank Bowling is having the first survey of his work in the United States in more than four decades. The SFMOMA's Frank Bowling: The New York Years 1966–1975 represents a formative decade in the artist's career as a color field and abstract expressionist painter.
COLOR, FORM, AND EXPERIMENTATION
Bowling's career is marked by an astonishing range of style and techniques, including stencils, thin washes of color, spray-painted outlines, and silkscreened images. Born in British Guiana (now Guyana), Bowling moved to England where he began his schooling. After winning a scholarship to the Royal College of Art in London, Bowling fell under the influence of 1960's pop art with his fellow students David Hockney, Derek Boshier, and Peter Phillips. During this period he began traveling to the United States and Guyana and eventually settled in New York, where his work evolved significantly, creating a new signature style.
THE MAP PAINTINGS
Over 45 paintings in nine thematic galleries span Bowling's New York work mostly created while he lived at the Hotel Chelsea. Here we find silkscreened images of his mother's storefront, Bowling's Variety Store (1967) in New Amsterdam, Guyana. A suite of galleries is dedicated to Bowling's celebrated "map paintings." Saturated panels illustrate continents outlined in bright colors while exploring personal, political, and modern histories. False Start (1967) depicts the South American continent floating in an oceanic color field of pink and orange. Traveling with Robert Hughes (1969–70) reveals a small outline of the Australian continent in the lower left, bisected by a deep blue stripe. Watery images and shapes swim in yellows, oranges, and pinks throughout the remaining space. Two additional works in this exhibition include recent works from the artist, Barbados in the Bath and Robert's Australia, both from 2022.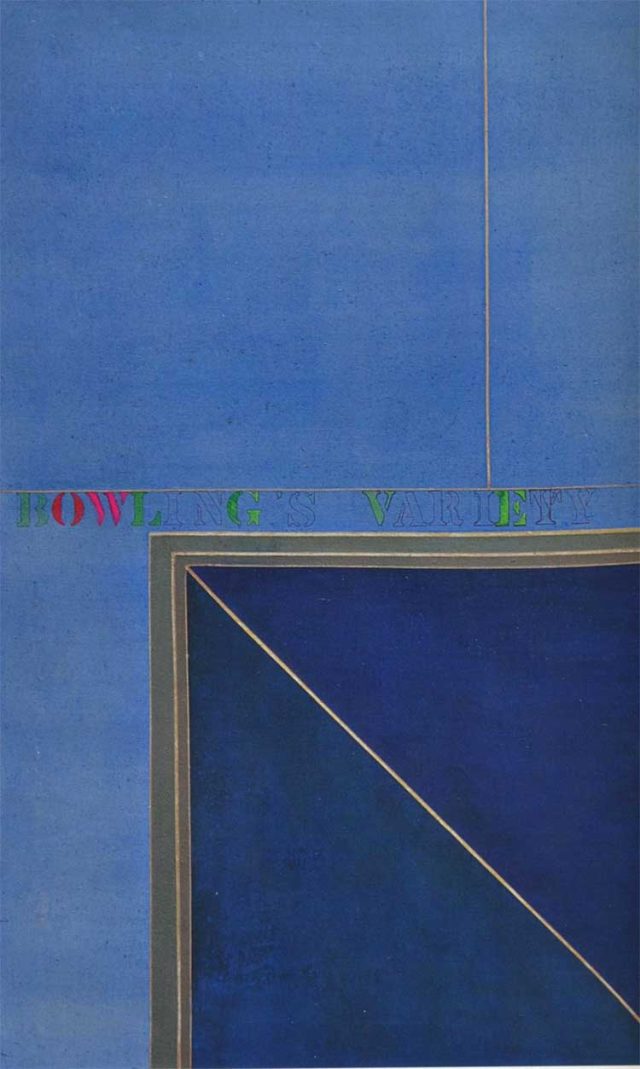 THE '5+1' EXHIBITION
Bowling curated a groundbreaking New York-based exhibition in 1969 called 5+1. A companion gallery highlights artists from this exhibition such as Jack Whitten, Melvin Edwards, and Daniel LaRue Johnson. These rooms paint a new image of the artist as a curator, critic, and art world figure examining process-based abstraction and the role of Black cultural identity in art. To highlight Bowling's thread of influence in the contemporary art world are works by his peers and visionary contemporaries such as Francis Bacon, Larry Rivers, and Jasper Johns.
THE POURED PAINTINGS
Later galleries feature Bowling's colorful compositions of landscapes from Guyana, London, and New York. His "poured paintings" were created using a tilting platform to spill layers of acrylic paint down the canvas at different heights, the gravity creating its own depth and spontaneity on the surface. Rosebush (1974) is a wash of deep red bisected by bright yellow and turquoise traveling down the canvas. The unpredictability creates its own tension and movement independent of the artist's intent.
A STORY IN PROGRESS
Frank Bowling continues to create work that bears the influence of his New York years. A recent acquisition by SFMOMA, Elder Sun Benjamin (2018) is included in this exhibition along with Looking West Again (2020) and 4 Bensusi (2020). The expansive, layered washes of color as bands of light, as spatters and as hues bleached out in thin layers still speak across his canvases. The San Francisco presentation also features a wide selection of archival materials illustrating Bowling's artistic evolution. This is a survey of a living artist, still creating and documenting his family histories and personal experiences with a commitment to experimentation.
"Building on SFMOMA's major recent acquisition of Bowling's Elder Sun Benjamin (2018), this exhibition features luminous and groundbreaking works that uncover the complexity and richness of Bowling's formative years in New York," said Marin Sarve-Tarr, assistant curator of painting and sculpture. "It shows his lasting impact on debates around representation, abstraction and cross-cultural contributions to global histories of art from the 20th century to today."
Visitors are welcome to take part in a wide range of public programs in conjunction with Frank Bowling: The New York Years 1966–1975. On July 6, 2023, the museum will host a participatory pouring paint program, giving visitors the opportunity to explore the technique and process behind Bowling's paintings.
"Frank Bowling: The New York Years 1966-1975": Fri.–Tue. 10 a.m.–5 p.m. & Thursday 1–8 p.m. through Sept. 10, $25, SFMOMA, 151 Third Ave., 415-357-4000, sfmoma.org
Sharon Anderson is an artist and writer in Southern California. She can be reached at mindtheimage.com.