The most comprehensive examination in over 20 years of San Francisco-born artist Joan Brown's vibrant, autobiographical paintings and sculptures is currently on view at SFMOMA through March 12, 2023. In her 35-year career Brown created abstract expressionist canvases; figurative paintings portraying dogs, cats, swims, cityscapes, and her son, Noel; self-portraits; and works inspired by her spiritual explorations in the 1980s.
DEFYING CLASSIFICATION
As a second-generation member of the Bay Area Figurative movement, Brown was the only woman in this group yet defied easy categorization throughout her career. She once said, "I'm not just a teacher, I'm not just a mother, I'm not just a painter, I'm all of these things, plus." Having earned her BFA and MFA from the California School of Fine Arts, which later became the San Francisco Art Institute, her key mentor was artist Elmer Bischoff. Brown received early acclaim for her work, and by age 22 had experienced a considerable amount of commercial success.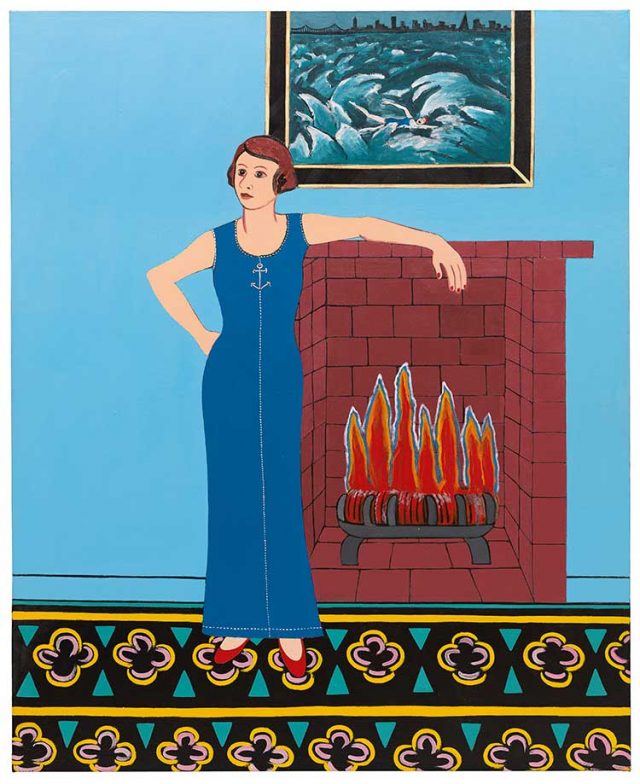 Living and working in San Francisco for most of her life, Brown was a local hero and aligned herself with the antiestablishment attitude of the time. She also enjoyed the San Francisco Beat culture as she became widely known for her thickly painted works, which had more of an affinity with abstract expressionism. Brown abandoned this style to focus on smaller works more rooted in the figure, a distinctive style based more on memory than models or photographs as source material.
LIFE AS ART
Brown drew inspiration from many sources to create her offbeat body of work based on autobiography, fantasy, and whimsy as well as weightier metaphysical themes. She maintained a long-term relationship with SFMOMA, and even held her 1989 marriage to Michael S. Hebel in the museum under Alexander Calder's mobiles. As a teacher she taught introductory painting and drawing classes at the California School of Fine Arts, and later was a professor of art at the University of California, Berkeley.
Brown, a swimming enthusiast, trained with International Hall of Fame swimming coach Charlie Sava, who appears in several of her portrait paintings. After successfully suing the Dolphin Club, the Ariel Club, and the South End Rowing Club to admit women, she became an active member of the Rowing Club. In 1975, Brown nearly drowned during a women's Alcatraz swim in the San Francisco Bay, which became the subject of a series of introspective self-portraits. In After the Alcatraz Swim #1, the painting behind Brown depicts the frightening swim in which she became disoriented in the high waves, swimming in circles for over an hour before she was rescued.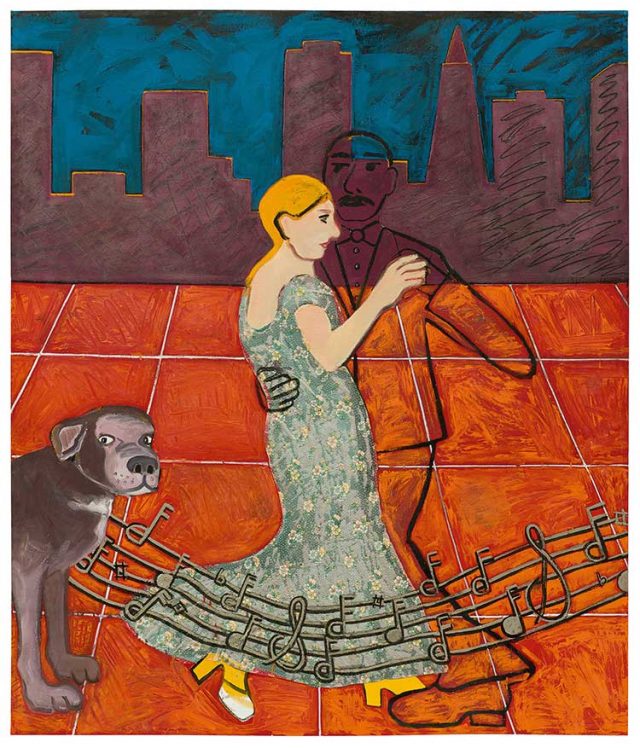 Brown's life in San Francisco is reflected in works such as The Dancers in a City #2 and Gordon, Joan and Rufus in Front of S.F. Opera House. Other paintings, including The Golden Age: The Jaguar and The Tapir, The Long Journey, and A New Age: The Bolti Fish reveal Brown's interest in self-understanding.
SYMBOLISM AND SPIRITUALITY
Imagery such as animals, objects, and swims in the bay created a symbology that reached its zenith in the 1980s. Later in life Brown concentrated on public sculpture and imagery based on Hindu and Egyptian icons. Her involvement in public art stemmed from her desire to remove her work from the marketplace and the machinations of art as commerce. Traveling the world and experiencing different cultures took her to India and, while installing one of her obelisks, she and several others died when a concrete turret from a balcony collapsed. At the time of her death in 1990, Brown had produced more than 400 paintings and 50 sculptures.
"How do I know when I've finished a painting?" Brown said in a 1979 interview. "It's when that element of surprise is there. I can feel the flow start to happen just in terms of working, which is actually an altered state of consciousness."
'JOAN BROWN AND FRIENDS'
Coinciding with the Joan Brown retrospective, Bay Area Stories: Joan Brown and Friends is a collection-based installation linking the interconnected network of artists working in the Bay Area from the 1950s through the 1980s and beyond. Brown serves as the primary coordinate between shared teachers, studios, homes and art institutions.
"Joan Brown:" Mon.–Tue. 10 a.m.–5 p.m., Thursday 1 p.m.–8 p.m., Fri.–Sun. 10 a.m.–5 p.m., through March 12, $25, SFMOMA, 151 Third St., 415-357-4000, sfmoma.org
Sharon Anderson is an artist and writer in Southern California. She can be reached at mindtheimage.com.