All you have to do is hear the name, or read it on a page, and a whole world opens up before your eyes. A vast, mysterious world, unlike any other in the history of cinema.
— Martin Scorsese
The Contemporary Jewish Museum presents the first exhibition dedicated to the life and work of legendary filmmaker Stanley Kubrick beginning June 30. From his time as a teenage photographer for Look magazine through his pioneering films like Dr. Strangelove or: How I Learned to Stop Worrying and Love the Bomb (1964), 2001: A Space Odyssey (1965–68), and A Clockwork Orange (1971), the exhibition provides a detailed journey into the tools, machinations, and methods of the legendary director.
Materials from Kubrick's estate, inaccessible until 2003, will be on display. Nearly 800 objects include annotated screenplays, production photography, lenses and cameras, set models, costumes, and props, some of which are also on loan from international and private collections. Costumes — including the star child and the ape from 2001: A Space Odyssey, the blue dresses belonging to the twin sisters in The Shining (1980), the survival kit from Dr. Strangelove, and the "Born to Kill" helmet of Private Joker from Full Metal Jacket (1987) — will also be on display.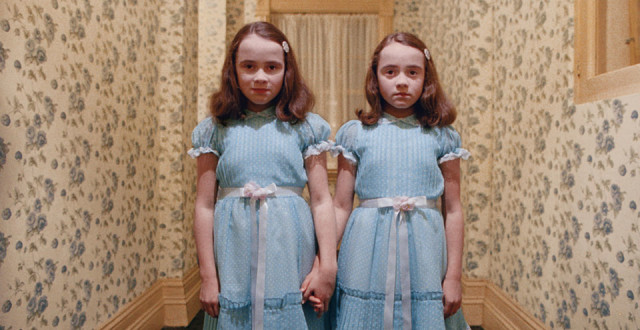 Correspondence, sketches, plans, and other set objects draw the public into the processes of a meticulous multidisciplinary artist. See Kubrick's Bell & Howell Eyemo camera that he used to film Killer's Kiss (1955), the Mitchell BNC camera, and the Zeiss f0.7 lens developed for NASA, which was used for shooting candlelight scenes in Barry Lyndon (1975). Cinema fans can also attend a 30-minute audiovisual presentation explaining Kubrick's use of music in his films and a picture show retracing his biography along with clips from films and documentary footage.
Related events include The Life and Legend of Stanley Kubrick on June 30. This discussion about the personal and professional life of the director features Jan Harlan, Kubrick's executive producer from Barry Lyndon onward; Tim Heptner, curator at Deutsches Filmmuseum; Katharina Kubrick, the filmmaker's stepdaughter; and Hans-Peter Reichmann, head of collections at Deutsches Filmmuseum.
The Exhibition Gallery Chat on July 1 invites the public to hear anecdotes from Harlan, who also worked on The Shining and Eyes Wide Shut. Additional programming is scheduled throughout the the exhibition, which closes on Oct. 30, and most are free with museum admission.
Film fans can at last step into the Korova Milk Bar from A Clockwork Orange, travel through outer space through the sets of 2001: A Space Odyssey, or imagine themselves in the period costumes of Barry Lyndon or on the battlefields of Full Metal Jacket. This exhibition offers a one-of-a-kind immersive adventure into Kubrick's world.
Stanley Kubrick: The Exhibition: 11 a.m.–5 p.m. (8 p.m. Thursday), Thursday–Tuesday, June 30–Oct. 30; $12; The Contemporary Jewish Museum, 736 Mission Street, 415-655-7800, thecjm.org