From May 18 through Jan. 8, 2018, the Walt Disney Family Museum presents Awakening Beauty: The Art of Eyvind Earle. Best known as the lead stylist for Walt Disney's classic film Sleeping Beauty (1959) and for concept art that shaped Disney favorites Lady and the Tramp (1955) and Peter Pan (1953), this exhibition explores Earle's traditional fine art, commercial design, and filmmaking endeavors in the first complete retrospective of his life's work.
Born in New York City in 1916, Earle led an adventurous and prolific artist's life. At the age of 11, his father challenged him to either read 50 pages of a book or paint a picture every day; Earle chose both. His productivity continued while he traveled with his father through Mexico and France over a period of years during which he developed his trademark simplicity and directness in his art. Earle began regularly exhibiting his paintings, influenced by Vincent van Gogh, Paul Cezanne, Norman Rockwell, and Georgia O'Keefe, at the Charles Morgan Gallery in New York City.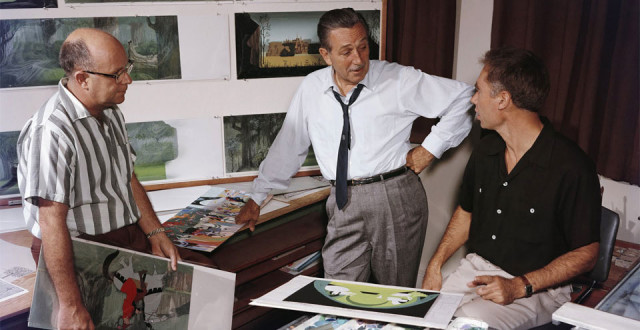 During the Great Depression, Earle worked as a sketch artist for United Artists. He also bicycled across the country from Hollywood to New York in 1937, selling his watercolors along the way. After repeatedly applying to work at Walt Disney Studios, Earle finally joined the Disney crew in 1951 as an assistant background painter, ultimately advancing to color stylist for Sleeping Beauty. Reflecting on his time at the Walt Disney Studios, Earle once said, "I consider my six or seven years at Disney the greatest art school in the whole world, because I worked hard and fast with the very, very best men in the industry."
Earle started his own animation company in 1961, Eyvind Earle Productions, Inc., which developed a reputation for its distinctive trademarks and logos, film trailers, advertisements, and television commercials. He returned in 1966 to painting his alluring, dreamlike canvases full time.
Most recently, in 2015, the Walt Disney Company gave the artist a posthumous award, the prestigious Disney Legend Award, for his work on Sleeping Beauty and his contributions to animation. "Eyvind was an honest and humble man, yet he was constantly challenging himself to push the boundaries of his own artistry with this enduring passion to explore, create, and innovate," said one of the show's curators Ioan Szasz, who began working with the artist in 1988. "Whether it was through a modest snowy landscape for a Christmas card or a more intricate background concept for films like Sleeping Beauty, Earle brought magic to everything he touched."
The Art of Eyvind Earle: 10 a.m.–6 p.m., Thu.–Tue. through Jan. 8, 2018, $35, Walt Disney Family Museum, 104 Montgomery St. (the Presidio), 415-345-6800, waltdisney.org