Jim Henson's groundbreaking work in film and television will be the subject of an exhibition at the Contemporary Jewish Museum, on display now through Aug. 14. His beloved puppets continue to make an impact in popular culture and with fans of all ages. This comprehensive exhibition explains how his characters came to life with Henson in collaboration with his team of builders, performers, and writers.
THE EARLY YEARS
Early drawings and sketches plus handwritten scripts provide a glimpse into Henson's ideas as they began to grow into larger media projects. Materials on display include early experimental film projects, such as the handwritten scripts from his first television series, Sam and Friends (1955–61), when his character Kermit the Frog made his first debut; a clip from Henson's Academy Award-nominated experimental film Time Piece (1965); along with a selection of related puppetry and artifacts.
Prior to Henson, puppetry on film allowed the viewer to see strings being pulled and the workings of the design were not necessarily hidden from the viewer. Henson's innovations transformed the industry to create imagery that was more cinematic and allowed the viewer a certain level of escapism, placing more emphasis on the storytelling than the visible mechanics of puppetry. Henson used the full television screen for his puppets and in this way the performer animating the characters could not be seen. Using arm holes instead of strings also made the characters more lifelike.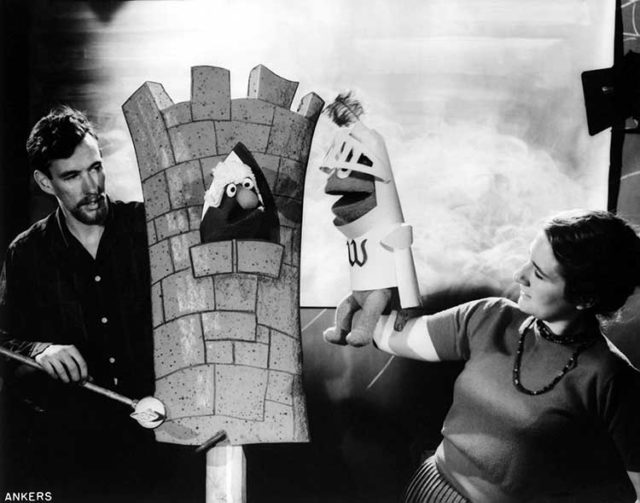 MEET THE PUPPETS
The exhibition features more than 25 beloved puppets, including Henson's main alter-ego, Kermit the Frog (a 1978 version); Beaker and Scooter from The Muppet Show; Bert, Ernie, Grover, and Count von Count from Sesame Street; Red and Wembley from Fraggle Rock; Ludo and Fiery from Labyrinth; and Jen, Kira, and Aughra from The Dark Crystal. The exhibition also traces the evolution of The Muppet Show from its beginnings as a concept in the 1960s to a hit television show and feature films.
Senior curator Heidi Rabben added, "While Henson himself was not Jewish, his life's work and legacy beautifully reflect the core values of the CJM. Henson sought to create a better world on-screen, which allowed people from all walks of life to see parts of themselves reflected through these beloved characters. Henson's enduring lessons around diversity, inclusion, representation, and coexistence continue to have a tremendously formative impact for children and families today."
PUBLIC PROGRAMS
During the duration of Imagination Unlimited, the CJM will present public programs for the whole family, featuring screenings of a selection of Henson's most celebrated films and talks with friends, relatives, and colleagues. Included in this series is The Family Art Bash on April 10, which invites the public to experience imaginative worlds developed by Henson in a museum-wide day of creativity. On April 24, producer Larry Mirkin (Fraggle Rock and the Jim Henson Hour) and puppeteer Dave Goel (Gonzo, Zoot, and Dr. Bunsen Honeydew) share insights into Henson's creative processes. On May 12, daughter Cheryl Henson discusses her father and the art of puppetry. On July 10, Jim Henson Company archivist Karen Falk discusses the commercials and industrial films created by Henson in the 1950s and 1960s including humorous award-winning spots for Wilkins Coffee, Purina, La Choy, IBM, and others. A unique screening of the film Labyrinth will feature Karen Prell, a puppeteer who worked on Fraggle Rock and Labyrinth. Prell will discuss the beloved film starring David Bowie and Jennifer Connolly.
"The Jim Henson Exhibition: Imagination Unlimited" at the Contemporary Jewish Museum, 736 Mission St., 415-655-7800, thecjm.org, $16, Thu.–Sun., 11 a.m.–5 p.m. through Aug. 14
Sharon Anderson is an artist and writer in Southern California. She can be reached at mindtheimage.com.