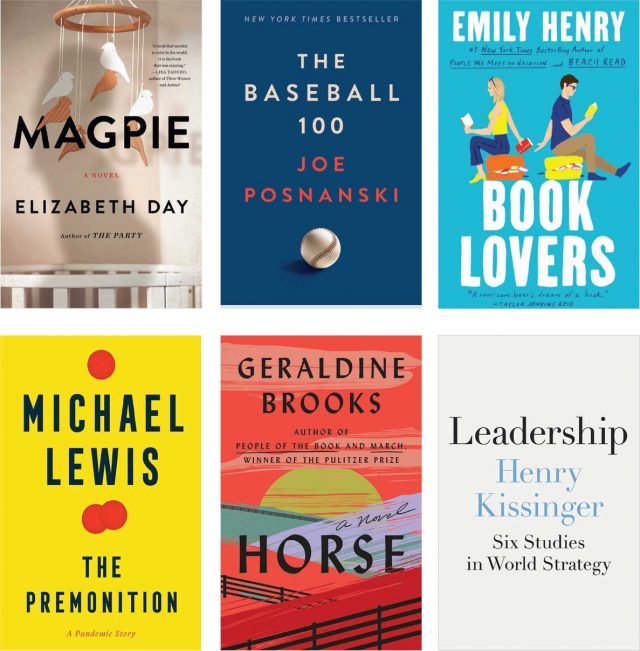 Hardcover Fiction
1. One Italian Summer: A Novel, by Rebecca Serle
2. Magpie: A Novel, by Elizabeth Day
3. Sparring Partners, by John Grisham
Hardcover Nonfiction
1. Happy-Go-Lucky, by David Sedaris 
2. CEO Excellence: The Six Mindsets That Distinguish the Best Leaders from the Rest, by Carolyn Dewar, Scott Keller, and Vikram Malhotra
3. The Baseball 100, by Joe Posnanski
Paperback Fiction
1. Verity, by Colleen Hoover
2. Book Lovers, by Emily Henry
3. The Seven Husbands of Evelyn Hugo: A Novel, by Taylor Jenkins
Paperback Nonfiction
1. Shape: The Hidden Geometry of Information, Biology, Strategy, Democracy, and Everything Else, by Jordan Ellenberg 
2. The Premonition: A Pandemic Story, by Michael Lewis
3. The Bomber Mafia: A Dream, a Temptation, and the Longest Night of the Second World War, by Malcom Gladwell
CHILDREN'S BOOKS
1. The Summer I Turned Pretty, by Jenny Han
2. My Little Golden Book about San Francisco, by Toyo Tyler and Courtney Dawson
3. Remarkably Ruby, by Terri Libenson
NEW AND NOTABLE RELEASES
Horse: A Novel, by Geraldine Brooks
In this powerful story from the Pulitzer Prize-winning Brooks, an enslaved groom named Jarrett leads the bay foal he's bonded with to record-shattering racing victories across the 1850s South. During the Civil War, the two meet up dangerously with an itinerant artist who's won fame with his many paintings
of the stunning racehorse. A gallery owner in 1950s New York becomes fascinated with the paintings, but it's not until 2019 that a Nigerian American art historian uncovers the true story of the horse and groom and links up with a Smithsonian scientist who's studying the horse's bones to learn the
secret of its extraordinary endurance. Based on the true story of a racehorse named Lexington and sure to attract a wide range of readers.
The It Girl: A Novel, by Ruth Ware
When she arrived at Oxford, Hannah was quickly pulled into the circle surrounding glittery April Coutts-Cliveden, who was shockingly murdered at the end of second term. A decade later, with the Oxford porter convicted of the crime dead in prison, Hannah is beginning to rethink April's murder — and believes that one of their friends has been hiding something. From number one New York Times best-selling author.
Leadership: Six Studies in World Strategy, by Henry Kissinger
Kissinger's Leadership plumbs modern statecraft, putting forth Charles de Gaulle, Konrad Adenauer, Margaret Thatcher, Richard Nixon, Lee Kuan Yew, and Anwar Sadat as game-changing leaders who helped create a new world order.
Chris Hsiang can help you find your next book at Books Inc., 2251 Chestnut Street, 415-931-3633, booksinc.net.