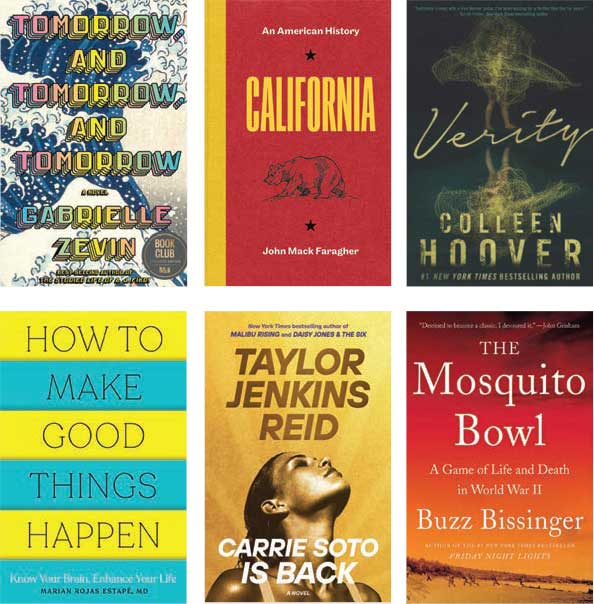 Hardcover Fiction
1. Tomorrow and Tomorrow and Tomorrow: A Novel, by Gabrielle Zevin
2. Horse: A Novel, by Geraldine Brooks
3. How to Fall Out of Love Madly, by Jana Casale
Hardcover Nonfiction
1. Crying in H Mart:A Memoir, by Michelle Zauner
2. California: An American History, by John Mack Faragher
3. Cultish: The Language of Fanaticism, by Amanda Montell
Paperback Fiction
1. Verity, by Colleen Hoover
2. The Seven Husbands of Evelyn Hugo: A Novel, by Taylor Jenkins
3. Where the Crawdads Sing, by Delia Owens
Paperback Nonfiction
1. Putin's People: How the KGB Took Back Russia and Then Took On the West, by Catherine Belton
2. How to Make Good Things Happen: Know Your Brain, Enhance Your Life, by Marian Rojas Estape
3. The Bomber Mafia: A Dream, a Temptation, and the Longest Night of the Second World War, by Malcom Gladwell
NEW AND NOTABLE RELEASES
Carrie Soto is Back: A Novel, by Taylor Jenkins Reid
Carrie Soto is the best tennis player in the world, and she knows it. By the time she retires in 1989, she holds the record for winning 20 Grand Slam singles titles. But then, in 1994, Nicki Chan comes along. Nicki is on the verge of breaking Carrie's record, and Carrie decides she can't let that happen. Reid writes about the game with suspense, transforming a tennis match into a page-turner even for readers who don't care about sports. Will Carrie win? And, more important, will she finally make time for a life outside of winning? A compulsively readable look at female ambition.
The Bullet That Missed: A Thursday Murder Club Mystery, by Richard Osman
Bestseller Osman's diverting third Thursday Murder Club mystery delivers laughs along with a nicely woven plot involving fraud, murder, and life in the Kent retirement village of Coopers Chase. At the club's regular meeting in the Jigsaw Room, the four members decide to tackle the cold case of Bethany Waites. The group's investigation stirs up a hornet's nest and leads to another death, a kidnapping, and blackmail. The pace is breezy, the characters are intelligent and varied in their interests and backgrounds, and the humor is often pitched to readers who understand the vagaries of getting older. Osman reliably entertains.
The Mosquito Bowl: A Game of Life and Death in World War II, by Buzz Bissinger
Bissinger (Friday Night Lights) effortlessly combines sports and military history in this gritty account of a football game played by U.S. Marines on Guadalcanal in December 1944. After months of trash-talking between former collegiate football players in the 4th and 29th regiments of the 6th Marine Division on Guadalcanal, the two sides squared off on the parade ground in t-shirts and dungarees, playing a hard-fought game that devolved into a bloody brawl among the "dirt and pebbles and shards of coral." The book excels in its sweeping yet fine-grained portraits of how these Marines got to Guadalcanal and in the harrowing descriptions of Pacific Theater combat, including the bloody fight for Sugar Loaf Hill on Okinawa. This is a penetrating tale of courage and sacrifice.
Chris Hsiang can help you find your next book at Books Inc., 2251 Chestnut St., 415-931-3633, booksinc.net.