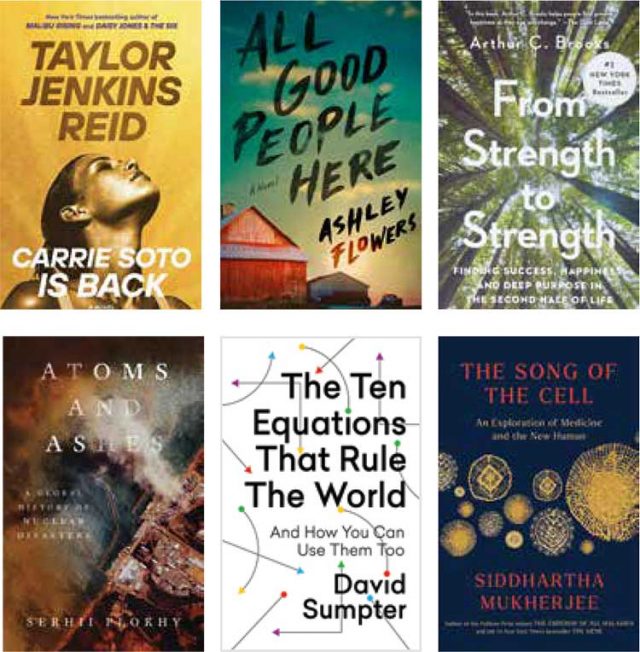 Hardcover Fiction
1. Carrie Soto is Back: A Novel, by Taylor Jenkins Reid
2. The Marriage Portrait: A Novel, by Maggie O'Farrell
3. All Good People Here: A Novel, by Ashley Flowers
Hardcover Nonfiction
1. From Strength to Strength: Finding Success, Happiness, and Deep Purpose in the Second Half of Life, by Arthur C. Brooks
2. Life on the Mississippi: An Epic American Adventure, by Rinker Buck
3. Atoms and Ashes: A Global History of Nuclear Disasters, by Serhii Plokhy
Paperback Fiction
1. The Seven Husbands of Evelyn Hugo: A Novel, by Taylor Jenkins
2. Verity, by Colleen Hoover
3. The American Roommate Experiment, by Elena Armas
Paperback Nonfiction
1. The Ten Equations That Rule the World: And How You Can Use Them Too, by David Sumpter
2. Everything I Know About Love: A Memoir, by Dolly Alderton
3. Talking To Strangers: What We Should Know About the People We Don't Know, by Malcom Gladwell
NEW AND NOTABLE RELEASES
Demon Copperhead, by Barbara Kingsolver
A boy born to a single, teenage mother grows up tough in Appalachia, demonstrating a remarkable capacity for surviving foster care, child labor, and terrible schools while balancing athletic triumph with heartbreak and addiction. What matters most: his rural roots ultimately render him invisible to society. A contemporaneous David Copperfield, this powerful story, both brilliant in its many social messages regarding foster care, child hunger, and rural struggles, and in its breathless delivery.
Liberation Day, by George Saunders
What can't George Saunders do? On the basis of his work since Tenth of December (2013), the answer seems to be nothing at all. The "best short-story writer in English" (Time) is back with a masterful collection that explores ideas of power, ethics, and justice, and cuts to the very heart of what it means to live in community with our fellow humans. Language and memories are essential for understanding oneself, others, and the world; when they are stolen, we lose our autonomy and liberty, scenarios Saunders choreographs with unnerving specificity. A tour de force collection that showcases all of Saunders's many skills.
Shrines of Gaiety, by Kate Atkinson
The award-winning author of Life after Life transports us to a restless London in the wake of the Great War — a city fizzing with money, glamour, and corruption — in this spellbinding tale of seduction and betrayal. With her unique Dickensian flair, Kate Atkinson gives us a window in a vanished world. Slyly funny, brilliantly observant, and ingeniously plotted, Shrines of Gaiety showcases the myriad talents that have made Atkinson one of the most lauded writers of our time.
The Song of the Cell: An Exploration of Medicine and the New Human, by Siddhartha Mukherjee
From the author of The Emperor of All Maladies, winner of the Pulitzer Prize, and The Gene, a number-one New York Times bestseller, comes his most spectacular book yet, an exploration of medicine and our radical new ability to manipulate cells. Rich with Mukherjee's revelatory and exhilarating stories of scientists, doctors, and the patients whose lives might be saved by their work, The Song of the Cell is the third book in this extraordinary writer's exploration of what it means to be human.
Chris Hsiang can help you find your next book at Books Inc., 2251 Chestnut St., 415-931-3633, booksinc.net.