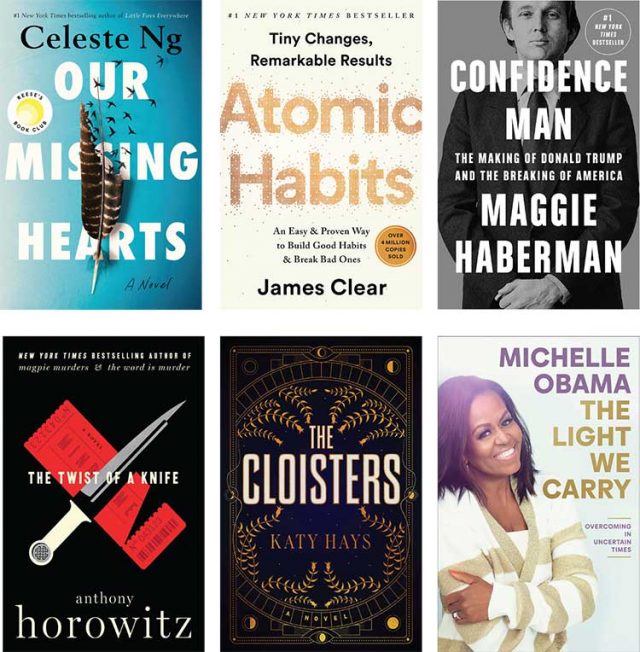 HARDCOVER FICTION
1. Carrie Soto is Back: A Novel, by Taylor Jenkins Reid
2. The Marriage Portrait: A Novel, by Maggie O'Farrell
3. Our Missing Hearts: A Novel, by Celeste Ng
HARDCOVER NONFICTION
1. I'm Glad My Mom Died, by Jennette McCurdy
2. Atomic Habits: An Easy & Proven Way to Build Good Habits & Break Bad Ones, by James Clear
3. Confidence Man: The Making of Donald Trump and the Breaking of America, by Maggie Haberman
PAPERBACK FICTION
1. The Seven Husbands of Evelyn Hugo: A Novel, byTaylor Jenkins
2. The Silent Patient, by Alex Michaelides
3. It Ends With Us: A Novel, by Colleen Hoover
PAPERBACK NONFICTION
1. Unwinding Anxiety: New Science Shows How to Break the Cycles of Worry and Fear to Heal Your Mind, by JudsonBrewer
2. How to Raise Kids Who Aren't Assholes: Science-Based Strategies For Better Parenting — From Tots to Teens, byMelinda Wenner Moyer
3. Meditations: The Annotated Edition, by Marcus Aurelius
CHILDREN'S BOOKS
1. Foul Lady Fortune, by Chloe Gong
2. Creepy Crayon!, by Aaron Reynolds and Peter Brown
3. Odder, by Katherine Applegate
NEW AND NOTABLE RELEASES
The Twist of a Knife: A Novel, by Anthony Horowitz
The fourth installment of this series finds protagonist Anthony Horowitz accused of a crime he didn't commit. He has just ended his partnership with ex-detective Daniel Hawthorne so he can focus on his play's debut, which receives a malice-filled review from critic Harriet Throsby. Early the next morning, the London police arrive to question him in the stabbing murder of Throsby. Horowitz is subsequently arrested and needs help from his ex-partner Hawthorne to solve the case. Readers of character-driven novels will love the twists and turns of this Agatha Christie-style mystery that leads to an unexpected reveal.
The Cloisters: A Novel, by Katy Hays
Ann Stilwell is eager for her position in the summer associate program at New York's Metropolitan Museum of Art. She's told on arrival, though, that there's no place for her. Fortunately, Patrick Roland, curator at the Cloisters, scoops her up. Ann questions whether it's fate or choice that brings her together with the small group of scholars who delve into fortune telling and the occult, searching for answers to the past and the future. But feelings and emotions aren't easy to hide in a group that revolves around the charismatic Rachel. As death and tragedy spin to their conclusion in the eerie setting, it's easy for an academic to say the future was ordained. The tension and foreboding builds gradually in this outstanding gothic debut, allowing readers to savor Ann's voice. The disturbing account plays with class differences and women's friendship, set against a medieval, academic atmosphere sheltered from the city.
The Light We Carry: Overcoming In Uncertain Times, by Michelle Obama
Michelle Obama offers readers a series of fresh stories and insightful reflections on change, challenge, and power, including her belief that when we light up for others, we can illuminate the richness and potential of the world around us. Drawing from her experiences as a mother, daughter, spouse, friend, and first lady, she shares the habits and principles she has developed to successfully adapt to change and overcome various obstacles — the earned wisdom that helps her continue to "become." With trademark humor, candor, and compassion, she also explores issues connected to race, gender, and visibility, encouraging readers to work through fear, find strength in community, and live with boldness.
For additional best sellers visit marinatimes.com.
Chris Hsiang can help you find your next book at Books Inc., 2251 Chestnut St., 415-931-3633, booksinc.net.