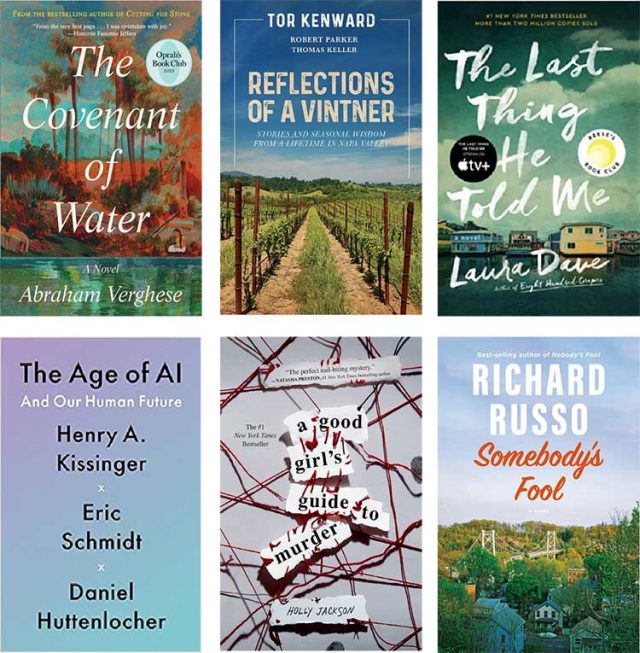 HARDCOVER FICTION
1. The Covenant of Water, by Abraham Verghese
2. Happy Place, by Emily Henry
3. Tomorrow, Tomorrow & Tomorrow: A Novel, by Gabrielle Zevin
HARDCOVER NONFICTION
1. The Shift: Change Your Perspective, Not Yourself, by Tinx
2. The Creative Act: A Way of Being, by Rick Rubin
3. Reflections of a Vintner: Stories and Seasonal Wisdom From a Lifetime in Napa Valley, by Tor Kenward
PAPERBACK FICTION
1. The Maid: A Novel, by Nita Prose
2. Trust, by Hernan Diaz
3. The Last Thing He Told Me: A Novel, by Laura Dave
PAPERBACK NONFICTION
1. How To Survive History: How To Outrun A Tyrannosaurus, Escape Pompeii, Get Off The Titanic, and Survive the Rest of History's Deadliest Catastrophes, by Cody Cassidy
2. Crying in H Mart: A Memoir, by Michelle Zauner
3. The Age of Ai: And Our Human Future, by Henry A. Kissinger, Eric Schmidt, and Daniel Huttenlocher
YOUNG READERS
1. Picture Book: Papa, Please Get the Moon For Me, by Eric Carle
2. Graphic Novel: Parachute Kids, by Betty C. Tang
3. Young Adult: A Good Girl's Guide to Murder, by HollyJackson
NEW AND NOTABLE RELEASES
The Parrot and the Igloo: Climate and the Science of Denial, by David Lipsky
Lipsky takes the reader on a journey through the evolution of climate-change denial — including how cancer-denial strategies and lobbying by tobacco companies paved the way for its brand of scientific obfuscation — and how it has prevented legislative action. He covers the science of climate change itself, starting with the discovery of the greenhouse effect in 1824. In 1956, scientist Roger Revelle wrote in Time magazine confirming that burning fossil fuel increases carbon dioxide in the atmosphere and the results over time cause climate change. The Washington Post in 1965 postulated why no action on climate change would occur not due to lack of knowledge but the "inability to turn knowledge into effective public action." This book can be considered the historical record to date on climate action and inaction.
Somebody's Fool: A Novel, by Richard Russo
Russo rounds out his North Bath trilogy, with one last wellness check on the cast of familiar characters. Sully has died, having just rekindled a relationship with his estranged son, Peter, who has inherited Sully's Victorian fixer-upper along with an ever-growing list of friends, lovers, and even enemies he's obliged to care for. Peter's own estranged son, Thomas, arrives with a litany of lies, a sizable chip on his shoulder, and a secret scheme for arson. Russo's art is the mastery of cloaking complex human emotions and conflicts in surprisingly simple guises, and he brings depths of pathos and wisdom to this Everyman microcosm by challenging its citizens in unlikely ways, only to have them emerge whole and even heroic.
The Sunset Crowd: A Novel, by Karin Tanabe
Tanabe's The Sunset Crowd is a tale of survival and reinvention, of faking it until you make it, and the glittering appeal of success and stardom, as it seeks to answer that timeless question — who gets to have the American dream? In 1970's Los Angeles, everyone is fighting to reach the top, but very few have the talent, ambition, and luck to get there. Observing it all is Bea Dupont, a photographer for Rolling Stone and Vogue, a Manhattan blue blood turned West Coast bohemian who holds the Sunset Crowd together. But in Hollywood, no one stays on top forever. And it's not long before unrelenting ambition sets in motion a dramatic quest for power in an industry that is as glamorous as it is duplicitous.
Chris Hsiang can help you find your next book at Books Inc., 2251 Chestnut St., 415-931-3633, booksinc.net.