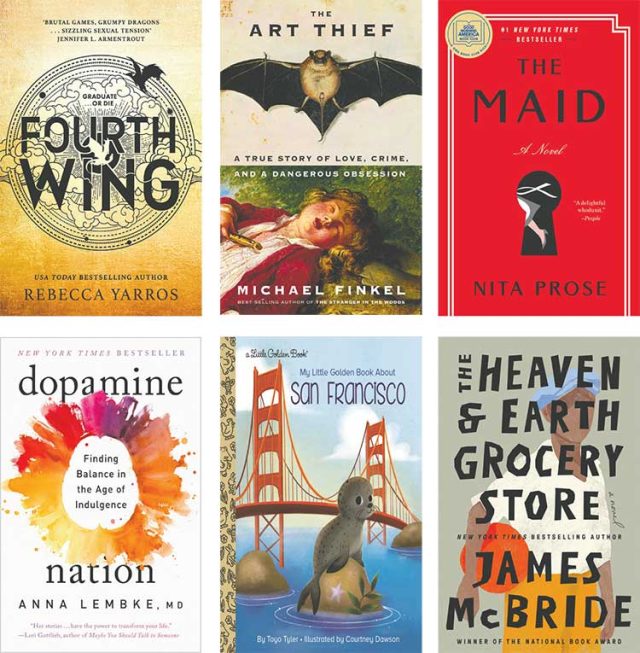 HARDCOVER FICTION
1. Fourth Wing, by Rebecca Yarros
2. Tomorrow, Tomorrow & Tomorrow: A Novel, by Gabrielle Zevin
3. Happy Place, by Emily Henry
HARDCOVER NONFICTION
1. The Creative Act: A Way of Being, by Rick Rubin
2. The Wager: A Tale of Shipwreck, Mutiny and Murder, by David Grann
3. The Art Thief: A True Story of Love, Crime, and a Dangerous Obsession, by Michael Finkel
PAPERBACK FICTION
1. You, With A View, by Jessica Joyce
2. The Maid, by Nita Prose
3. Trust, by Hernann Diaz
PAPERBACK NONFICTION
1. Dopamine Nation: Fining Balance in the Age of Indulgence, by Anna Lembke
2. Bay Curious: Exploring the Hidden True Stories of the San Francisco Bay Area, by Olivia Allen-Price
3. How To Survive History: How To Outrun A Tyrannosaurus, Escape Pompeii, Get Off The Titanic, and Survive the Rest of History's Deadliest Catastrophes, by Cody Cassidy
YOUNG READERS
1. Picture Book: My Little Golden Book About San Francisco, by Toyo Tyler and Courtney Dawson
2. Graphic Novel: Family Style: Memories of an American From Vietnam, by Thien Pham
3. Young Adult: Good Girl, Bad Blood: The Sequel to A Good Girl's Guide to Murder, by HollyJackson
NEW AND NOTABLE RELEASES
The Heaven & Earth Grocery Store: A Novel, by James McBride
McBride is the maestro of the neighborhood saga, following the Carnegie-winning, Brooklyn-set Deacon King Kong (2020) with a tale of strife and love set in Chicken Hill, a hardscrabble section of Pottstown, Penn. The neighborhood of vibrant, complicated individuals, each improvising ways to get by, ultimately joining forces to try to keep the authorities from taking Dodo, a smart, sweet, Black, orphaned deaf boy, to the hellish state asylum. McBride incisively and prismatically evokes the timbre of Jewish and Black lives of the times, while spinning intriguing backstories and choreographing telling struggles over running water, class divides, and prejudice of all kinds. Funny, tender, knockabout, gritty, and suspenseful, McBride's microcosmic, socially critiquing, and empathic novel dynamically celebrates difference, kindness, ingenuity, and the force that compels us to move heaven and earth to help each other.
Prophet, by Helen MacDonald and Sin Blaché
Maybe we should have expected that the memoirist who gave us fantastic and unique H is for Hawk would team up with an Irish musician to craft a haunting phantasmagorical science fiction thriller. It certainly surprised us here in the book store. Enigmatic objects materialize, apparently drawn from people's fondest memories, only to kill them in bizarre fashion. Two intelligence agents — one American, the other British — are tasked to uncover the secrets of this terrifying threat as it spreads across the globe. The plot evokes the warped worlds of Philip K. Dick, The X-Files, and certain films by Christopher Nolan, but it's the wild pairing of the two agents and their love-hate relationship that give this nail-biting trip a special flair. Highly recommended for connoisseurs of the strange and unsettling.
What an Owl Knows: The New Science of the World's Most Enigmatic Birds, by Jennifer Ackerman
In this masterful survey, nature writer Ackerman (The Bird Way) explores the physiology and behavior of owls. She provides an overview of owls' intelligence, evolution, mating strategies, nest-building abilities, and communication skills, relating how variations in owl calls allow the birds to express "their needs and desires" and convey "highly specific information about their individual identity, and their sex, size, weight, and state of mind." Describing academic studies that illuminate the surprising social complexity of the nocturnal predators, Ackerman writes that nestling barn owls will altruistically share food with weaker siblings, and that screech owls sometimes engage in cannibalism, killing and eating fellow fledglings. The author highlights the heterogeneity of owl species, noting that they're found on every continent but Antarctica and that while the Eurasian eagle owl is big enough to prey on baby deer, the tiny elf owl is only "about the size of a small pine cone." There's fascinating trivia on every page (owls perform "sophisticated mathematical computations" to pinpoint prey by sound, and some owl attacks on humans may be attempts to play), making for a revelatory glimpse into the lives of the "enigmatic" raptors. Bird lovers will be enthralled.
Chris Hsiang can help you find your next book at Books Inc., 2251 Chestnut St., 415-931-3633, booksinc.net.