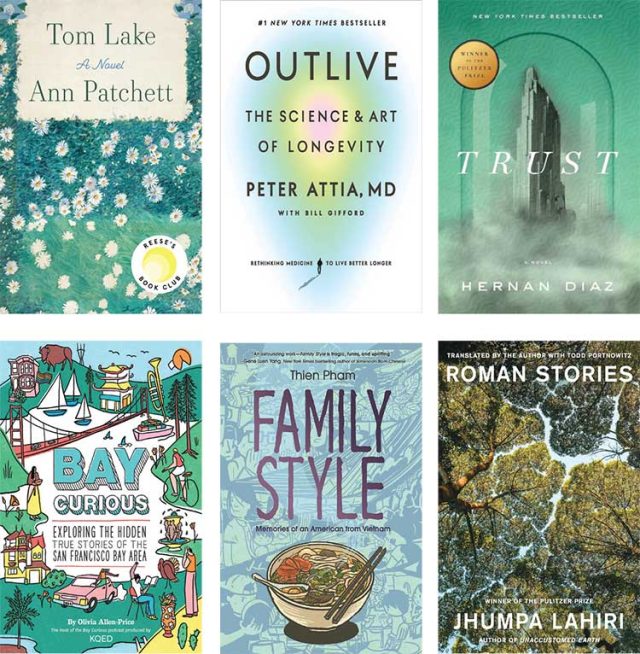 Here is a list of the most popular books sold last month at Books Inc. in the Marina:
HARDCOVER FICTION
1. Tomorrow, Tomorrow & Tomorrow, by Gabrielle Zevin
2. Fourth Wing, by Rebecca Yarros
3. Tom Lake: A Novel, by Ann Patchett
HARDCOVER NONFICTION
1. Outlive: The Science and Art of Longevity, by Peter Attia
2. The Wager: A Tale of Shipwreck, Mutiny and Murder, by David Grann
3. The Creative Act: A Way of Being, by Rick Rubin
PAPERBACK FICTION
1. The Home for Unwed Husbands, by Milly Giles
2. The Midnight Library: A Novel, by Matt Haig
3. Trust: A Novel, by Hernan Diaz
PAPERBACK NONFICTION
1. Killers of the Flower Moon: The Osage Murders and the Birth of the FBI, by David Grann
2. Everything I Know About Love: A Memoir, by Dolly Alderton
3. Bay Curious: Exploring the Hidden True Stories of the San Francisco Bay Area, by Olivia Allen-Price
YOUNG READERS
1. Picture Book: Dare to Question: Carrie Chapman Catt's Voice for the Vote, by Jasmine Stirling
2. Graphic Novel: Family Style: Memories of an American from Vietnam, by Mr. Thien Pham
3. Young Adult: Good Girl, Bad Blood, by Holly Jackson
NEW AND NOTABLE RELEASES
Emperor of Rome: Ruling the Ancient Roman World, by Mary Beard
Beard focuses on the details of how emperors lived, governed, traveled, dined, and amused themselves … deft in her exploration of imperial bureaucracy, showing how it dealt with an avalanche of paperwork from distant officials, cities, military leaders, and individuals in an era with no postal service. Emperors' deaths, natural or otherwise, led to fascinating consequences.
The Longest Minute: The Great San Francisco Fire of 1906, by Matthew Davenport
"Davenport's superb narrative, meticulously researched and written with quiet respect for the multiple experiences of the San Franciscans he follows, presents a sweeping portrait of a city as it endures a devastating earthquake and fire. Avoiding the hyperbole and hysteria which pervades disaster literature, he builds his story by listening intently to the voices of many and combing through city documents to give both a kaleidoscopic and a comprehensive view of what happened and why."
— Stephen Tobriner, Professor Emeritus of Architectural History, University of California Berkeley
Roman Stories, by Jumpa Lahiri
Writing in Italian, her adopted language, Pulitzer Prize-winning Lahiri offers nine stories steeped in Rome's sights, sounds, and scents in her first collection since 2008's Unaccustomed Earth, taking readers from a staircase uniting two neighborhoods to the surrounding countryside.
Starling House, by Alix E. Harrow
A satisfying stew of twisted fairy tales and Southern gothic fiction, this is a haunting story of longing, lies, and generational curses. In 19th-century Kentucky, E. Starling wrote a well-known fantasy called The Underland and then disappeared, leaving behind the now tumbledown Starling House, inhabited by its last moody heir, Arthur. Opal takes a job there, hoping to earn money to help her brother. But the house starts feeling like home, and soon she's teaming up with Arthur to uncover its secrets.
Chris Hsiang can help you find your next book at Books Inc., 2251 Chestnut St., 415-931-3633, booksinc.net.