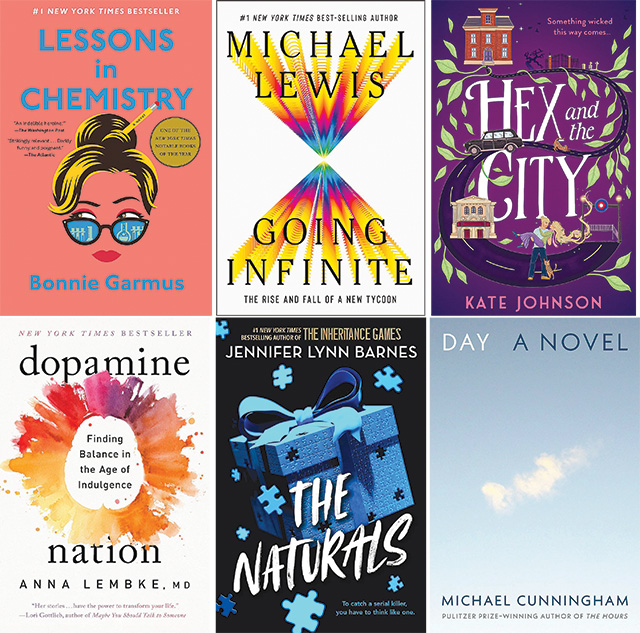 Here is a list of the most popular books sold last month at Books Inc. in the Marina:
HARDCOVER FICTION
1. Fourth Wing, by Rebecca Yarros
2. Tom Lake: A Novel, by Ann Patchett
3. Lessons in Chemistry: A Novel, by Bonnie Garmus
HARDCOVER NONFICTION
1. Going Infinite: The Rise and Fall of a New Tycoon, by Michael Lewis
2. Elon Musk, by Walter Isaacson
3. Atomic Habits: An Easy & Proven Way to Build Good Habits & Break Bad Ones, by James Clear
PAPERBACK FICTION
1. Hex and the City, by Kate Johnson
2. A Court of Thorns and Roses, by Sarah J. Maas
3. The Maid, by Nita Prose
PAPERBACK NONFICTION
1. Killers of the Flower Moon: The Osage Murders and the Birth of the FBI, by David Grann
2. Influence is Your Superpower: How to Get What You Want Without Compromising Who You Are, by Zoe Chance
3. Dopamine Nation: Finding Balance in the Age of Indulgence, by Anna Lembke
YOUNG READERS
1. Picture Book: San Francisco ABC'S, by Mr. Boddington's Studio
2. Middle Readers: Percy Jackson and the Olympians: The Chalice of the Gods, by Rick Riordan
3. Young Adult: The Naturals, by Jennifer Lynn Barnes
NEW AND NOTABLE RELEASES
So Late In The Day: Stories of Women and Men, by Claire Keegan
A Booker Prize finalist for Small Things Like These, Keegan won the Rooney Prize and the inaugural William Trevor Prize for her debut collection, Antarctica. This collection includes that book's title story as well as "The Long and Painful Death" from Walk the Blue Fields and a revised and expanded version of "So Late in the Day," originally published in The New Yorker in February 2022. This book is an introduction (or reintroduction) to Keegan as a short-form master.
Day, by Michael Cunningham
Pulitzer winner Cunningham (The Hours) meditates on love and loss in this intimate portrait of a New York City family impacted by Covid-19. The story begins in April 2019, with Isabel Walker, a magazine photo editor, falling out of love with her partner Dan Byrne, a former rock musician turned househusband. A year later, their 10-year-old daughter, Violet, already affected by her parents' acrimony, is intensely anxious over the virus. Isabel's beloved brother, Robbie, provides a stabilizing influence from afar via Instagram, where he posts as Wolfe, the "adult incarnation" of the imaginary older brother he and Isabel made up as children. Although Cunningham evokes the pandemic only indirectly, such as with references to Violet's remote learning, its impact on everyone is palpably conveyed, especially in a poignant, grief-filled final section set in April 2021. Cunningham's characters drive the story's slender plot, and all of them are magnificently developed, with even the basest episodes, like Dan succumbing to the temptation of a hit of cocaine, revealing depths of thought and feeling. What could have been a somber mood piece tinged with tragedy is buoyed by the author's focus on "the promise that resides under the forlorn surfaces."
My Name is Barbra, by Barbra Streisand
The long-awaited memoir by the superstar of stage, screen, recordings, and television who is by any account a living legend, and who in a career-spanning six decades has excelled in every area of entertainment. The book is, like Barbra herself, frank, funny, opinionated, and charming. She recounts her early struggles to become an actress, eventually turning to singing to earn a living; the recording of some of her acclaimed albums; the years of effort involved in making Yentl; her direction of The Prince of Tides; her friendships with figures ranging from Marlon Brando to Madeleine Albright; her political advocacy; and the fulfillment she's found in her marriage to James Brolin. No entertainer's memoir has been more anticipated than Streisand's, and this engrossing and delightful book will be eagerly welcomed by her millions of fans.
Chris Hsiang can help you find your next book at Books Inc., 2251 Chestnut St., 415-931-3633, booksinc.net.