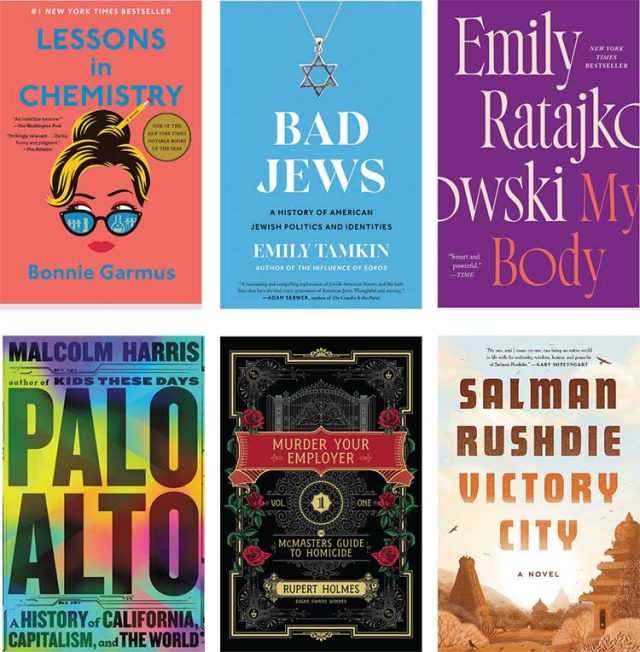 Here are the most popular books sold last month as well as some new releases.
HARDCOVER FICTION
1. Tomorrow, Tomorrow, & Tomorrow: A Novel, by Gabrielle Zevin
2. Lessons in Chemistry: A Novel, by Bonnie Garmus
3. Trust, by Hernan Diaz
HARDCOVER NONFICTION
1. Spare, by Prince Harry, the Duke of Sussex
2. How to Tell a Story: The Essential Guide to Memorable Telling from The Moth, by The Moth
3. Bad Jews: A History of American Jewish Politics and Identities, by Emily Tamkin
PAPERBACK FICTION
1. It Starts With Us: A Novel, by Colleen Hoover
2. It Ends With Us: A Novel, by Colleen Hoover 
3. Verity, by Colleen Hoover
PAPERBACK NONFICTION
1. All About Love: New Visions, by Bell Hooks
2. Everything I Know About Love: A Memoir, by Dolly Alderton
3. My Body, by Emily Ratajkowski
YOUNG READER'S BOOKS
1. Inheritance Games, by Jennifer Lynn Barnes
2. The Golden Gate Twins, by Tomoko Maruyama
3. Mary Anne's Bad Luck Mystery: A Graphic Novel (The Baby-Sitters Club No. 13), by Ann M. Martin and Cynthia Yuan Cheng
NEW AND NOTABLE RELEASES
Palo Alto: A History of California, Capitalism, and the World, by Malcolm Harris
Written by an editor at nonprofit news site The New Inquiry, this book explores the complicated history of Palo Alto, with a population of 68,000 and the home of Stanford University. Drawing on numerous sources, and occasionally from his own experiences, Harris painstakingly connects literature, geography, and economics to understand Palo Alto's history and its relationship to capitalism. Readers interested in U.S. history, particularly pertaining to capitalism and technology, will find an engaging and clear-eyed Silicon Valley tale of a small city with global importance.
Murder Your Employer: The McMasters Guide To Homicide, by Rupert Holmes
Ever heard of the McMasters Conservatory? At this specialized school, its location unknown even to those who study there, students learn how to kill for what they consider ethical reasons: they want to get rid of someone they consider a blight on the universe. From the two-time Edgar-winning novelist, a multiple Tony and Drama Desk Awards winner for mystery musicals that include The Mystery of Edwin Drood.
Victory City, by Salman Rushdie
In 1300s India, yet another battle has subsided when the goddess Pampa creates a glittering city called Bisnaga — that is, Victory City — by speaking through a 9-year-old named Pampa Kampana. For the next 250 years, Pampa Kampana is involved in the city and its mission to make women equal in a world of men, but will the city survive those key human vices of pride and avarice? From the Booker Prize winner.
Chris Hsiang can help you find your next book at Books Inc., 2251 Chestnut St., 415-931-3633, booksinc.net.