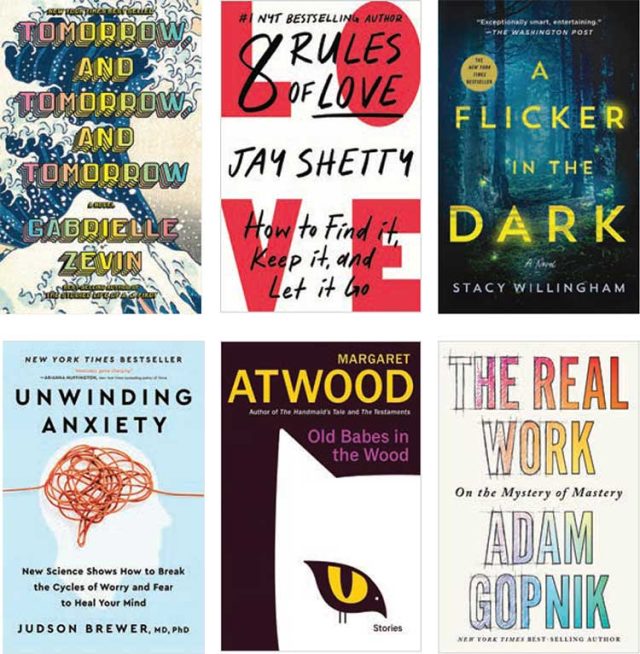 Here are the most popular books sold last month as well as some new releases.
HARDCOVER FICTION
1. Tomorrow, Tomorrow, and Tomorrow: A Novel, by Gabrielle Zevin
2. Victory City: A Novel, by Salman Rushdie
3. Lessons in Chemistry: A Novel, by Bonnie Garmus
HARDCOVER NONFICTION
1. Spare, by Prince Harry, the Duke of Sussex
2. 8 Rules of Love: How to Find it, Keep it, and Let it Go, by Jay Shetty
3. The Creative Act: A Way of Being, by Rick Rubin
PAPERBACK FICTION
1. It Ends with Us: A Novel, by Colleen Hoover
2. A Flicker in the Dark, by Stacy Willingham
3. Maid: A Novel, by Nita Prose
PAPERBACK NONFICTION
1. Spirits of San Francisco: Voyages Through the Unknown City, by Gary Kamiya and Paul Madonna
2. Talking to Strangers: What We Should Know About the People We Don't Know, by Malcolm Gladwell
3. Unwinding Anxiety: New Science Shows How to Break the Cycles of Worry and Fear to Heal Your Mind, by Judson Brewer
YOUNG READERS
1. The In-Between, By Katie Van Heidrich
2. Very Good Hats, by Emma Straub
3. Chain of Thorns (The Last Hours Book 3), by Cassandra Clare
NEW AND NOTABLERELEASES
Old Babes in the Woods:Stories, by Margaret Atwood
As Atwood's wry title suggests, women, aging, and nature are at play in this bountiful short story collection. Half of the 15 tales, most appearing for the first time, star Nell and Tig, two independent spirits enamored of books, remote places, adventurous hikes, good food, and each other. Long married, they're now deploying humor and strategic evasions to contend with the diabolical diminishments of age. Astute, flinty, and deft, Atwood portrays longtime women friends in bantering camaraderie and an "evil mother" who may or may not be a witch, tells a dystopian tale of a virus-ruled future, and, in the title story, brings Nell and her sister Lizzie to their family's old, very rustic cabin. Atwood is, once again, exacting, mischievous, funny, insightful, virtuoso, and spellbinding.
The Real Work: On the Mystery of Mastery, by Adam Gopnik
It's pretty easy to identify someone who has mastered their craft — think of Michelangelo, the Beatles, Serena Williams, Michael Jordan, Shakespeare. But what traits do these individuals share that make them so proficient in such wide-ranging endeavors? How exactly is a master forged? Gopnik sets out to answer these intriguing questions by plunging headlong into activities and trainings that are often new or difficult for him. He decides to learn how to drive and obtain a license late in life. His description of being taught to bake bread by his elderly mother is joyous and insightful. Gopnik undertakes dancing, boxing, and drawing lessons. He seems particularly enchanted by the art of performing magic in a chapter in which he evokes Rod Serling's brief soliloquies in The Twilight Zone. Through observation and deduction, Gopnik grasps much about the meaning of mastery, its many sides, requirement of extensive practice, invention, and intuition, how it happens via a series of small steps, and flow. Gopnik's unusual analysis of expertise and accomplishment includes his own charming moments and can-do attitude.
Chris Hsiang can help you find your next book at Books Inc., 2251 Chestnut St., 415-931-3633, booksinc.net.