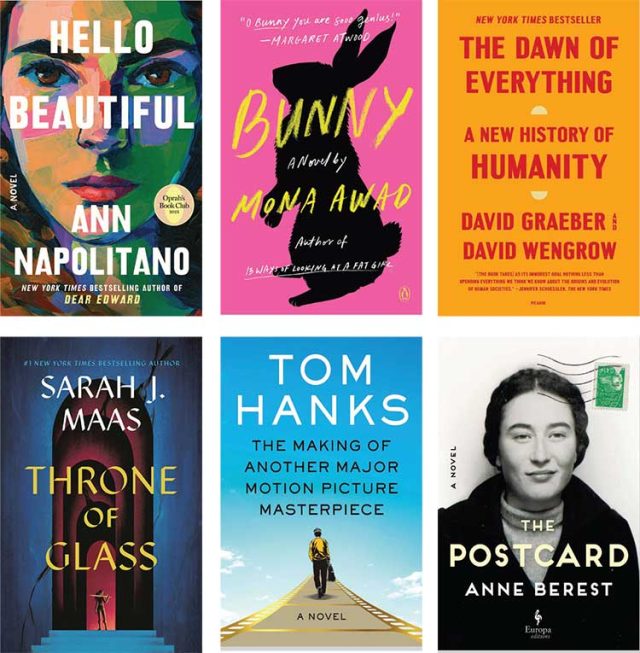 HARDCOVER FICTION
1. Foster, by Claire Keegan
2. Small Things Like These, by Claire Keegan
3. Hello Beautiful: A Novel, by Ann Napolitano
HARDCOVER NONFICTION
1. The Big Reveal: An Illustrated Manifesto of Drag, by Sasha Velour
2. The Creative Act: A Way of Being, by Rick Rubin
3. Dear Dolly: Collected Wisdom, by Dolly Alderton
PAPERBACK FICTION
1. The Maid: A Novel, by Nita Prose
2. Bunny, by Mona Awad
3. One Italian Summer: A Novel, by Rebecca Serle
PAPERBACK NONFICTION
1. The Age of Ai: And Our Human Future, by Henry A. Kissinger, Eric Schmidt, and Daniel Huttenlocher
2. Crying in H Mart: A Memoir, by Michelle Zauner
3. The Dawn of Everything: A New History of Humanity, by David Graeber and David Wengrow
YOUNG READERS
1. Throne of Glass, by Sarah J. Maas
2. Don't Let the Pigeon Drive the Bus!, by Mo Willems
3. Twenty Thousand Fleas Under the Sea: A Graphic Novel (Dog Man Series No. 11), by Dav Pilkey
NEW AND NOTABLE RELEASES
The Making of Another Major Motion Picture Masterpiece: A Novel, by Tom Hanks
Bob Falls finds it difficult to adapt back to civilian life after returning from WWII. Robby Andersen, his artist nephew, creates a comic book series, The Legend of Firefall, inspired by his uncle's experiences wielding a flamethrower in the war. Writer-director-producer Bill Johnson uses Andersen's comic as the basis for a superhero film, and casts as Firefall the egotistical O.K. Bailey, and the savvy, beautiful, and talented Wren Lake as the female lead. The production is complicated by marital disharmony between a rising star actor and his neglected wife, the unexpected death of a beloved character actor, and a stalker who threatens Lake's life. Neither slashing satire nor moody melodrama, this sincerely "Hanksian" paean to the people behind the scenes of a movie production comes to life with great characters. It's a winner.
The Postcard, by Anne Berest
Several years ago, Lélia received a mysterious postcard with only four words — Ephraïm, Emma, Noémie, and Jacques — the names of her maternal grandparents, aunt, and uncle, who were all taken from their small town and subjected to the Holocaust horrors. Lélia and her daughter, Anne, are determined to uncover who sent the postcard and whether it was done in solidarity or intimidation. In this sweeping family saga, French novelist Berest illuminates opportunities for kindness and betrayal in wartime France and the long echo of the Holocaust's atrocities. Berest gives family members and close friends occasional opportunities to narrate, while keeping young Anne as the story's central protagonist
Swamp Story: A Novel, by Dave Barry
Stuck in a tumbledown Everglades shack with a nasty ex-boyfriend and an infant daughter, Jesse thinks she's found a way out: she's tripped over a long-lost treasure. Unfortunately, a bunch of bad guys are also looking for the treasure, even as tourists storm the swamp in search of the Everglades Melon Monster, tricked by Ken Bortle's ploy to shore up his floundering bait 'n' beer business. From Pulitzer Prize-winning New York Times best-selling Floridian Barry.
Chris Hsiang can help you find your next book at Books Inc., 2251 Chestnut St., 415-931-3633, booksinc.net.