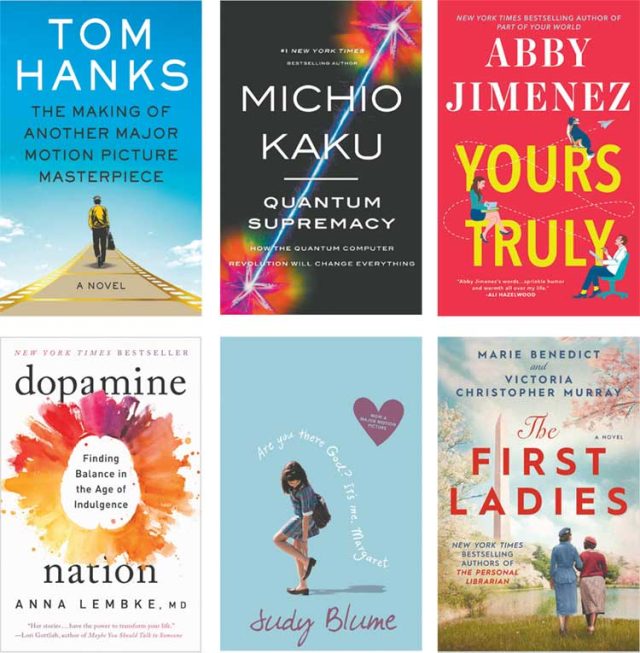 Here are the most popular books sold last month as well as some new releases.
HARDCOVER FICTION
1. The Making of Another Major Motion Picture Masterpiece: A Novel, by Tom Hanks
2. The Covenant of Water, by Abraham Verghese
3. Demon Copperhead, by Barbara Kingsolver
HARDCOVER NONFICTION
1. Quantum Supremacy: How The Quantum Computer Revolution Will Change Everything, by Michio Kaku
2. Taste: My Life Through Food, by Stanley Tucci
3. The Wager: A Tale of Shipwreck, Mutiny and Murder, by David Grann
PAPERBACK FICTION
1. Trust, by Hernan Diaz
2. The Last Thing He Told Me: A Novel, by Laura Dave
3. Yours Truly, by Abby Jimenez
PAPERBACK NONFICTION
1. All About Love: New Visions, by Bell Hooks
2. Bay Curious: Exploring the Hidden True Stories of the San Francisco Bay Area, by Olivia Allen-Price
3. Dopamine Nation: Finding Balance in the Age of Indulgence, by Anna Lembke
YOUNG READERS
1. Picture Book: Brown Bear, Brown Bear, What Do You See, by Bill Martin and Eric Carle
2. Graphic Novel: Twenty Thousand Fleas Under the Sea (Dog Man Series No. 11), by Dav Pilkey
3. Young Adult: Are You There God? It's Me, Margaret, by Judy Bloom
NEW AND NOTABLE RELEASES
The Art Thief: A True Story of Love, Crime, and a Dangerous Obsession, by Michael Finkel
French art thief Stéphane Breitwieser's story is full of epic highs and crucial questions about his mental state and motivation. Over nearly eight years, Breitwieser stole a work of art once every dozen or so days, amassing over 300 objects, including engravings, weapons, tapestries, and paintings. Breitwieser seems to have reveled in the exhilaration aroused by taunting the authorities. But he also comes across as lonesome, guided by passion and aesthetics, and obsessed with acquisition; he kept all that he stole. Certainly his unquenchable thirst for stealing art was indulged by the people who loved him and whom he loved, and his crimes ultimately destroyed their lives. Finkel examines the circumstances that fed Breitwieser's obsession and led to his downfall.
The First Ladies: A Novel, by Marie Benedict and Victoria Christopher Murray
Murray and Benedict team up again with this novel told in alternating viewpoints by two formidable women. In the United States in 1927, segregation is the law of the land, no matter what the actual law says. One of the fiercest proponents of equal rights, Mary McLeod Bethune, meets a woman who will herself become a strong proponent of equality: Eleanor Roosevelt. Over the ensuing years, Mary and Eleanor forge a great alliance of minds and an unshakable bond of sisterhood. Both women face personal hurdles, doubts, and negativity, but in the end, they stand strong. While complete desegregation was still a dream away, these two could be proud of the work they accomplished, the foundation upon which the next steps were built.
The Wind Knows My Name: A Novel, by Isabel Allende
In 1938 Austria, 5-year-old Samuel Adler is grudgingly placed by his mother on a rescue train to Great Britain. He completes the journey, and never sees his parents again. Samuel struggles in an orphanage until he settles in 1942 with a Quaker couple. At 25, he is a violinist with the London Philharmonic, and soon his interest in jazz takes him to America. In a parallel narrative set in 2019, Anita Diaz, 7, leaves El Salvador with her mother to escape ceaseless gang violence, and the two embark on an odyssey that sees them traveling on top of train cars and by foot. They make it to the U.S., where a new family separation policy leaves Anita, who is partially blind, alone in Nogales, Ariz., and her mother deported. Anita shuttles from one host family to another while a social worker and lawyer work tirelessly to safeguard her until she can be reunited with her mother. The two threads converge, first, with bitter irony — Samuel's grandson is a presidential adviser who advocates for harsh immigration policies (and will remind readers of Trump administration political adviser Stephen Miller) — and, by the end, with hope. The dual narrative structure gives historical weight to the contemporary story line, and Allende finds real depth in her characters, especially when portraying their sacrifices. This authentic and emotionally harrowing work is a triumphant return to form.
Chris Hsiang can help you find your next book at Books Inc., 2251 Chestnut St., 415-931-3633, booksinc.net.