This is the first of a three-part series on the state of Union Street.
Perry's Restaurant has operated on Union Street for 45 years, and proprietor Perry Butler hopes it will be there 45 more. "The best thing to happen to me is that my son, Aldy, and my daughter, Margie, wanted to come work with me after college," he said. "So when I get hit by whatever turnip truck comes around the corner, I know the business is in good hands." Perry's has additional locations on the Embarcadero, at SFO, and in the Galleria Atrium of the San Francisco Design Center, but it is the flagship Union Street location that has attracted everyone from the city's top politicos to several generations of families for its cozy atmosphere, bustling bar, and signature dishes such as tomato bisque, Cobb salad, and the hamburger. Mondays and Thursdays draw a crowd for half-priced bottles of wine, as do Wednesday nights for "Lobster Madness," where diners get a 1-1/4 pound Maine lobster, corn on the cob, and boiled potatoes for $24.95.
Lack of change has been a good thing for Perry's — their celebrated bartenders have been crafting classic cocktails like the Ramos Fizz since day one, and now those same cocktails are all the rage among the hippest young "mixologists" in town. One thing that has changed over the years, however, is Union Street. "We've seen Union up and down just like we've seen San Francisco up and down," Butler said. "Right now it's down, but I think there's a lot of optimism with Adriano coming in."
Adriano is Adriano Paganini, one of the Bay Area's most prolific restaurateurs, who took over the lease on the former Café des Amis space (2000 Union Street) at the beginning of February; his new restaurant is slated for a spring to summer opening. Paganini founded (and sold) the Pasta Pomodoro chain and now runs mega-hits like Delarosa on Chestnut Street (he's opening another this year), the Super Duper burger chain (including one on Chestnut Street), Beretta, Lolinda, Starbelly, and Uno Dos Tacos. Butler was a partner in Café des Amis, along with Bacchus Management Group (Spruce, Pizza Antica, The Village Pub), which closed in January. "I met with Adriano to transfer the liquor license," Butler said. "He's not sure of the concept yet, but he knows the neighborhood well, and I have no doubt he'll blow the doors off. I do know he's planning something casual and reasonably priced, which is the antithesis of Café des Amis."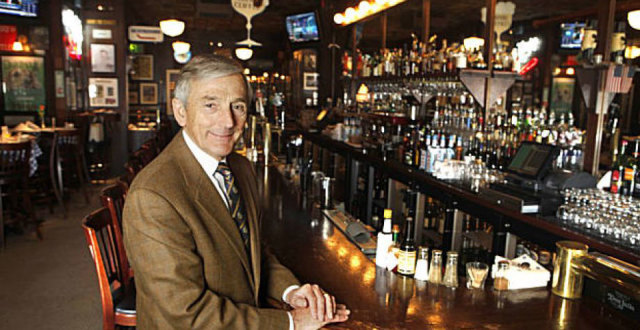 Rumors are flying around the Marina/Cow Hollow community as to why Café des Amis shuttered abruptly, but Butler said it had been a long time coming. "We just got off to a rough start and we could never fully recover," he said. Metamorphosing the 7,000-square-foot former home of Prego into a fashionable, elegant French brasserie was fraught with construction delays and the residual effects of the 2008 financial crisis. After the much-anticipated unveiling in 2010, a series of lukewarm reviews led to a chef shuffle that eventually found Bacchus executive chef-partner Mark Sullivan in the kitchen. Under Sullivan the food improved, but Café des Amis struggled to overcome first impressions. It was open just four years — the same number of years it took to build. "We had a handshake deal with our landlord to reduce the rent so we could tweak the concept, but the landlord suddenly reneged," Butler explained. "They wanted us to pay up on the back rent, and they planned to raise the rent as well. We never made money, and a lot of these landlords think they have the Taj Mahal. They were confident they could get more, so we walked away and they walked away, and we agreed to disagree."
Union Street's landlords are some of the city's most notorious, often preferring to sit on an empty building rather than accept lower rent. "I was one of the people working to keep the Metro Theatre a theater," Butler said. "But the landlord told us that he would rather just keep it boarded up, so now it's the Equinox gym."
Landlords aren't Union Street's only problem — in 1987, some merchants and residents supported a law stipulating that restaurants could only open in former dining establishments. Residents worried about additional noise and rowdy behavior, while existing restaurants saw it as a way to stifle competition. In 2008, with vacant storefronts blighting the once-beautiful street, merchants went to then-District 2 Supervisor Michela Alioto-Pier and asked her to help lift the moratorium. The ban was lifted in January of 2009, allowing five new restaurants and five self-service food sites to open in former retail-only spaces. Unfortunately, much of the food was mediocre and some of those restaurants have since closed or changed hands a number of times. Today, Union Street has more bars that serve food (think The Brick Yard and The Brixton) than it does foodie meccas like Chestnut Street's A16 or Fillmore Street's State Bird Provisions. Chestnut and Fillmore also maintain working theaters to draw the "dinner and a movie" demographic, where the Equinox gym inside the old Metro caters mostly to people who want to work out, grab a kale juice, and head home.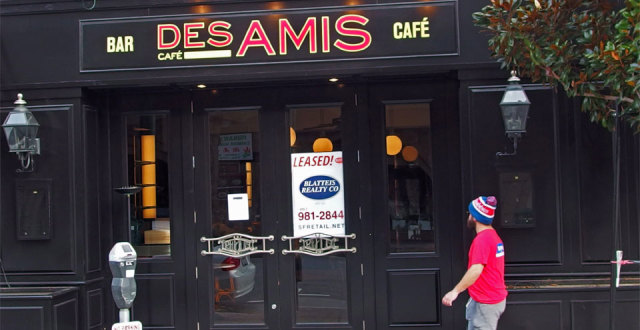 Without destination dining, a movie theater, or a major retail anchor, many Union Street merchants complain of low foot traffic. "Apple wanted to come to Union Street but they were discouraged," Butler points out. "If we got Apple instead of Chestnut Street, I don't think we'd be having this conversation. The people who wanted to keep out new restaurants and businesses — it backfired on them, and I think they're seeing now that it wasn't good for the street or the neighborhood."
The state of California and the city of San Francisco are culpable as well for making it incredibly difficult to open a restaurant and keep it open due to costly health care and minimum wage requirements. California is one of only seven states not to offer tip credit against minimum wage, which rose from $10.74 to $11.05 this year and will go up to $12.25 in May. Tip credit allows restaurants to pay waiters less than minimum wage because tips make up the difference. In California, owners must pay minimum wage on top of tips, meaning a server in a good restaurant can make between $20 and $50 per hour while back-of-the-house employees continue to struggle. Some San Francisco restaurant owners have seen their labor costs climb to 50 percent or more of their operating expenses in a business already synonymous with slim profit margins.
Combine that with $6 to $7 per square foot commercial rents and San Francisco's health care mandate (which is the same whether you're Wells Fargo or Don's Diner), and you have struggling restaurants closing their doors, while still others open theirs in the East Bay. Even many successful San Francisco franchises like A16 and celebrated chefs such as Daniel Patterson have taken their latest ventures to Oakland, which has rapidly become a gastronome's delight.
The good news for the Marina and Cow Hollow is that the former Café des Amis space at 2000 Union garnered an incredible response. "I don't remember a restaurant deal that has been as competitive on Union Street. There were a lot of interested and qualified parties, and the owners went with the best operator," Jeremy Blatteis of Blatteis Realty, who brokered the deal, told the San Francisco Business Times.
Of course, this is no surprise to Perry Butler. "I'm an optimistic person by nature," he said. "I don't want to put all the weight on Adriano's shoulders, but I do think he will breathe a lot of life back into the neighborhood and we will see things swing upward again. I believe Union Street is going to be just fine — it's too attractive and desirable not to be."