As long as we have people who are addicted to drugs, who are willing to destroy their own bodies and their own lives, no amount of investment on the law enforcement is going to solve this problem.
— San Francisco District Attorney Chesa Boudin in The Wall Street Journal, April 15, 2021
When I was a kid, my Uncle Louie managed apartment buildings in San Francisco's Tenderloin neighborhood. One of his jobs was cleaning out rooms when a tenant vacated. My dad, always looking for a way out of my mom's weekend chores, would offer to help, and sometimes he took me along. Most of Uncle Louie's tenants were "working girls," as he called them, and while he and my dad were cleaning, he'd send me to their rooms to watch TV. "Hey ladies, here's 20 bucks — take Suzie down to the deli and get sandwiches for everyone," he'd say. "Thanks Uncle Louie," the girls would reply in unison.
As an adult I had more than a few day-drinking adventures in the Tenderloin with my best friend, Steve, and his partner, Robert, at the now sadly closed Gangway, one of San Francisco's oldest gay bars. We would sober up over steaming bowls of phở at Turtle Tower. Afterward, Steve would ask where I was parked. "Not far," I would tell him, and we would head our separate ways. I was always cautious, but never scared. My, how things have changed.
I recently spent eight hours in the Tenderloin, a neighborhood that is home to more families with children and elderly folks than any other. You often hear people compare it to a Third World country, but I would say it's closer to hell on earth — an apocalyptic, lawless land ruled by drug dealers who have little fear as they openly ply their trade. Yes, there have always been drugs in the Tenderloin, but one drug has been a game changer — fentanyl, a synthetic opioid 50 times more potent than heroin. Dealers often cut other drugs with fentanyl, a cheap way to increase profits.
A record 712 people died in San Francisco of accidental drug overdoses in 2020, a 61 percent increase from 2019. Between January and April of 2021, the medical examiner recorded 252 accidental overdose deaths — a little more than two per day — putting the city on track to lose nearly 1,000 lives this year. The death toll would be much higher if it weren't for Narcan, an overdose prevention medication. Narcan was administered more than 4,300 times in 2020, up from 2,610 in 2019.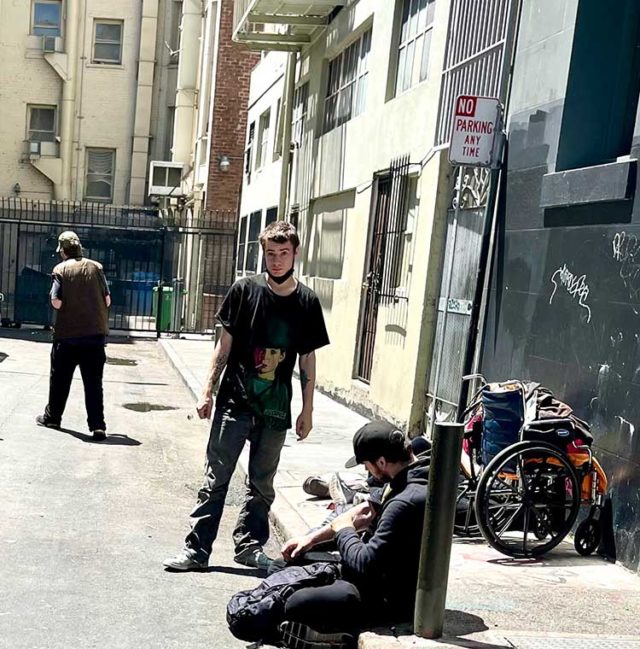 GET OUT OF DODGE
On Dodge Street, an alley off Turk and Larkin Streets, several residents showed me what goes on beneath their apartment windows day and night: dozens of people casually shooting up; others passed out on the sidewalk, some walking up and down the alleyway screaming expletives. One man sat on a blue Lowe's bucket he was using as a toilet when he nodded off, a needle still in his arm. His pants were down around his ankles, and he was covered in his own feces.
David A. Levy, the landlord of several buildings on and near Dodge, says the chaos is a daily struggle. "I paid $1,500 to replace motherboards in an entry system after they beat it with hammers. This morning there were 20 dealers here and we couldn't get the truck in to make the repairs. Moms can't even take their kids to school because addicts block the gate and won't move."
While millions of dollars go to nonprofits to help the homeless, Levy says he rarely sees anyone from those organizations, unless it's to hand out clean needles: "They're enablers making big money off people's misery." As for Urban Alchemy, a nonprofit contracted with the city as "ambassadors" and to provide "litter reduction services," Levy isn't impressed. "They stand around socializing with the dealers — they're ex-convicts, so it's probably not the best place for them to be."
He also questions the success of a lawsuit filed against the city on May 4, 2020, by University of California, Hastings College of the Law over increased homeless encampments and worsening street conditions which settled June 11, 2020. "That lawsuit was supposed to clean up the whole neighborhood," Levy says, "but nothing's changed." I walked past U.C. Hastings, where I saw five Urban Alchemy ambassadors standing guard, and not a single drug dealer in sight. But directly across the street in front of an apartment building, dozens of dealers openly sold while others waited in line to hand wads of cash to a man in a burgundy Cadillac Escalade. A single Urban Alchemy ambassador milled around, talking and laughing with the dealers.
Levy pays $6,000 a year from his taxes to the Tenderloin Community Benefit District. "What am I getting for my money? I pay for private security and my own cleaning crew." He's been trying to get a gate to close off the alley at Dodge, something he says even the police are in favor of, but San Francisco's notorious bureaucracy has stalled those efforts for two years. "You can't talk to [Supervisor] Matt Haney — all he's good for is soundbites on TV. I've called him and e-mailed him; he's never responded. The district has gotten worse since he was elected. He's an enabler, too. He doesn't represent me."
At a hearing before the Board of Supervisors' Public Safety and Neighborhood Services Committee, Haney said of the drug crisis in his district,"I don't want us to kick this issue around for two years and then come up with a report. This is so urgent." That was in 2019.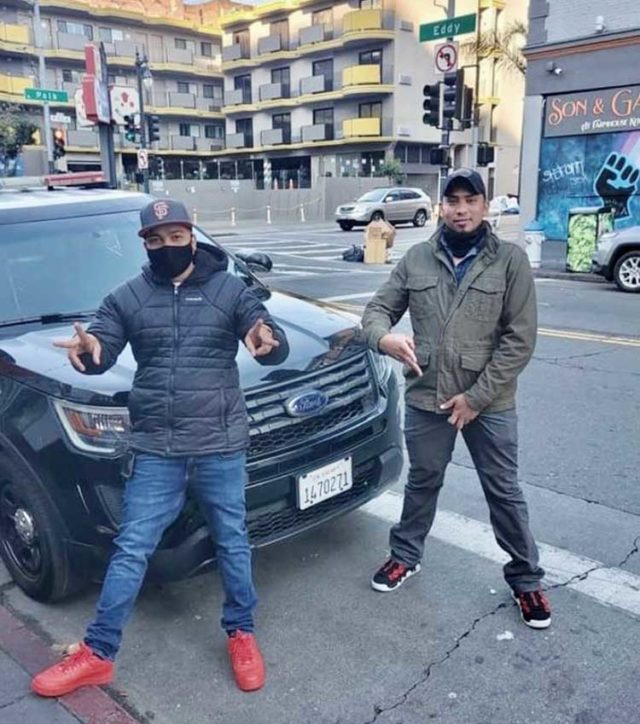 DEALERS ARE THE REAL VICTIMS
At a virtual town hall held July 25, 2020, San Francisco District Attorney Chesa Boudin told a stunned audience that prosecuting drug cases came at too steep a price — for dealers. "A significant percentage of people selling drugs in San Francisco, perhaps as many as half, are from Honduras, and many of them have been trafficked here … we need to be mindful of the impact our interventions have. Some of them have family members in Honduras who have been or will be harmed if they don't continue to pay off the traffickers who brought them here."
Boudin then illustrated his point with a story. "I can tell you from a young Honduran man who I personally represented when I was a public defender, who was accused of selling drugs, and who was guilty of selling drugs, and who eventually plead guilty to what he was accused of … years before I met him, when he cooperated with federal authorities in a different state, his father in Honduras was killed in retaliation." Boudin offered no details (for example, if the man's father was killed because he cooperated in another state, why was he in San Francisco years later still selling drugs?). Instead, he used the anecdote to highlight why he believes drug dealers shouldn't be sent to prison or be deported: "These are not idle threats, and we do not have the power to protect people in Honduras from these trafficking organizations."
Lou Barberini, who spent more than a decade as an undercover narcotics officer for the San Francisco Police Department, says he never heard a single dealer claim to be there involuntarily. He also spoke to four current Tenderloin narcotics officers, involved in more than 4,000 arrests collectively, who responded "they have never once heard a drug seller say he was trafficked."
Former San Francisco prosecutor Tom Ostly agrees. "I reviewed hundreds of narcotics sales cases. I never saw any evidence of dealers being involuntarily trafficked. I reviewed dealers' social media, text messages, statements to law enforcement, and had countless conversations with affected community members. All evidence confirmed dealers were freely and enthusiastically engaging in the drug trade. One guy was making $20,000 a month and sending $6,000 home to Honduras," Ostly says. "The D.A. claims to know people are being forced to sell drugs against their will. If that were true, then he has done nothing to protect them."
The "family members will be harmed" pretext, according to Ostly, is a tactic used by the defense. "I had a case where the public defender said his client's mom would be killed in Honduras — but his mom and brother were actually out in the hallway and had pending cases in Oakland." And, Ostly says, if dealers were truly here against their will, they have a strange way of showing it. "They recruit people on Instagram. One guy filmed himself showing all the [drug] bindles in his mouth and flashing all the cash he was making. Of the 240 cases I reviewed pre-trial there was no evidence of trafficking, but there was lots of evidence of them making tons of money and loving it."
At the same town hall, Boudin also said his office was "prosecuting hundreds of drug sale cases," but then contradicted himself. "I don't think it's particularly productive; I don't think it's particularly useful … police spend approximately $20,000 per buy-bust arrest and in some instances the person they arrest is addicted to drugs and is selling a pill or a crumb of crack to support their own habit." Former undercover narcotics cop Barberini says that's not true either. "They're not addicts. If they use their own stuff, that's one way to get killed." As for Boudin's claims of a $20,000 per buy-bust arrest price tag, SFPD says the per-arrest cost of drug dealer buy-bust operations is around $2,000.
In the first five-and-one-half months of 2021, SFPD seized more than 19 kilos of narcotics in the Tenderloin alone. In June, officers seized seven kilos of fentanyl, which SFPD Chief William Scott noted was "enough lethal overdoses to wipe out San Francisco's population four times over." Officers also made 257 narcotics arrests. From 2019 to First Quarter 2021, 89 drug dealers were apprehended between three and seven times for the same crime. Of those 89 most prolific dealers, only two are currently in custody at San Francisco County Jail. So where do the rest go? "Drug Court," Ostly says. "It's set up for users, but city resources are being spent on dealers." That's right. Taxpayers are funding Drug Court diversion for dealers — who wait for their hearings right next to their clients.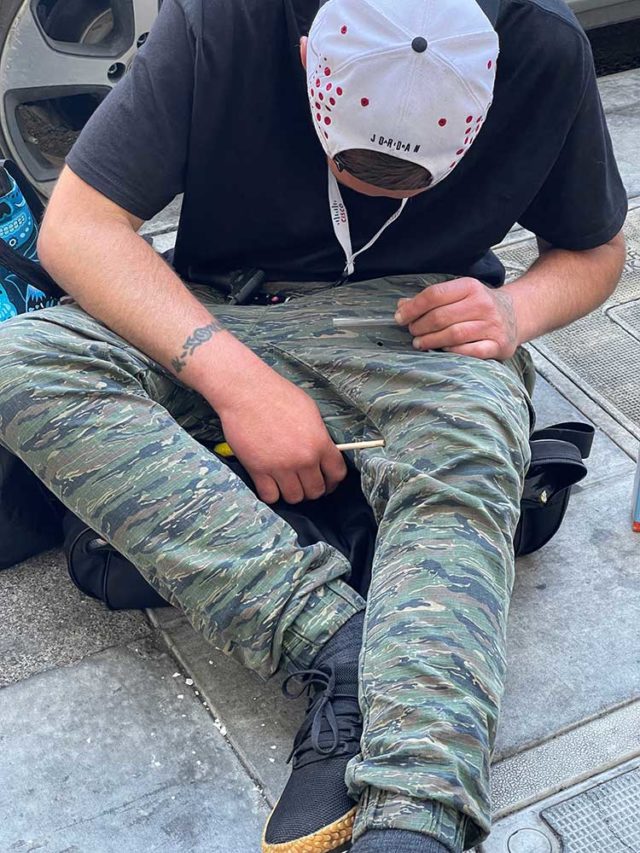 NO MR. NICE GUYS
While Boudin sees drug dealers as victims, those who live and work in the Tenderloin don't, and neither do those who know them best like Ostly. "Dealers have the protection of the Norteños and the cartels. There are videos of Hondurans kicking the shit out of the homeless…they're horribly cruel."
One bar manager I spoke to has seen that cruelty, and its effects, firsthand. "People will be eating and there's a guy right outside the window — the skin and flesh on his leg is rotted to the point you can see down to the ligaments, and he's looking for a vein in his other leg to shoot up." Since the new owners purchased the bar and finished a major renovation, they've been broken into three times. Each morning when the manager arrives to unlock the steel gate across the front door, there are drug dealers who refuse to move. "One day I told them to get away from the business and I reminded them about the families with kids who live in the apartments upstairs. They left. Next thing I know three guys turns into 30. The leader gets in my face and says, 'I don't give a fuck about you, your business, or the people upstairs. I care about MY business.' I thought I was gonna die right there." Despite seeing the police arresting dealers, he says "the same guys are back on the same corners in less than a day." At this point, he's sure how much more he can take. "I feel like every time I'm here I could get stabbed or shot."
As evening set in and I headed out of the Tenderloin, one of the residents I spent part of the day with sent me a text: "Two people just OD'ed . . . that's two people in 10 minutes." The message was accompanied by videos, one of emergency medical technicians working on a man and another of someone administering Narcan to a friend. On the corners behind both scenes, dealers casually continued selling drugs to eager clients.
That comes as no surprise to Thomas Wolf, a recovering heroin addict once homeless in the Tenderloin who now advocates for treatment and commonsense policy reform. "When I was on the street three years ago, police were trying to push dealers off the 300 block of Golden Gate Avenue as U.C. Hastings was getting ready to construct a new building. I asked a dealer, 'What are you going to do?' His answer was plain: 'We'll never leave.'"
THE LATEST NUMBERS
Between Jan 1 and May 31, 2021, officers in the Tenderloin:
• Made 766 arrests (248 for drug sales)
• Seized over 18.7 kilos of drugs (over 8 kilos of fentanyl)
• Seized more than $104,000 in drug money
• Took 32 guns off Tenderloin streets
• Responded to more than 21,700 calls for service
E-mail: [email protected]. Follow Susan and the Marina Times on Twitter: @SusanDReynolds and @TheMarinaTimes.