A thousand points of lights Members of the Union Street Association gathered in mid-December to award a prize for best holiday lighting and decor. With umbrellas in hand and cell phone cameras poised, the judges toured Union Street from Steiner to Gough and Fillmore Street from Union to Lombard, identifying those shops whose exceptional holiday decor were Best of the Best. The 2014 winners are Perry's, Ambiance, Salon Macias, Fredericksens Hardware, Jest Jewels, The Courtyard, Enchanted Crystal, Marengo, and Cudworth Mansion. These businesses really stepped it up and deserve special recognition. Thanks for helping to make the Union Street holiday experience special. Congratulations. You are all winners.
KIT AND ACE
Kit and Ace opened its new Marina store this month. Located at 3108 Fillmore Street, this is only its second U.S. store (the first opened in late November in New York).
Kit and Ace is a t-shirt store featuring what it calls "the new luxury cashmere line" from JJ and Shannon Wilson, the son and wife of Lululemon founder Chip Wilson. The fitted tees are made from a fabric called Qemir, a cashmere-blended cloth designed by Shannon Waison. The store assures us that the fabric can be machine washed and won't shrink or stretch.
This t-shirt-only store will be followed in 2015 with the company's full studio, where you will find a wider variety of products. More info at kitandace.com.
ART OF THE NORTHSIDE
At 2200 Franklin Street, students at St. Brigid's — one of the oldest schools in the city — teamed up with the Fine Art Mural Painting class at Academy of Art University to create a 66-foot playground mural.
Called "The Animal Race," the mural was unveiled on Dec. 18, and it features members of the animal kingdom moving at various paces. It is dedicated to the memory of Sister Mary Jo Wise, a longtime supporter and instructor at St. Brigid who passed away in May 2013.
How often do you get to see artwork that is blessed by a monsignor?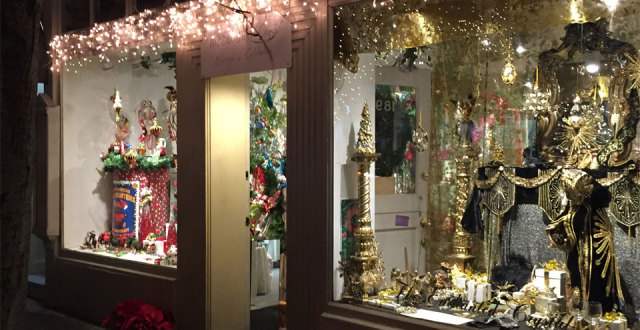 HELP JOLTIN' JOE'S PLAYGROUND
Here's your chance to help build a legacy for a local legend.
He was born Giuseppe Paolo DiMaggio, but he became known as Joe and even better as the Yankee Clipper. Though he was born in Martinez, Calif., his family moved to San Francisco when he was just a year old. His father wanted him to carry on the family's male legacy of being a fisherman, but Giuseppe/Joltin'/Yankee Clipper Joe had his eye on baseball and went on to become an immortal on the field of dreams.
San Francisco has lots of Joe DiMaggio stories. He eloped with an actress you might have heard of called Marilyn Monroe at San Francisco's City Hall in 1954. When the United States went to war against the Axis powers in World War II, his Italian-born father was classified as an "enemy alien" and barred from fishing in San Francisco Bay. (In one of the strangest and greatest things about America, his parents nonetheless became citizens of this country in the mid-1940s.) He married his first wife, actress Dorothy Arnold, at North Beach's Sts. Peter and Paul Church (which, we're told, featured a mere 20,000 friends and fans jamming the streets nearby). That church was also the place of Joltin' Joe's funeral in 1999, and he was interred at San Francisco's local version of heaven, Colma.
This month, the Friends of Joe DiMaggio Playground (which might include some actual friends of Joe DiMaggio) are supporting a major renovation of the North Beach Joe DiMaggio Playground. Ninety percent of the cost will be covered by a parks bond, but the remaining $500,000 needs to be raised.
So on Wednesday, Jan. 14, from 6 to 9 p.m., these same Friends are holding a Night Out in North Beach Party to benefit the playground. It takes place at Bimbo's 365 Club (1025 Columbus Avenue). There will be snacks from Original Joe's, Park Tavern, Tony's Pizza, Don Pisto's, and Mama's, as well as tastings of local beer and wine. Reminisce about the late baseball great while you listen to music by GG Amos. Pitch in by participating in the silent auction.
Tickets start at $60. And you can also purchase a commemorative tile at the park (a great way to inflate the ego of the baseball fans in your life, by the way). More information is available at dimaggioplayground.org.
OVERHEARD DURING CHRISTMAS SHOPPING SEASON
Mother to son: I'm not sure, but I think they use a special kind of reindeer for Santa's sleigh …