The Museum of Craft and Design presents "Bull.Miletic: Proxistant Vision."Bull.Miletic is an artist duo currently based in Oslo, but who made their home in San Francisco for over a decade. The exhibition opens Nov. 19 and runs through March 23, 2023.
SEVEN-YEAR PROJECT REACHES COMPLETION
Bull.Miletic, consisting of Synne Tollerud Bull and Dragan Miletic, were among the first graduates of the MFA New Genres department at the San Francisco Art Institute. The duo focuses on the transformative effects of media technologies and where they intersect with our environment and everyday lives. "Proxistant Vision" is the culmination of a research project focusing on the proliferation and advancement of aerial, moving-image technologies. The duo defines "proxistance" as the ability to capture geographic imagery from close-ups (proximity) to overviews (distance) in the same image, much like the familiar Google Earth "digital ride," which takes the viewer from a global view then zooms into street-level detail.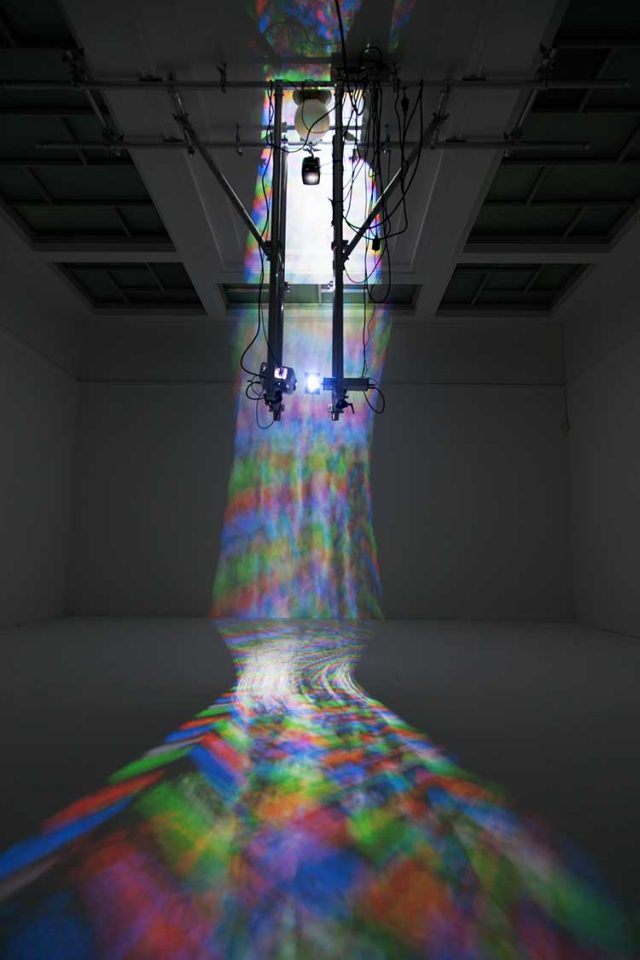 THREE ROBOTIC VIDEO INSTALLATIONS
"Proxistant Vision" consists of three robotic video installations: Ferriscope, Venetie 11111100110, and Zoom Blue Dot. All three, through different themes, explore the multiple paths and genealogies of the proxistant effect. Drones and satellites have introduced a new visual paradigm that Bull.Miletic has applied to art. How has the overview-detail effect transformed our collective vision of the world and spaces we occupy?
In 2000, the 135-meter-high London Eye created a heightened interest in large-scale urban observation wheels and created an increased desire for even grander designs globally. Giant observation wheel imagery and archival photographs arranged in a spatial logic correspond to the camera position on the original Ferris wheels from which they were taken. Video sequences from the London Eye, Las Vegas High Roller, and Wiener Riesenrad are combined with a sequence of 24 animated archival photographs taken from the original Ferris wheel created by George W. G. Ferris Jr. in 1893 for the World's Columbian Exposition in Chicago. A sense of time travel through history combines with mechanical movement of the wheel as a force of cinematic revelation and curiosity.
"Venetie 11111100110" features at its center a cartographic masterpiece titled View of Venice a1500 (Venetie MD), a large-scale woodcut attributed to the celebrated Italian artist Jacopo de' Barbari. His 500-year-old map is an astonishing example of an early trace of proxistant vision. It communicates detail and overview in its presentation of multiple perspectives on the same plane, a vision that is a sum totality and ornate close-up simultaneously. Through research, Bull.Miletic found relationships between this early map and the current digital paradigm of proxistance. Included are 3D flyovers of Venice, aerial views zooming in and out from various vantage points across the city to address the current environmental crisis there. Rising water levels is just one of the destructive forces impacting the city for centuries. Juxtaposed with this imagery are close-ups of the woodcut blocks on Jacopo's map. Cracks in the surface and damage from wood worms and the weathering of the object over time present another parallel of entropic decline.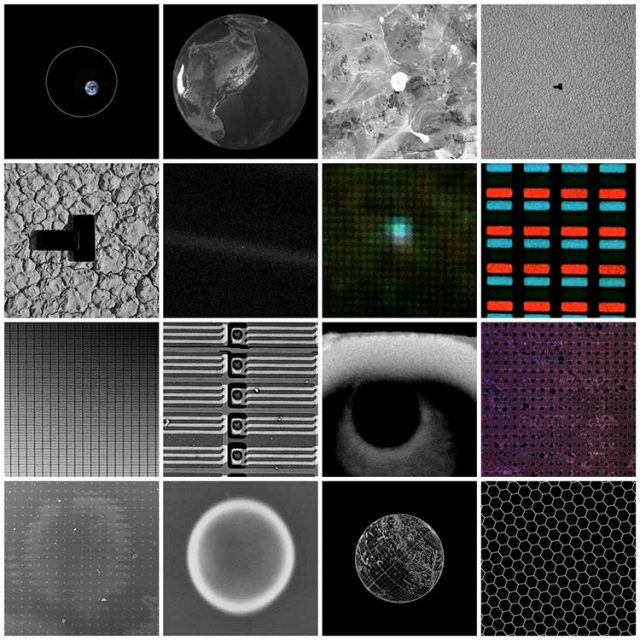 "Zoom Blue Dot" is a kinetic two-channel video installation where a custom-made robot with two video projectors facing opposite directions slowly traverses a dark exhibition space in a curved trajectory. In movement, the projections shrink and expand across the gallery environment, reflecting and deforming boundaries. Proxistant visions of the Earth from the outer limits of the observable universe to the image of earth displayed on a smartphone in the desert signal the human impact on Earth's geology and ecosystems. Distant images of Earth from space depict the planet as a speck of dust photographed by a spacecraft from a distance of four billion miles. The close-ups, or zooms, consist of solid materials, of rocks and crystals in an up-close examination of the materials that comprise our planet. Acclaimed composer Phill Niblock created the soundtrack for the installation, which is not in sync with the video, but provides a counterpoint to the imagery. The soundtrack is "interrupted" at intervals by fragments of selected compositions from the Voyager interstellar record (1977).
Bull.Miletic's observations are where history and technology overlap to shine a light on our evolving sense of identity in a rapidly changing world.
Bull.Miletic: Proxistant Vision | Wed.–Sat. 10 a.m.–5 p.m. and Sunday noon– 5 p.m., Nov. 19–March 23, $10, Museum of Craft and Design, 2569 Third St., 415-773-0303, sfmdc.org.
Sharon Anderson is an artist and writer in Southern California. She can be reached at mindtheimage.com