With so much acclaim earned by so many movies and actors from the United Kingdom, Ireland, Australia, India, South Africa, and New Zealand over the decades, it would be fair to say that British cinema isn't just an acquired taste like certain traditional English culinary favorites. (Black pudding, anyone?) In fact, the annual Mostly British Film Festival is ongoing proof of the broad range, high quality, and universal appeal of new and vintage cinema from all of those English-language outposts beyond North America. Now in its 15th go-round, the MBFF is back at San Francisco's Vogue Theatre from Feb. 9–16 with a banquet of new feature films, documentaries, and shorts, as well as a few classics out of the vaults.
The kick-off will be on the evening of Feb. 9 with a 5:30 p.m. reception followed by a 7:30 p.m. screening of Emily — a mix of biography and conjecture about Victorian author Emily Brontë, scripted and directed by Australian actress Frances O'Connor, and featuring Anglo-French star-on-the-rise Emma Mackey (Sex Education, Eiffel) as Brontë. Closing out the festival on Feb. 16 will be a 7:30 p.m. showing of The Lost King, a wry dramedy about the genuine 21st-century search for the remains of King Richard III, starring Oscar nominee and Golden Globe-winner Sally Hawkins (The Shape of Water, Blue Jasmine), wrapping up the festival with a 9:30 p.m. party at the Vogue.
In between, festivalgoers can enjoy highlights that include Great Dames … When They Were Young — a three-film retrospective of early-career triumphs by Helen Mirren (Age of Consent), Maggie Smith (Love and Pain and the Whole Damned Thing), and Judi Dench (Four in the Morning); a 40th anniversary celebration of the Australian TV saga The Thorn Birds; and If These Walls Could Sing, documentarian Mary McCartney's informative, music-laden history of Abbey Road Studios in London, boasting interviews with such rock legends as Elton John, Led Zeppelin's Jimmy Page, and Mary's father — one Paul McCartney.
Here are some short takes on six notable MBFF offerings:
'CARMEN' (Feb. 10, 3 p.m.)
Natascha McElhone — no stranger to graceful, sophisticated roles — changes things up with her moving portrayal of the title character in Carmen, written and directed by Valerie Buhagiar. Set in the 1980s on the island of Malta and purportedly inspired by the personal odyssey of a real person, Carmen involves the travails of a 50-year-old woman whose life has been devoted to the local church and to caring for her older brother since he entered the priesthood. After he dies, Carmen is set adrift until members of the congregation mistake her for the new parish priest when she's hiding inside the church confessional. The act of taking confession encourages Carmen to finally start living for herself, despite lingering specters of the past.
'ROGUE AGENT' (Feb. 10, 8 p.m.)
Sometimes, a movie comes along that's rooted in actual events, and you almost can't believe what's depicted could have possibly happened. That's the case with the British crime drama Rogue Agent, which is about a guy named Robert Freegard who, starting in the early 1990s, was ostensibly recruiting people for MI5 (the English equivalent of the FBI) or for Scotland Yard. But Freegard, purportedly working undercover for MI5, wasn't what he seemed in more ways than one. Rogue Agent follows Freegard, played in glib fashion by James Norton, from early recruiting missions to his romantic relationship with a London lawyer, played by Gemma Arterton, who might be more of a challenge to seduce than he expected. Although this isn't an earthshaking, ground-breaking film, Freegard's audacity is compelling, as is the cat-and-mouse that goes on between him and the lawyer.
'GOD'S CREATURES' (Feb.11, 1 p.m.)
Set in a contemporary Irish fishing village with dysfunction behind more than a few doors, God's Creatures — directed by Saela Davis and Anna Rose Holmer — is emotionally potent and even troubling as it plays out. The versatile Emily Watson plays Aileen O'Hara, a well-regarded woman who works at the local fishery. It's the usual daily grind until Aileen's wayward son, Brian, played by Paul Mescal, returns home after a long time away, determined to again take part in the family business, even if he commits certain transgressions to achieve his ends. Brian also seems to have a yen for Sarah, a local girl touchingly played by Aisling Franciosi. Sarah may not be so receptive to Brian's advances for reasons that come to light in this dark drama about the limits of maternal love. Watson, Mescal, and Franciosi each deliver rich turns that are well worth experiencing, particularly as their characters interact and unsettling truths are revealed.
'AFTERSUN' (Feb. 11, 3 p.m.)
Although low-key in tone, Aftersun is a poignant and resonant drama about a rare vacation getaway for Callum and his 11-year-old daughter, Sophie. The relationship is clearly a loving one but adversely affected by Dad's strained relationship with the girl's mother. It's told from the standpoint of the adult version of the daughter as a collection of memories, and the result is subtle and affecting. We watch parent and child on one of those midlevel package tours to a slightly tacky tropical resort. As the father tries to cope with the various grown-up issues dogging him, the daughter's oncoming pubescence begins to stir her hormones. Paul Mescal is expectedly terrific as Callum, and Frankie Corio as Sophie is a serious find. Whether director and screenwriter Charlotte Wells was channeling memories from her own childhood when she made Aftersun is immaterial. It's showing up on numerous "Best Movies of 2022" lists for good reason.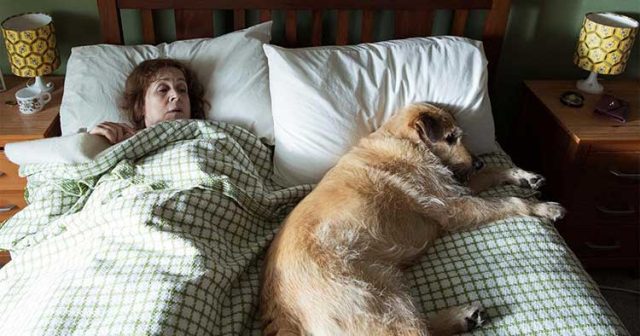 'RÓISE & FRANK' (Feb. 12, 3 p.m.)
A bit of Irish whimsy performed in true Gaelic Irish rather than English (but with subtitles), Róise & Frank is designed to be a feel-good crowd-pleaser. And it succeeds as light, albeit predictable, entertainment. Róise, a depressed middle-aged woman in a small rural town where everyone knows everyone, believes that her late husband Frank — dead two years — has returned to her in the form of a buoyant dog. The mutt, which Róise names Frank (of course), seems to instinctively know about all sorts of things and places that Róise and Frank shared in their marriage, lifting the widow's spirits for the first time since her husband died. The dog even displays an understanding of hurling — a sport that Frank loved. When the dog helps a timid young schoolboy join the local junior hurling team, you may roll your eyes. You may also be charmed.
'THE LOST KING' (Feb. 16, 7:30 p.m.)
With the ever-appealing Sally Hawkins well-cast as the movie's heart and soul, The Lost King is a pleasantly quirky, modern-day treasure hunt spiced with a dash of magical realism. The script by Hawkins' costar Steve Coogan is based on the true story of a Scottish office worker who is determined to uncover the bona fide location of King Richard III's remains and rehabilitate his villainous image. Directed by Stephen Frears, The Lost King seems like a trifle next to his more impactful and acclaimed movies (for instance, Dangerous Liaisons and The Queen), but its authentic, fascinating quest and plucky against-the-odds-and-establishment heroine are engaging enough to invite a recommendation.
Mostly British Film Festival: Daily, Feb. 9-16, $20 (individual)–$250 (pass), Vogue Theatre, 3290 Sacramento St. Visit mostlybritish.org for complete festival information.
Michael Snyder is a print and broadcast journalist who covers pop culture on The Mark Thompson Show, via YouTube, and on Michael Snyder's Culture Blast, via GABNet.net, Roku, and iTunes. You can follow Michael on Twitter: @cultureblaster.