Are the Giants and A's worth your dollars? That's the question I eagerly sought to answer as I headed to spring training. Last year, the Giants were a gigantic mass of disappointment, their soaring balloon popping from 2021's record-setting 107 wins, to 2022's definition of mediocrity: 81 wins, 81 losses.
Last May, the team concocted an elaborate on-field celebration for retired all-star, MVP, and 3-time world champion Buster Posey, who at 35 years old, rather than bask in old memories of glory, could've borrowed some gear, signed a contract, and taken a squat behind home plate to help the team. Instead, he chose to remain in comfy, suburban retirement in Georgia; his decision continues to rankle hordes of Giants fans.
Over in Oakland, the A's experienced their own collapse. Their former manager, Bob Melvin, was a whiz at coaxing confidence in rookies and no names, and developing some of the no names into star players. With Melvin gone to the deeper-pocketed San Diego Padres, in 2022, new A's manager Mark Kotsay displayed a startling level of befuddlement in guiding his inept team to the second-worst record in baseball.
So why would we fans decide to fork over our hard-earned dollars to see the Giants and A's in 2023? Here are the reasons: 2:14, 2:13, 2:25. Those are the durations of three spring training games I attended, in hours and minutes. Last season, the average time of a major league baseball game was 3:03. That's about 45 minutes, or 25 percent of the duration eliminated—of watching pitchers stand on the mound cogitating, or asking God which pitch to throw, or batters fiddling with their batting gloves, helmet, knocking dirt out of their spikes, and adjusting their crotch.
Baseball fans, meet your new best friend: The pitch clock. With no runners on base, the pitcher now has 15 seconds to throw the baseball. With a runner on base, he has 20 seconds. During the clock countdown, by 8 seconds, the batter must be in the batter's box, looking at the pitcher. Pitch, pitch, pitch, pitch — the game now zips along. With this single, significant change, the experience of watching a baseball game has transformed from often-unbearably-draggy to crisp.
A comparison can be made between the pitch clock and basketball's shot clock, which the NBA instituted in 1954, and the NCAA in 1985. The effect for baseball is similar: a bit less strategy, a lot less of one guy holding the ball for (almost) no apparent reason. For baseball, it's the same amount of action in about 25 percent less time. Major League Baseball has taken nine innings of soupy, thin milkshakes and turned the experience into a rich, delicious ice cream sundae buffet.
The biggest effect will be on the casual fan, those to whom their baseball-mad loved ones plead to come along. The shortened amount of fog exposure will be a big sell for Giants fans. Over in Oakland, most kids will be able to witness a full 9 innings and save the drooling asleep for the car ride home. A 6:45 pm school-night game could very well mean a 10:00 lights out. Games on TV will forever cease to be less exciting than the Weather Channel.
At spring training, every fan I spoke with said they like or love the pitch clock, except one inebriated Angels fan, who swayed as he explained, "I'm a traditionalist."
Here's what the Giants are saying about the pitch clock:
· Last survivor from the championship years, shortstop Brandon Crawford. "It's all right. It quickens the pace. You adjust to it. It feels fine. You get used to it."
· Outfielder Mike Yastrzemski. "I happen to love the pitch clock. I lock in."
· Infielder Wilmer Flores. "I like that the game is faster. It's fine."
· Impressively thoughtful potential backup catcher Blake Sabol. "All last season, it was gotten used to in the minors. Last year, in the minors, the umpires were a bit more lenient. 20 seconds is a big change. This spring, the older guys came up to younger guys and asked us how it was. It's tough for some hitters to adjust."
· Joe Ritzo, San Jose Giants broadcaster. "I enjoyed it all last year in San Jose. It cuts out all of the dead time. The action is coming at you quicker on radio."
· As usual, the paragon of eloquence is Baseball Hall of Fame inductee and San Francisco Giants broadcaster Jon Miller. "It's a shame that they (MLB) needed to do it, but they did need to do it. It takes out the long break (in which nothing happened). Baseball is a game of failure. Teams hired sports psychologists. The psychologists told hitters to step out and get your head straight. Call time and take a stroll. These guys were not playing the game. In no other sport does a player take a stroll." Miller added sarcastically, "Who wants to rush that?"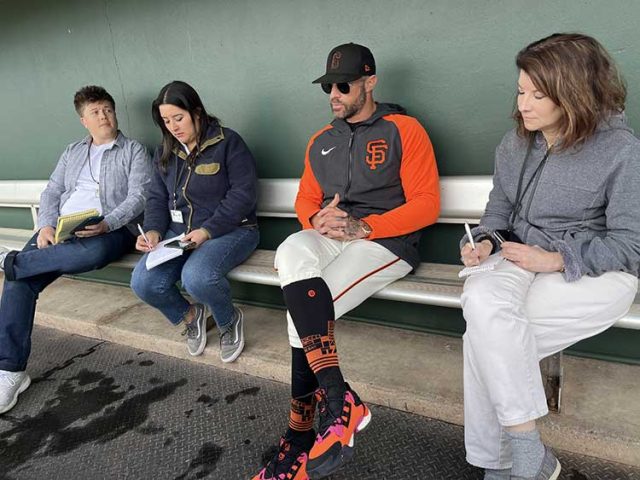 If the pitch clock is the Mt. Everest of baseball rules changes, Major League Baseball has also given us a Mt. Diabolo, and a Mt. Tamalpais. Mt. Diabolo is a rule eliminating dramatic infield shifts. Now the third baseman and shortstop must remain on the left side of the infield. The second and first basemen must stay on the right side. There will be more hits through the infield hereafter, more action and baserunners.
Mt. Tamalpais is an increase in the size of the bases from the traditional 15 inches on a side to 18 inches on a side. (The players have nicknamed the new, larger bases "pizza boxes.") This shortens the distance between the bases. Its main intention is to increase the number of steals and steal attempts.
Over the past 20 years, baseball analytics departments have concluded that it's usually a wrong decision for a baserunner to attempt a steal with less than, roughly, a 70 percent chance of success. Analytics departments have convinced team managers to clamp a ball and chain around the legs of most baserunners, diminishing one of the most exciting aspects of the game. Shortening the distance between first and second, and second and third, by six inches will revive stealing to some extent. How much? Will some fleet dude swipe 80 or 90 bases this season? It'll be exciting to watch.
So, the answer to the question at top is: YES. It's worth plunking down your dollars to see the Giants and A's in person. I strongly suggest that you book those tickets for April or May, before hope for postseason glory goes poof. By June, the Giants and A's will likely be languishing well behind the division leaders. (Unfortunately for Giants fans, the Dodgers, again, look like they'll top the league in wins.) The experience of watching a baseball game has changed, revived, and there will be a buzz throughout the games in Oakland and down by McCovey Cove.
But get to the ballpark waaaaaaaaaay early, and stock up on snacks before the National Anthem. Since the innings now pass so rapidly, if you go to the concourse once the action has started, to wait in line for garlic fries, a dog, or brew, you'll miss a huge chunk of the game.
Steve Hermanos is the author of the time-travel baseball novel Going, Going, Gone!, which Kirkus Reviews named one of the Best Books of 2022. It's available at Books, Inc. on Chestnut Street, and all fine bookstores.