Now that some fall school semesters start in August rather than the traditional post-Labor Day window, it's fitting that filmmaker Jono McLeod's clever, creative documentary My Old School just made its way into theaters.
Myriad movies have gained renown and box office success by utilizing high school settings to offer up everything from randy adolescent shenanigans, starry-eyed teen romance, and poignant coming-of-age journeys to class war, juvenile delinquency, and slasher horror. My Old School manages to reference or poke fun at almost all of those subgenres to tell the strange but true story of a student who attended a secondary school in the Glasgow, Scotland suburb of Bearsden and, in 1995, ignited a television-to-tabloids media furor throughout the United Kingdom.
Although too many spoilers in a review of this particular documentary might water down the impact of some revelations and twists that await, the events that transpire and the background of the student known as Brandon Lee have been a matter of public record since the mid-1990s. Foreknowledge won't undermine such a well made and thoroughly engrossing movie. That's in part due to McLeod's directorial choices, which pay off handsomely. If you're unaware of the details and would rather not know them before watching My Old School, you can stop here. Anybody else should feel free to read on.
ENROLLING AND TUMBLING
In 1994, a nerdy fellow going by the name Brandon Lee enrolled in Bearsden Academy as a fifth-year student. He purportedly looked a bit longer in the tooth than his classmates, yet no one made much of a fuss. The truth would eventually come out. In fact, Brandon was 30-year-old Brian MacKinnon, posing as a 17-year-old. Furthermore, he was a former Bearsden student, having graduated the academy when he was an actual teenager.
McLeod was one of Brandon/Brian's fellow students in the 1990s and pulled together resources to shoot My Old School after earlier attempts to produce a docudrama about the hoax failed. The filmmaker faced a variety of challenges, not the least of which was to get the hoaxer himself to go on the record. Despite MacKinnon eventually agreeing to be interviewed for the movie, he refused to be shown on camera. So McLeod tapped renowned Scottish actor Alan Cumming to lip-sync MacKinnon's account of the masquerade and its fallout. The ploy works, as Cumming manages to convey MacKinnon's elusiveness and floating morality while hinting at the desperation that triggered the impersonation.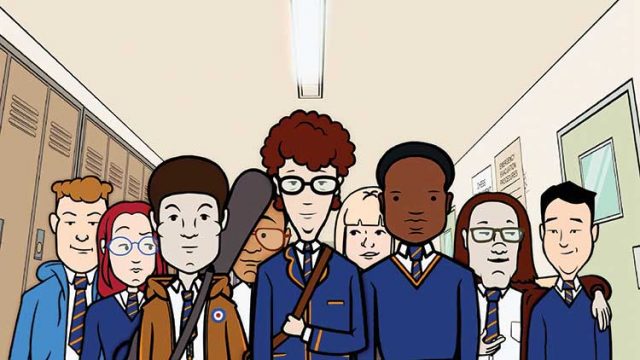 Another asset of My Old School is the use of contemporary interviews that feature various classmates — most of them immensely likeable — describing their experiences with Brandon/Brian from back in the day and long after everything was revealed. As for visually reproducing incidents from MacKinnon's youth and his crucial second enrollment at the academy, McLeod decided to depict them in animated form and in a style evoking Daria, the dryly funny MTV cartoon series from the late 1990s that was all about the struggles of a snarky teenage girl at a suburban American high school.
CALLBACKS AND CROSS-REFERENCES
In addition to the period-wise visual and textural callbacks to Daria, McLeod brought a little more meta to My Old School with canny casting that went beyond securing Cumming's services. Two significant voices in the animated sequences are courtesy of Lulu, the actress and pop singer whose first big movie was the 1967 British high school drama To Sir with Love, and Clare Grogan, who was the lead singer of the 1980s new wave band Altered Images and who made a splash as the title character in the 1981 Scottish high school rom-com Gregory's Girl. As it happens, Lulu and Grogan both hail from the Glasgow area, making their participation even more appropriate.
Central elements of My Old School recall the plot of the 1999 Drew Barrymore comedy Never Been Kissed, wherein a grown-up 30-something female journalist goes undercover as a high school student to report on youth culture, but MacKinnon was the real deal. Aspects of the narrative and scattered Easter eggs bring to mind teen-oriented movies such as the misfits triumphant romp Revenge of the Nerds, the clique-obsessed Mean Girls, or any film about spring break escapades. Those intentional or inadvertent echoes make My Old School all the more delicious.
Whether McLeod's decision to combine certain disparate storytelling techniques to construct his final cut was a result of inspiration or expedience, My Old School breaks the standard documentary mold. He took a fresh, engaging approach that taps into the sometimes funny, sometimes painful, sometimes tedious nature of the high school years while methodically unraveling the mystery of "Brandon Lee" and divulging the reasons behind MacKinnon's plan and fraudulent identity. If you get the urge to go back to schooldays, this is a pleasurable way to do it. Plus, you get the bonus of hearing Lulu cover a certain Steely Dan number over the end credits. In other words, watching My Old School is a lot more fun than detention.
My Old School is currently playing at the Opera Plaza Cinemas.
Michael Snyder is a print and broadcast journalist who covers pop culture on KGO Radio's Mark Thompson Show and on Michael Snyder's Culture Blast, via GABNet.net, Roku, iTunes, and YouTube. You can follow Michael on Twitter: @cultureblaster.