The superb BBC miniseries The Serpent, which recently made its way to Netflix, reminded me that I'm pretty particular when it comes to TV shows about lawbreakers and the law enforcers pursuing them. For instance, The Serpent expertly dramatizes the horrific story of a real-life fiend — con artist and murderer Charles Sobhraj, chillingly embodied by Tahar Rahim (The Mauritanian). With a female accomplice (Jenna Coleman of Victoria) under his spell, Sobhraj preyed on gullible Western hippie types seeking kicks with a side order of enlightenment in Asia during the 1970s. It's an eight-part limited series based on true events, and even if you know the basic facts of Sobhraj's villainy, it's as incredibly tense and thrilling as any fictional thriller I've come across — and a heck of a lot better than many examples of the crime genre on television.
Though I love a mystery, I don't much care for the standard-issue procedural dramas churned out and played on American network TV for decades. The Law & Order, CSI, and NCIS franchises and their ilk generally deliver a string of one-off crime-or-crisis-of-the-week affairs with barely perceptible character growth from season to season. The formulaic nature of these productions seems banal, even tedious to me, but the various shows, including the spin-offs, are popular enough to be renewed year after year. So I go elsewhere for my cops 'n' criminals narrative fix.
My attitude toward the British and European variations on the format is markedly enthusiastic. I find myself eagerly seeking out and consuming those series, which can usually be accessed through streaming services such as Netflix, Amazon, Hulu, BritBox, Acorn, and MHz Choice. Upon reflection, the appeal is more in the long-form storytelling than in the exotic nature of the locales. Admittedly, a few select U.S. crime dramas have used the miniseries structure with satisfying results, such as the first True Detective series from HBO, starring Matthew McConaughey and Woody Harrelson. I'm particularly fond of the Amazon Prime offering Bosch, featuring Titus Welliver as the resourceful title character, with extended plots based on Michael Connelly's Bosch novels. Meanwhile, our friends overseas have been — pardon the expression — killing it with literally dozens of engrossing multiepisode explorations of humanity's dark side that also examine those investigators who seek justice and risk their lives in search of the perps.
UNDER SCRUTINY OVERSEAS
Evidently, I prefer some nuance and complexity to my procedurals that a single hour-long one-and-done episode seldom can provide. I've previously raved in these pages about ITV's Broadchurch (now on Netflix), which follows a mismatched pair of detectives, enacted in brilliant fashion by David Tennant and Olivia Colman, as they try to solve the murder of a young boy in an insular British seaside town and deal with the aftermath over the course of three seasons. And there are comparable and equally compelling foreign shows including The Missing; The Tunnel, a Franco-British effort based on the Scandinavian series The Bridge, which also spawned a decent American version; the interrogation-centered Criminal that looks at different crimes and suspects with separate English, French, German and Spanish takes on the concept; and Spiral (Engrenages), the durable, addictively soapy French policier.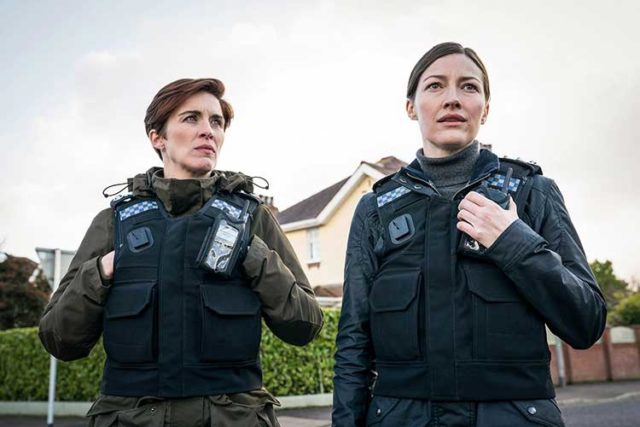 One of my favorite episodic programs about crime and punishment has a rather unique structure. In each of its six seasons, Line of Duty, set in an unnamed British city, follows a police anti-corruption division — what's commonly known as Internal Affairs in the United States — as they investigate a different person of interest within the department. Additionally, the division, Anti-Corruption Unit 12 or AC-12, is under scrutiny by administrators with possibly dubious agendas of their own in who-watches-the-watchmen fashion.
The main recurring characters on the show are the mainstays of AC-12: Detective Inspector Steve Arnott (Martin Compston) whose refusal to cover up a deadly, mishandled raid on suspected terrorists results in a reassignment to AC-12; Detective Inspector Kate Fleming (Vicky McClure), a veteran of undercover operations who is a divorced single mom; and their upright superior officer, Superintendent Ted Hastings (Adrian Dunbar). Their messy private lives and personal interactions are as much a part of the show as their challenging, often dangerous professional doings. But the series' not-so-secret weapons are the high-profile guest stars cast as each season's investigative target.
In Line of Duty's first season, Lenny Harris (The Walking Dead, Fear the Walking Dead) plays a media darling supercop who may be up to some shady dealings. Keeley Hawes (The Durrells, Bodyguard) is a detective inspector accused of conspiracy in Season 2. Daniel Mays (1917, Good Omens) gets grilled in Season 3 as a sergeant involved in a problematic shooting incident. Season 4 centers on Thandiwe Newton (Westworld, Crash) as a chief inspector accused of tampering with evidence. Stephen Graham (The Irishman, Boardwalk Empire) is an undercover cop whose allegiances are called into question during Season 5. The current season has Kelly Macdonald (Giri/Haji, Trainspotting) as a detective superintendant whose suspicious behavior while overseeing a murder case gets the attention of AC-12.
BritBox was granted exclusive U.S. rights to Line of Duty's sixth season, available for streaming there this month. All of the six serialized investigations offer bravura performances by the big-name guest actors and the regulars, amid compelling turns and twists. Each season is able to stand on its own, but there are some plot threads and character arcs that will pay off better down the road if Line of Duty is watched in order, starting with Episode 1. It would be positively criminal to do otherwise.
Michael Snyder is a print and broadcast journalist who covers pop culture on Michael Snyder's Culture Blast, via GABNet.net, Roku, Spotify, and YouTube, and The Mark Thompson Show on KGO radio. You can follow Michael on Twitter: @cultureblaster