Even if we seek something fresh and different to entertain and edify us, there can be satisfaction in the familiar. And it's not always indicative of creative laziness when quintessential heroes are examined anew or even reinvented. Three current television series provide ample proof of how viable, relevant, and inspiring certain fictional characters can continue to be if developed with care and respect. Whether or not you've enjoyed the previous exploits of crusading lawyer Perry Mason, high-minded starship captain Jean-Luc Picard, and mega-powered icon Clark "Superman" Kent, their latest serialized incarnations are well-crafted and offer pleasures for the aficionado or novice viewer.
PERRY MASON
Erle Stanley Gardner's earliest novels about Perry Mason were published in the 1930s, but most people know of the indefatigable attorney and his expertise from the unfussy TV drama that debuted in 1957 on the CBS network and ran for nine seasons and 271 episodes. That show, starring the stocky character actor Raymond Burr as Mason, had a contemporary setting and featured a basic case-of-the-week format. The 2020 reboot of author Gardner's legal eagle — just completing its second season on HBO — is a different bird entirely. HBO's Perry Mason goes back to the era of the earliest Mason books, and rather than simply introduce him as an established barrister, the initial eight-episode miniseries provides an origin story while thrusting him into his first courtroom case.
We meet this Mason in 1932 Los Angeles. As played by Matthew Rhys of the Cold War spy series The Americans, he's a down-on-his-luck veteran still dealing with battlefield trauma from World War I. He's divorced, trying to convince his ex-wife to share custody of their young son, and barely making ends meet by working as a private eye for a good-hearted elder lawyer (John Lithgow). Hired to dig up information when a child is kidnapped and a potentially innocent woman is on trial for the crime, Mason finds himself confronting political heavyweights and the leadership of a powerful L.A.-based church built around a charismatic radio evangelist (Tatiana Maslany). The evolving situation soon compels gumshoe Mason to change careers and pursue justice as a lawyer for the defense, aided by adept legal secretary Della Street (Juliet Rylance) and principled cop Paul Drake (Chris Chalk).
By the start of the second season, Mason has established a modest firm with Street as his counsel and Drake as his go-to investigator. Their paying clients are not necessarily on the side of the angels, and that doesn't sit well with Mason. So his conscience moves him to defend two impoverished Mexican-American brothers accused of murdering a rich, unsavory oil-industry heir who has plans to bring professional baseball to L.A. by building his own stadium. Besides a sensational murder trial and a questionable real-estate deal at stake, there's a businesswoman (Hope David) with her own oil money and a hidden agenda, a ruthless supermarket owner (Sean Astin) using Mason to sue a competitor, a rivalry between offshore gambling boats, and of course, police corruption. There's also a potential girlfriend for Mason — his son's schoolteacher (Katherine Waterston). It would be criminal to reveal if and how any of these elements come together, since watching it unfold is so fulfilling.
Conceived by Rolin Jones and Ron Fitzgerald as a gritty period drama, Perry Mason is one of the most beautifully shot and art-directed programs on TV, in addition to being intelligently and intricately scripted. The vivid evocation of Depression-era L.A. and its economic disparity is nothing short of stunning. To that end, the series also addresses the struggles of the Black and Hispanic communities of the day, as well as the desperate white underclass, and acknowledges the presence of lesbian and gay professionals forced to closet themselves in a less enlightened age. All of this is performed by a cast featuring a slew of decorated actors, led by Emmy-winner Rhys whose memorable Mason is suffused with pain, longing, nobility, and righteous fury. None of the implied social commentary takes away from the mystery and suspense of the cases to be tried. The evidence is indisputable: Perry Mason delivers a gripping law-and-order procedural in shades of noir with an unerring sense of time and place.
Perry Mason is available for streaming on HBO Max.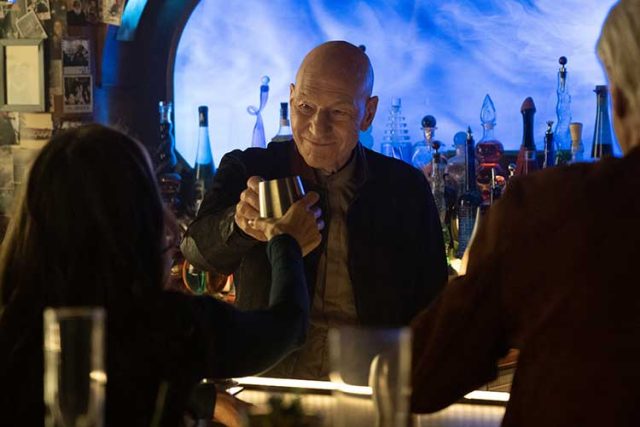 STAR TREK: PICARD
Debuting in 2020, Star Trek: Picard was a high-profile addition to a Star Trek initiative that has made the enduring science-fiction franchise — with beloved television programs and films released throughout more than a half-century — a significant part of the Paramount Plus streaming service. Executive producer Gene Roddenberry's original 1966 TV series, starring William Shatner as swashbuckling Captain James T. Kirk and Leonard Nimoy as Science Officer Spock of the Starship Enterprise, may have launched the behemoth, but Star Trek: The Next Generation revitalized it in 1987 with classically trained Patrick Stewart at the helm of a later-model Enterprise as the daring and eloquent Captain Jean-Luc Picard, supported by his loyal subordinates for seven seasons on the air.
Star Trek: Picard is the decades-later sequel to Star Trek: The Next Generation, voyaging to the 25th century of the United Federation of Planets to revisit the former captain, now a retired Starfleet admiral and played by Stewart as a lion in winter. The first two seasons of Picard had their charms, not the least of which was the presence of statuesque Jeri Ryan as the part-cybernetic Seven of Nine from the crew of Star Trek: Voyager — now a space-faring vigilante. But it's the third and purportedly final season of Picard, masterminded by Trek-savvy showrunner Terry Matalas, that has proven to be the most cohesive, fan-gasmic, and feels-heavy.
`A distress call from Beverly Crusher (Gates McFadden), Picard's former chief medical officer and star-crossed lover, obliges him to reconnect with his former second-in-command, Captain Will Riker (Jonathan Frakes). The reunion leads to a string of stunning revelations, one of which is life-altering for Picard. Over the course of Season 3, members of Picard's core Enterprise bridge crew join the mission, bringing in Michael Dorn as head of security and Klingon warrior Worf, LeVar Burton as engineer Geordi La Forge, Marina Sirtis as ship's counselor Deanna Troi, and Brent Spiner who played the android Data as well as multiple roles in other Star Trek projects. Along with Seven of Nine and new and old allies, they have to deal with a threat against the Federation that only they can stop. As suspected, the actors are favorite-slipper-comfortable in these roles, and their warmth towards each other is palpable and uplifting. If it's their swan song as an ensemble, Season 3 of Picard is a fine and fitting one.
Star Trek: Picard is available for streaming on Paramount Plus.
SUPERMAN & LOIS
It hasn't been a plot point in any movies that spotlight Superman to date, yet the ongoing DC comic books about the Man of Steel saw him marry ace reporter Lois Lane so long ago that they now have a super-powered teenage son. With that on the table, a show like the CW network's Superman & Lois was inevitable. In this update of the Superman saga (now in its third season), Lois knows that fellow journalist Clark Kent is the Big Blue Boy Scout, the two of them are married, and they have fraternal twin boys in high school. After Ma Kent dies, Clark and Lois decide to quit the Daily Planet and move from big-city Metropolis to the Kent family farm in Smallville, Kan., to raise twins Jonathan and Jordan while Clark continues to defend the planet with this bucolic locale as his headquarters.
The kids are not all right with relocating to the boonies. And what if Clark's childhood friends figure out that he's Superman? The usual complications — super-villains, alternate universes, government antisuperhero overreach, and more — ensue along with sibling rivalry, job issues, and the everyday stress of modern life. Although the different take is bracing, the show's biggest asset is the casting of Tyler Hoechlin and Elizabeth Tulloch as Clark and Lois. They bring the best onscreen chemistry to the couple since Christopher Reeve and Margot Kidder starred in the 1970s Superman movies. Add in the heartfelt family stuff, the clever adaptation and tweaking of canon, the cinematography that captures those sprawling Midwestern vistas, and the blockbuster quality special effects, and it's head and shoulders above the other DC Comics' TV adaptations that previously rolled out on the CW.
Superman & Lois can be seen Tuesday at 8 p.m. on the CW network.
Michael Snyder is a print and broadcast journalist who covers pop culture on The Mark Thompson Show, via YouTube, and on Michael Snyder's Culture Blast, via GABNet.net, Roku, and iTunes. You can follow Michael on Twitter: @cultureblaster.