David Bowie, the sleek British musician and actor whose prodigious, multifaceted career achieved liftoff with his mid-1970s glam-rock incarnation Ziggy Stardust, left this plane of being on Jan. 10, 2016 at the age of 69. In the six-plus years since Ziggy became stardust, his music has played on, his influence persists, and his admirers continue to shower him with love and respect. At least two different all-star bands have played a spate of shows that pay tribute to Bowie. And a series of posthumous documentaries have memorialized him, as one would expect when a flamboyant world-renowned figure dies while still producing laudable work — specifically his final album Blackstar and theatrical production Lazarus.
Taking different approaches to his life and endeavors, 2016's Bowie: The Man Who Changed the World (Netflix) established his impact on popular culture; 2017's The Last Five Years (Hulu) concerned the burst of creativity during his final days; and 2019's David Bowie: Finding Fame (Amazon Prime) harkened back to his earliest successes. But Moonage Daydream, released in theaters this month, is the first retrospective film to be approved by the late superstar's estate, and it spans the length and breadth of Bowie's career. He left a legacy of acclaimed recordings and movies featuring a string of thrilling personas: teen rocker, psychedelic shaman, androgynous alien bandleader, blue-eyed soul man, techno-rock aristocrat, dance-pop gigolo, and so on — ripe to be remembered, honored, and cherished.
Moonage Daydream is, at its heart, a celebration. Directed by Brett Morgen, it consists of interviews, archival news and variety-show clips, animated vignettes, and heretofore unseen concert and studio footage with many selections from the Bowie songbook — familiar compositions, alternate versions of some tracks, and a sprinkling of deeper cuts. The closest thing to narration is audio culled from Bowie himself. On and off camera, he expounds on his personal philosophy, his aspirations, and his chameleonic tendencies and the various guises he donned as he, his music, and his radical fashion sense evolved.
ECLECTICALLY CONNECTED
Bouncing back and forth in time, shifting from album to album, tour to tour, and persona to persona, Moonage Daydream is defiantly nonlinear. Morgen uses rapid-fire images, otherworldly vistas, and his subject's musings to serve as segues or threads that provide some degree of connectivity between Bowie's disparate aspects and eras. The painted-up planet-hopping seeker who fronted Ziggy Stardust and the Spiders from Mars is linked to the interstellar traveler in Nicolas Roeg's sci-fi movie The Man Who Fell to Earth, and the suave crooner of the 1983 hit single "Let's Dance" is the acceptable face of the debauched nightclub-crawler haunting the Tony Scott vampire flick The Hunger. They are all pieces of Bowie.
Even if Moonage Daydream comes off as impressionistic or like an audiovisual collage, the cumulative effect is meant to enable an implicit understanding of Bowie through immersion. It was a daring technique by Morgen, who is no stranger to the upper echelons of rock stardom, having already helmed documentaries about the Rolling Stones (Crossfire Hurricane) and Nirvana (Cobain: Montage of Heck). And he's clearly at ease crafting cinematic studies of unique individuals, winning acclaim for The Kid Stays in the Picture, which was about brash Hollywood producer Robert Evans, and nabbing an Emmy for directing Jane, which profiled the renowned primatologist and anthropologist Jane Goodall.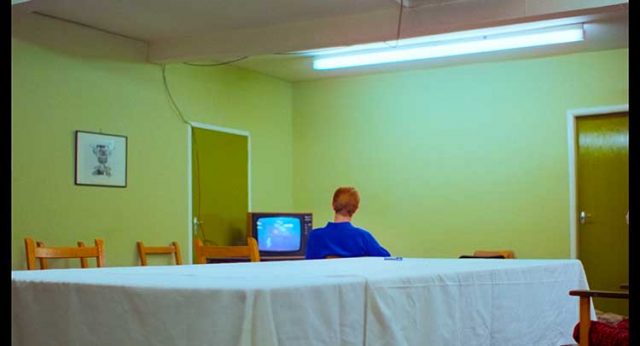 With unprecedented access to Bowie's personal archives as well as the wealth of material that was already available, Morgen had to make some hard choices if he was going to keep Moonage Daydream at a reasonable length. It ended up at 140 minutes that honestly speed forward like a rocket. The director's decision to cut-and-paste bits from an entire lifetime results in brief flashes of Bowie (born David Jones) in the London working-class neighborhood of Brixton; a rehearsal and a video shoot from the '70s; a Dick Cavett interview; residencies in Los Angeles and Berlin; collaborations with Brian Eno (the Low and Heroes albums) and Nile Rodgers (the Let's Dance album); and a stint starring in The Elephant Man on Broadway. We even hear Bowie's ruminations on Eastern religion and get glimpses of him painting canvases in his New York City atelier.
A PORTRAIT OF THE ARTIST AND HIS ART
There were casualties of Morgen's method. Bowie's marriage to the model Iman — his second wife — is clearly albeit briefly acknowledged, but his first wife, Angie, is only seen in a series of photographs that zip by with no reference. The well-regarded filmmaker Duncan Jones, who is his son with Angie, is never mentioned and neither is Alexandria, Bowie's daughter with Iman. As for oversights in his vocational history, Bowie's mid-'70s R&B breakthrough album Young Americans and his submersion into the hard-edged alt-rock band Tin Machine from the late '80s until the early '90s are both downplayed.
These are minor quibbles. Ultimately, it would require considerably more than two-and-a-half hours to touch on every Bowie landmark. A survey of his movie roles alone — those previously mentioned, plus his parts in Labyrinth, Merry Christmas, Mr. Lawrence, The Prestige, and others — could comprise an entire documentary. Meanwhile, Moonage Daydream manages to present more than 40 different Bowie tracks from throughout his run, including the title song, "Space Oddity," "Modern Love," "Life on Mars?" "Heroes," "Changes," "Starman," "The Jean Genie," "All the Young Dudes," "Warszawa," "Absolute Beginners," and "Memory of a Free Festival." Regardless of what might be missing, Morgen has assembled an exhilarating portrait of a resolutely eclectic, spiritually attuned artist and his art.
It's both revealing and bittersweet that Moonage Daydream reaches its climax with Bowie singing "Rock 'n' Roll Suicide," a fervent offer of support for the broken and self-destructive: "I've had my share, I'll help you with the pain / You're not alone." Although his passing gutted so many and Moonage Daydream will remind them of the loss, the time spent watching it and basking in his talent might also help ameliorate the pain.
Moonage Daydream opens in select theaters on Sept. 16.
Michael Snyder is a print and broadcast journalist who covers pop culture on KGO Radio's Mark Thompson Show and on Michael Snyder's Culture Blast, via GABNet.net, Roku, iTunes, and YouTube. You can follow Michael on Twitter: @cultureblaster.