FOR PEET'S SAKE
There were numerous people reading the Marina Times when one of our editors showed up at the grand opening last month. As proud of that as we are, we know that that wasn't the main attraction of the festivities. Instead, the folks who turned out for the new Peet's Coffee & Tea neighborhood party (2080 Chestnut) at the beginning of February got to taste the new bean brews, get some freebies, and enjoy local musicians and a live KFOG broadcast.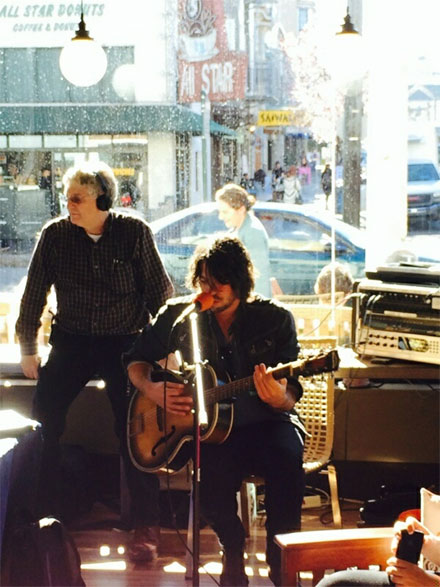 Folks will return for the coffee and the Marina Times, naturally, but Peet's isn't resting on its laurels. Later in February, the company announced that it was rolling out a new line of fresh food items developed with Bay Area chef Arnold Eric Wong (Raison D'être bakery). These include applewood-smoked ham sandwiches, super greens and kale salads, lentil salads, and more, which I'll leave for you to discover yourself, because if I describe any more of them here, we'll have to move this column to our Food & Wine section.
SWEAT IT OUT
Gabby Pavelko got in touch with the Northsider to tell us about some March events at her local business. Pavelko is the owner of Sweat Republic, a group fitness studio that opened earlier this year on Greenwich and Fillmore. She says Sweat Republic is "centered around the philosophy of community, offering high-energy group Surfset, TRX, and yoga sessions in a music- and heart-pumping environment, with beat-responsive lighting to set the mood."
If reading that's got your heart pumping, you might want to check out the new "candlelight restorative yoga class" on Friday, March 7, 7–8:30 p.m.
And you can help out Sweat Republic's fitness manager, Jason Root, who is one of the Mr. Marina contestants. As we reported last issue, the Mr. Marina competition requires contestants to fundraise for the Leukemia & Lymphoma Society. So on Friday, March 14, 5–9 p.m., you can show up for Root's Mr. Marina Silent Auction. Tickets are just $10, and all of the proceeds will go directly to LLS. Sacramento band Private Criminals will provide the music, and the ticket price includes a free glass of wine or champagne. You can burn off the bubbly calories at the next Surfset workout.
SWEET 10 FOR A16
It is hard enough to keep a restaurant going through its first year, so ones that last even longer deserve our hearty congratulations. It's been a decade since A16 opened in the Marina (2355 Chestnut Street). Named after an Italian highway, A16 features food and flavors from southern Italy (especially Campania). When the Marina Times showed up for the 10th anniversary party in mid-February, we were pleased to see award-winning chef Christophe Hill return for the night. Hill (see photo above) cooked a special dinner of A16 classics for the revelers.
Now, let's go for 10 more years.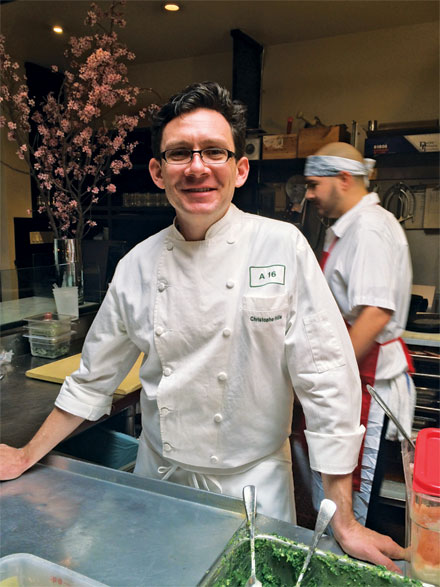 JUICE IT UP
Project Juice opened its newest location in mid-February at 2259 Polk Street If you know what "cold-pressed" and "raw" mean in regard to food, then this is the juice place for you. If you don't know what they mean, this is the place to find out. Add in "organic" and "community-focused," and you get a pretty good idea about this all-things-juice place.
OVERHEARD AT BURGER KING
Mother to young son: OK, go ahead and give your order.
Son: I'm tired.
Mother: OK, let's go. (turns to leave)
Son (wide-eyed): But I want Burger King!
Mother: We're leaving. You're tired.
Son (wider-eyed): But I WANT BURGER KING!
Mother: No, you said you're tired. We're going home. I'm not doing this.