BREWS FOR THE CAUSE
Have you discovered the pop-up outdoor beer garden in Ghirardelli Square (900 North Point Street)? If not, get thee hence. It's a perfect way to spend these warm, leisurely, long days of summer. Sponsored by Lagunitas Brewing Company and Hint Water, it's open Thursdays through Sundays from noon to 7 p.m., with live music from 3 to 6 p.m. through Labor Day weekend.
Brews are $7; peanuts, pretzels, and Hint Water are free, and picnicking is encouraged. And if all that's not good enough news itself, half of all the proceeds from brew sales are donated to a different charity each week. If you favor strong, hoppy brews, you'll be pleased: There are three on pour (including their well-known IPA, which they call "homicidally hopped"), as well as a Czech-style pilsner for us less courageous types. Unfortunately, the pilsner keg was dry when we stopped by (and the peanuts and pretzels were in hiding), but that didn't hamper enjoying the music and the venue.
BEWARE OF THE ATTACK CAT
While we were stocking up on frozen raw cat food at our favorite Wolf & Lion (2460 Lombard Street), up saunters grey tabby Sasha, the resident shop cat. She flopped at our feet, rolled around all lovey dovey like we were her long-lost something, and next thing we knew, her jaws caught one of our hands like a bear trap. Apologetic staff offered a Mickey Mouse bandage, and Barry groused about firing "that cat." Evidently biting customers is not Sasha's only vice; she also breaks into the food at night, and once welcomed a nighttime mouse visitor to hang out with her and play that proverbial game, which she lost. So buyer beware of "sweet" Sasha — except to enter her name as a referral code for $10 off same-day delivery through the store's app, W+L Snap (from the Apple App Store), which makes it all good.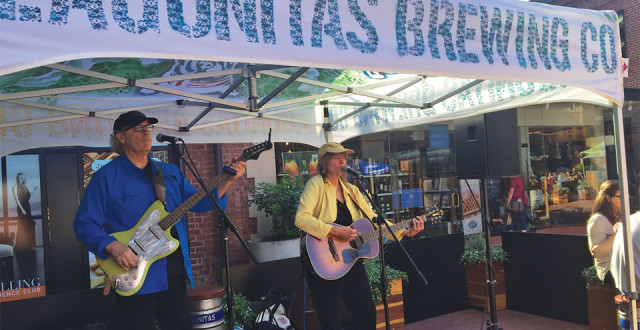 FRUITS OF THE FESTIVAL
We'll admit some of us were concerned when David's Tea (2272 Chestnut Street) set up shop (there were vague memories of a failed tea bar on Fillmore in years past), but we're happy to report that was three years ago, so the tea drinkers have spoken. We rarely drink tea on the go, but at the Union Street Festival, we scored a cool purple tea tin and a few cards for a free cup, which admittedly, may have gone unused had they not been in the shape of a cup in David's signature turquoise color. So having a weakness for cleverness, we redeemed our clever cup card, and received a tea education from friendly staff. The shop offers not only more tea than you ever dreamed existed (in flavors like the seasonal cotton candy to variations on the classic Earl Grey), but also everything you need to make and drink that perfect cuppa.
The Union Street Festival gives us the opportunity to walk down the middle of the street for a different view than from the sidewalk. This led us to Denim & Soul (1829 Union Street), which, up until several months ago, was the Blue Jean Bar. They still have a wide selection of premium jeans in every style for every shape, and the inventory now includes items to wear with those jeans, and much more, for both men and women. So if you need some new jeans (which for many of us is like shopping for a bathing suit), head here, and let the friendly staff (who told us they love reading the Marina Times) make it an enjoyable rather than dreaded experience.
FILLMORE FASHION FIND
On a recent errand-running day, we dropped down into Palette Boutique (3027a Fillmore Street), next door to Fredericksen's, which had just opened in late May. Owner Tonya Milteer greeted us warmly with a welcoming smile, a card for 20 percent off, and a treat for our pup — a winning combo. The first thing we spied was a nice selection of Tano handbags (ours is getting a tad worn …), but Tonya curates her inventory each season with real-life, fashion-forward styles from established and emerging designers like Ella Moss, Estheme Cashmere, Riller & Fount, Jen7 Denim, Joie, Paige Denim, Splendid, 2nostalgik, and Three Eighty Two. A resident of the city for almost 20 years, Tonya has an additional boutique in Mill Valley, so we're delighted to save a trip over the bridge. Local businesses and customers alike have given her a warm welcome, so be sure to stop in and say hello and find some must-have items for sprucing up your summer wardrobe.