We're in the middle of a perfect winter storm when it comes to the entertainment industry. Television viewing habits irrevocably changed with the expansion and proliferation of streaming services that offer original series and feature film content, plus classics and detritus from studio libraries. When you add the pandemic's negative impact on moviegoing and factor in cold weather, it's easy to stay at home and absorb what's on the box, even if the types of content delivery have changed.
The drip-drip-drip of waiting each week for the latest episode of a favorite on network or cable feels a little last century. Certain digital outlets (Apple TV and HBO Max, for two) have experimented with dropping multiple installments of shows in chunks — sometimes three at a time. Then, there's the full-season binge where you watch 'em if you got 'em. With so much diversity and new programs rolled out on a weekly basis, you can surely find something to capture your attention.
Consider these current offerings.
'AROUND THE WORLD IN 80 DAYS'
Perhaps no one needed another screen adaptation of Jules Verne's 1873 tale of Victorian era adventurer Phileas Fogg and his quest to circumnavigate the globe. What could match the 70-mm bombast of the 1956 version starring the ever-suave David Niven as Fogg and the Mexican superstar comic actor Cantinflas as his valet Passepartout? Certainly not the clumsy 2004 comedy that was barely based on the novel and wasted the usually spot-on comedian Steve Coogan as Fogg, the deft master of martial arts and slapstick Jackie Chan as Passepartout, and an impressive supporting cast. Still, the BBC and PBS have delivered a very entertaining and somewhat tweaked take on Verne's story with the always engaging David Tennant (Broadchurch, Doctor Who), a rather perfect choice to play the proper, aristocratic Fogg whose humdrum wastrel life is secretly haunted by a past failure.
Marshalling his courage when challenged by his peers at a stuffy London gentleman's club, Fogg makes a wager that he can do what would have been unthinkable in pre-Industrial Age times: go around the world in 80 days. And thus begins a lushly produced, well cast, and nicely paced eight-episode journey to exotic and danger-fraught locales, enhanced by a scintillating theme and score from Hans Zimmer and Christian Lundberg. It wouldn't be as much fun if Fogg didn't encounter all manner of obstacles — natural and human, accidental and premeditated. Fear not. He does. Fogg's trek to beat the clock requires every ounce of his determination and stamina, as well as the support of his newly hired valet, Passepartout, a black French national with a checkered history and a certain set of skills, and Abigail Fix, a plucky female journalist along to chronicle the perilous pursuit.
This particular Passepartout's race and back story and Fix's gender and relationship to one of Fogg's lifelong friends are deviations from the source material that offer subtext with a contemporary slant. As it happens, the Fix character in Verne's book was a male detective pursuing Fogg in a case of mistaken identity. Depending on how the alterations were handled, they could have felt gratuitous or like pandering, except that Ibrahim Koma as Passepartout and Leonie Benesch (Babylon Berlin) as Fix bring verve and affability to the roles and serve as wonderful foils to Tennant's initially repressed and cautious Fogg. Ultimately, it's a first-class trip with travelers you might want to accompany on another go-round — which may be in the works, despite Verne never having written a sequel to Fogg's folly.
Around the World in 80 Days is airing as part of the PBS series Masterpiece.
'STAY CLOSE'
A couple years back, the prolific American mystery writer Harlan Coban struck a deal with Netflix to adapt a number of his novels into the TV miniseries format. Having already adored the ace French movie based on his chilling novel Tell No One, I eagerly tuned into last year's Coban dramatization, The Stranger, and was rewarded with an addictive and constantly surprising plunge into secrets, lies, and murder among a group of seemingly ordinary people. Starring Richard Armitage as a husband whose life is turned sideways by shocking revelations after his wife's mysterious disappearance, The Stranger was produced and primarily written by Danny Brocklehurst and shifted the setting of Coban's novel from America to England. Stay Close, the latest Coban/Netflix series, is also helmed by Brocklehurst, set in a Northwestern England town near the sea rather than Atlantic City, features a performance by Armitage, and involves cover-ups, disappearances, and death. But the eight-part Stay Close is much more of a police procedural with considerably more killing and somewhat less punch and originality than The Stranger.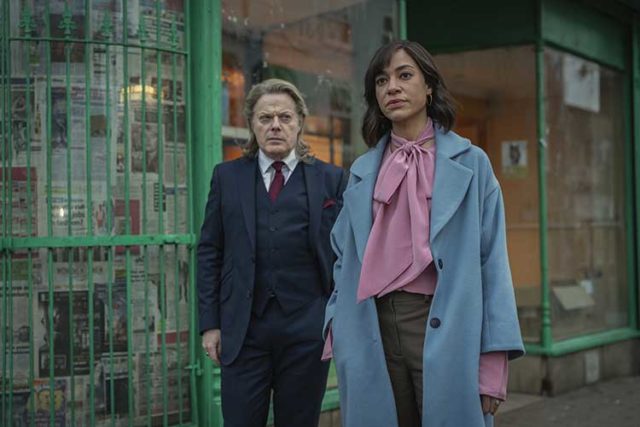 Megan is the central figure in Stay Close — a woman who appears to have it all. She lives happily in a comfortable home with the devoted father of their three teenage kids. She also has a past that she's tried to bury. Megan's previous life is at risk of being revealed to her loved ones when the feckless son of a well-to-do man drops out of sight after a night at a strip club, and the subsequent police investigation starts to establish a connection to a long stretch of unsolved cases involving missing persons. With James Nesbitt (Jekyll, The Missing) as the lead detective, Cush Jumbo as Megan, Eddie Izzard as a sleazy lawyer, and Armitage as a photojournalist who's been on the skids since losing his girlfriend many years ago, Stay Close has a reliable cast that encourages an investment in the well-being of the characters they play as the shocks and cliffhangers pile up. There are some tonal misfires with an overly theatrical pair of psychopaths that seem to have escaped from a 1970s James Bond movie, and certain plot contrivances veer into the overheated and implausible. Otherwise, Stay Close offers enough of that Coban bait-switch-and-startle to recommend.
Stay Close is available for streaming via Netflix.
Michael Snyder is a print and broadcast journalist who covers pop culture on Michael Snyder's Culture Blast, via GABNet.net, Roku, Spotify, and YouTube, and The Mark Thompson Show on KGO radio. You can follow Michael on Twitter: @cultureblaster