According to the perennial tune, it's the most wonderful time of the year — and we're in the middle of it, complete with family gatherings that can be nourishing or trying. Such get-togethers are frequently enhanced or tempered by quality home entertainment options, and the season seldom wants for fresh offerings.
Three new releases that are or will be available for streaming this month are redolent of the movie industry's inevitable need for "proof of concept" to green-light a project. Thus, we have a new version of Italian author Carlo Collodi's Pinocchio wherein a lonely woodcarver creates a marionette that comes alive — a story that originated in the late 1800s and actually inspired two movies this year; a sequel to Disney's charming and wildly successful and cheerfully musical twist on happily-ever-after fairy tales, Enchanted; and yet another take on Charles Dickens' A Christmas Carol. Speaking of happily ever after, they are all worth a watch, even if they are of varying quality.
GUILLERMO DEL TORO'S 'PINOCCHIO'
The most memorable and gratifying of these movies is filmmaker Guillermo del Toro's visually stunning stop-motion animated Pinocchio, which pays homage to the look of vintage images that accompanied Collodi's book. But del Toro's adaptation, currently in theaters and premiering Dec. 9 on Netflix, shifts the setting from the 1800s to a village in Italy during World War II when fascist dictator Benito Mussolini ruled the country and the townspeople were increasingly under the heel of his minions. Although this gives the project an astute, if overt sociopolitical perspective, the heart of the tale remains the same as Geppetto, mourning the loss of his flesh-and-blood son, fashions a puppet that comes alive due to the magical ministrations of a friendly fairy. In line with all interpretations, a plucky talking cricket is tasked with keeping watch over the naïve wooden-headed creation that's given the name Pinocchio.
Even as these latest adventures of Pinocchio parallel those of the source material as Geppetto must undertake a dangerous quest to find his wayward progeny, the historical context invites tweaks to the narrative by fantasy master del Toro and his co-screenwriter Patrick McHale that never feel gratuitous. And all of it is rendered onscreen with such beauty and grace and fluidity, as directed by del Toro in partnership with animator Mark Gustafson, that the animated characters have emotional impact comparable to what would be delivered by a live-action cast. Of course, none of this would fly without exceptional voice performances, and they are evidenced throughout, led by venerable British actor David Bradley as Geppetto, alongside usual leading man Ewan McGregor as the cricket and young Gregory Mann as Pinocchio, with starry support from Tilda Swinton, Cate Blanchett, Christoph Waltz, John Turturro, among others.
There are serviceable songs sprinkled throughout del Toro's Pinocchio, none of which seem as timeless as those in Walt Disney's 1940 cartoon telling of Collodi's tale. In fact, those classic Disney numbers, including "When You Wish Upon a Star," are reprised in the studio's live-action and computer animation remake released earlier this year. Despite the presence of a white-wigged and mustached Tom Hanks playing Geppetto and the technical expertise displayed by blending him and other actors with CGI, the decision to reproduce the familiar character designs from the older 2-D movie in 3-D form and lean on the old tunes gives this "re-Disneyfied" Pinocchio a stale, pedestrian feel, especially when compared to the vitality of del Toro's approach. And when Hanks trots out a stereotypical Italian accent that sounds like it was stolen from silly video game stalwart Mario, it's hard to know whether to laugh or cringe.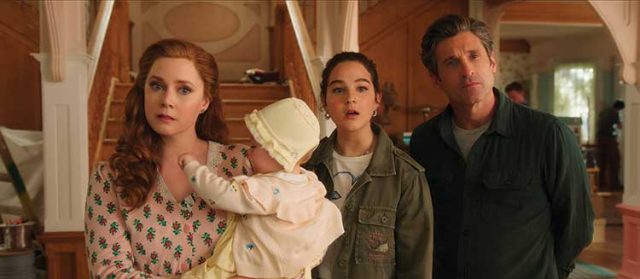 'DISENCHANTED'
Disenchanted is another case of Disney going back to a well once more, but it doesn't feel like once too often. This pleasant, lively, cluttered continuation of 2007's Enchanted revisits the cartoon princess turned real-life woman Giselle, played once more by Amy Adams with verve, innocence and a relentless sweetness that is thankfully undercut by events in the movie. In the previous chapter, Giselle was sucked out of the animated storybook kingdom of Andalasia and plopped down into the harsh realities of modern-day New York City where she eventually adapts — while talking to the local fauna, singing and dancing as she would in a 'toon musical — and finds her true love: Robert, a handsome, pragmatic attorney and single dad played by Patrick Dempsey.
Picking up a decade-plus later, Disenchanted finds the now-married Giselle and Robert with a baby daughter, while Robert's daughter Morgan is now a sulky teen. An overwhelmed Giselle convinces Robert to move the family to a small town where she might find something akin to her origins. Yet, Giselle's idyllic dreams are challenged when the local queen bee is reluctant to let the guileless newcomer into the fold. When Giselle's princely former beau and his lady love (James Marsden and Idina Menzel reprising their Enchanted roles) visit from Andalasia and bring a magical gift, Giselle is driven to use the boon to make her circumstances more like they were before she came to this dimension. Alas for Giselle, when you wish life were a fairy tale, you might not be thinking of the Grimm parts.
It isn't as dazzling as Enchanted, which had a ball with turning fairy tale tropes inside out and frankly had better musical numbers. To their credit, the Disney honchos had the good sense to bring back the four principle actors and to add the comedic gem that is Maya Rudolph as Giselle's small-town nemesis. Songwriters Alan Menken and Stephen Schwartz, whose Enchanted score was such a treat, are also in the fold once more; "Love Power," their showpiece for Broadway superstar Menzel, is a high point, as is "Badder," a duet/duel between Adams and Rudolph. Yes, it's overloaded with plot, and a familiarity with Enchanted is recommended. Still, with the talent involved and accomplished director of contemporary movie musicals Adam Shankman at the helm, Disenchanted — streaming on Disney+ — is never less than fun.
'SPIRITED'
Perhaps the Dickens-inspired Spirited merits lowered expectations, considering it's a musical comedy starring odd couple Will Ferrell as the Ghost of Christmas Present and Ryan Reynolds as the wildly amoral corporate public relations consultant the ghost is assigned to haunt and reform. Well, fie on such negativity! Spirited is, in fact, an enjoyable romp. The leads have decent chemistry and excellent comic timing, and the music by the Oscar-, Grammy-, and Tony-winning team of Benj Pasek and Justin Paul is better-than-average fare. Ferrell and Reynolds sing and dance their hearts out — and don't embarrass themselves. The reliable Octavia Spencer is onboard as the public relations guy's right-hand woman, and Tracy Morgan skulks around as the visually chilling, verbally funky Ghost of Christmas Future. Director-coscreenwriter Sean Anders hasn't reinvented the Yule log here, and that's O.K. Now available on Apple TV Plus, Spirited provides laughs, a bit of heart-tugging, occasional clever moments, catchy melodies, and an enthusiastic ensemble. It won't be a lump of coal in your stocking; in fact, it may deck your halls.
Michael Snyder is a print and broadcast journalist who covers pop culture on The Mark Thompson Show, via YouTube, and on Michael Snyder's Culture Blast, via GABNet.net, Roku, and iTunes. You can follow Michael on Twitter: @cultureblaster.