This is the third of a three-part series on the state of Union Street.
Cow Hollow, the Marina, and Pacific Heights are hot tickets for prospective retail and restaurant tenants in the Northside, while North Beach remains a bit of a bargain, according to Jeremy Blatteis of Blatteis Realty Co., Inc. and Pamela Mendelsohn, senior vice president with the San Francisco office of Colliers International, two of San Francisco's top commercial brokers.
Jeremy Blatteis is a third-generation broker for the eponymous firm founded by his grandfather in 1922. Blatteis was the first San Francisco real estate firm to specialize in retail leasing, and the company continues to seal some of the biggest deals in town, such as 2000 Union Street, former home of Café des Amis. Adriano Paganini — whose restaurant empire includes Delarosa, Beretta, Starbelly, Lolinda, and the Super Duper Burger mini chain, among others — plans to turn the space into an unpretentious, beckoning Belgian brasserie.
"I'm a third-generation San Franciscan, born and raised in the Marina. We've done more deals than anyone else in this area, and I've never seen a market like this," Blatteis says. In the Northside, business is booming particularly in the Marina, Cow Hollow, and Pacific Heights areas. "Fillmore, Union, and Chestnut are very active streets, and there's high demand to be on all of them. Fillmore is extremely tight. There are a lot of boutiques on Fillmore, but I feel owners should be able to decide what or who goes into their buildings. People can decide if they want to shop at a boutique or online, or at a chain. The market will dictate the demand."
One of the most exciting areas, Blatteis says, is Union Street, which is experiencing something of a renaissance. "Union is doing a great job of coming back, and I'm extremely positive about it. The [Union Street] Association is doing a great job of allowing conditional-use permits to come in, and that open-mindedness is paying off."
Conditional use, or CU, is a type of land usage not typically permitted in certain zoning districts. Conditional use requires a Planning Commission hearing to determine if the proposed business is "necessary or desirable" for the area. Neighborhood groups have incredible and sometimes-dubious influence over whether the Planning Commission approves conditional-use permits.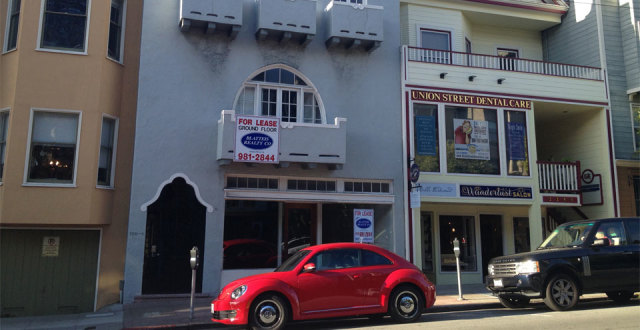 "Our phones are ringing constantly from people who want to come to Union. There's a high level of interest in our listings and we're closing deals. I don't remember ever seeing this level of interest in my 10 years working here," Blatteis says. "Historically, Union Street has always been a retail destination, and I think right now it is way stronger than most areas. I think for Union, the best is yet to come." Other Union Street deals Blatteis recently closed include 2181 Union for Juicy News, after they lost their lease on Fillmore; a high-end Italian chocolatier at 1998 Union (only its third location worldwide after Italy and New York City); and 2254 Union with interior designer Ali Davin and her award-winning studio, Jute Design.
Blatteis also likes Chestnut Street, which he says, "remains vibrant and is becoming more open to a variety of business concepts."
That newfound openness likely has something to do with the neighborhood groups. Anyone familiar with the attempt by Pet Food Express (PFE) to move into the long vacant Blockbuster building at 2460 Lombard will recall that the Marina Community Association and the Marina Merchants Association worked obsessively to keep the locally grown, philanthropically minded pet supply store from doing so — not once, but twice. Because PFE has more than 11 stores nationwide it is considered a chain, thus triggering a conditional-use hearing. The campaign waged by the two neighborhood groups, centering around Pet Food Express potentially undercutting two smaller pet shops on Chestnut, swayed the Planning Commission to deny the conditional-use permit (in an irony of events, 2460 Lombard became a pet supply store anyway called Wolf & Lion, a boutique warehouse with lower prices than "the chain" that PFE opponents were so afraid of). Since then, both groups have gone largely silent. The Marina Merchants Association, which hosted standing-room-only meetings for the two smaller pet stores and their supporters, is now little more than dust in the wind. The meetings right after "the big PFE takedown" attracted few to no attendees, and then the meetings stopped all together.
Still, Pamela Mendelsohn, senior vice president of Colliers International's San Francisco office, believes Chestnut Street has a couple of big advantages. "Chestnut is always strong. Apple was their big shot in the arm. It's a destination. You come to Apple and then you walk down the street and see all the other businesses. Chestnut is also mainly a food-based street, which is perfect for what's going on right now in San Francisco." What's going on, she says, is congestion. "If you had a restaurant, you used to be able to be any place and people would travel to get there. But now with the horrendous traffic, people are staying in their own neighborhoods. They used to do it because it was quaint, but now it also has to do with the hassles involved in getting around San Francisco. They don't want to deal with all the traffic, they don't want to hit a biker, they don't want to drive half an hour to get to the Mission and stand in line for an hour because they don't take reservations. It's not fun!"
Mendelsohn, like Blatteis, be-lieves Union Street's strong, open-minded neighborhood association is key to its success. "A lot of the neighborhood groups around the city are not open-minded. The Union Street Association is really strong — they realize what they need to do, they want what's best for the neighborhood, and I think they see the big picture. I think many of the other neighborhood associations have a narrower vision of what they want and don't want. But the city is changing, and what worked 20 years ago doesn't work now … Union Street is adapting to those changes better than a lot of other areas."
Fillmore Street, Mendelsohn says, is "really strong" with its robust retail. "Fifty percent of why you go shopping is to get what you know you want, and 50 percent is to be surprised when you find something you didn't know you needed," she says. "When I drive clients around Fillmore Street, at first they don't like all the brands. Then they see the foot traffic and they say, 'This is very vibrant.' Fillmore Street's challenge is that it has become very female oriented, and not so much masculine."
The area facing the biggest challenges, however, is North Beach, where it's harder to do business and there's a lack of destination retail. "When I take clients to North Beach, they always say how charming it is," Mendelsohn says. "Rents are substantially lower. Sales volume dictates what tenants want to go where. I think it's a lovely neighborhood with tons of traffic — there are diners walking up and down the streets, and the people who live there really love their neighborhood. But I'm not sure how many of the retail stores are destination stores. It's all about balance. You have to have a certain amount of stores that are destinations, and I don't know that retail is doing as well in North Beach as it is in other areas."
Blatteis recently brokered a lease for "a hip wine bar-restaurant" in the Dante Building at 1606 Stockton Street (where the famous Scorpio scene in the Clint Eastwood film Dirty Harry took place on the rooftop), and he's been working on a deal to move the beloved restaurant Mama's on Washington Square into 627 Vallejo Street for two years. "[The space at] 627 Vallejo has been vacant for approximately three years, and it's a shame because it's a prime location, and there is a strong local and adored operator that is ready and able to lease it," Blatteis says. "If this property was in another part of the city then I believe we would have leased it over a dozen times by now."
A prominent businessman who spoke on condition of anonymity says he knows what the problem is in North Beach. "It's still under the thumb of Aaron Peskin and his wife, Nancy Shanahan. Because of the Peskins and the rest of their anti-business buddies in the Telegraph Hill Dwellers and the North Beach Business Association, deals don't get done, and that's just fine with them. The rest of the city is thriving in arguably the biggest commercial boom we've ever seen in this city, and North Beach isn't participating — instead, they're struggling with vacant buildings and deals held up by red tape generated by these groups playing politics. They use their influence to get what's best for them, and they really don't care what's best for the neighborhood."
Meanwhile, projects like Mama's at 627 Vallejo Street languish, empty buildings become blight, and prospective tenants move on to more welcoming areas, willing to pay higher rents rather than spin their wheels in the North Beach political quagmire.
The overall health of commercial real estate in the Northside is better than ever. The more open-minded the residents and neighborhood groups are, the faster vacant building will fill up with tenants. Both Blatteis and Mendelsohn pointed to balance as the key for creating a flourishing destination — a mix of brand names, restaurants, retail shops, and services diverse enough to give residents what they need, and visitors what they want.