As much as fiction can reveal about the human condition, the account of a true story — especially one inspired by an uncommon situation — can have deeper impact by virtue of verity. Suspension of disbelief is not an issue when plausibility is assured. That may explain why so many recent movies and television programs are based on actual events and real people, and are touted as such in the credits.
Many of these docudramas come with the caveat that certain plot elements and characters have been changed, combined, or embellished for dramatic purposes. But playing a little fast and loose with the facts doesn't diminish the entertainment value provided by a pair of recent, engrossing miniseries from Britain — both ripped from the headlines and both featuring a noted and compelling lead actor.
Although each series involves genuine or presumed mortal peril, they are markedly different in tone. Stonehouse is a dryly amusing take on English politician John Stonehouse, who faked his own death in 1974. Far more harrowing, Litvinenko addresses the fatal 2006 poisoning of a former Russian spy who had become a British citizen and follows the police as they investigate the circumstances of the murder and search for the responsible parties.
'STONEHOUSE'
With versatile leading man Matthew Macfadyen (Succession, Ripper Street) playing the title character, Stonehouse — a tidy three-episode production that's available stateside on the BritBox streaming service — doesn't simply offer a portrait of one man's arrogance, amorality, self-delusion, and comeuppance. It also delves into the political climate of England in the 1970s, when Labour Party head Harold Wilson was the country's prime minister, and expedience regarding control of Parliament dictated a certain amount of lenience in the treatment of party members, regardless of their peccadilloes.
A member of Parliament with a wife and three children, Stonehouse is compromised by a foreign government, deep in debt, and guilty of fraud and theft, as well as cheating on his spouse — all before he's actually appointed Postmaster General by Wilson. The wayward M.P.'s answer to his myriad problems is to leave the country and essentially vanish from sight before any of his transgressions can catch up to him. He's heedless of the pain his disappearance could cause his family or how his actions and the loss of his swing vote in Parliament might hold the Labour Party hostage. Still, the piper will be paid.
The series was written by John Preston, who gives it an air of bemused cynicism, suggesting the futility of Stonehouse's ploys, while managing to skewer the selfish and nasty side of Parliamentary politics. Despite the perilous potential of his mounting missteps, Stonehouse plows forward in an attempt to beat the forces that might bring him down. Regarding any fictionalized moments in the script, they don't undermine the basic facts as they're known. Director Jon S. Baird brings a light and lively touch to the proceedings when Stonehouse is in the middle of his desperate, hapless machinations. But things turn a darker hue when the conflict between Stonehouse and his betrayed wife, Barbara, boils over.
Those scenes of domestic turmoil crackle, as Macfadyen faces off with a skilled acting partner — Keeley Hawes (The Durrells, Bodyguard), whose Barbara tries to maintain a placid exterior for the good of the family until that's no longer an option. By that point in their crippled marriage, Barbara pulls no punches, castigating her husband as a pitiable figure — and it's easy to agree with her, even if there's satisfaction in watching his life unravel.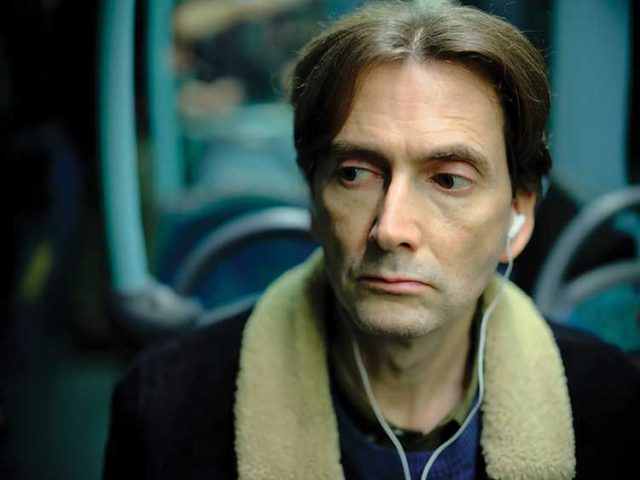 'LITVINENKO'
Drawing upon more recent and tragic news, the four-part procedural Litvinenko — available for streaming on Amazon Prime Video, Sundance Now, and AMC Plus — dramatizes the decade-long struggle to get justice for ex-Russian agent Alexander Litvinenko, who died of radioactive poisoning in 2006. The narrative benefits from taut, well-researched, emotionally evocative scripting by George Kay; sturdy, meticulous direction by Jim Field Smith; and a quality cast that delivers serious, unfussy performances in keeping with the gritty reality being reproduced.
David Tennant — the prestige television star and Royal Shakespeare Company stalwart — takes on the key role of Litvinenko himself, creating someone so noble and sympathetic in the first episode that, despite his physical absence from the rest of the series, the weight of his characterization lingers throughout. For reasons that become obvious by the end of the initial installment, the rest of the heavy lifting needs to be done by others, led by Margarita Levieva as Alexander's wife, Marina Litvinenko.
In the beginning of the series, we learn significant details about Alexander Litvinenko, who defected to England and embraced his recently acquired U.K. citizenship. Living in London, he wrote about his years in Russia, and that may have been significant in angering his old bosses in Moscow — particularly Vladimir Putin. One evening, Litvinenko returned home to have dinner with Marina and their son, Anatoly, but suddenly grew violently ill. Immediate hospitalization followed. Litvinenko was so certain that he was poisoned by his former comrades and only had a few days to live that a pair of London police detectives were brought in to begin investigating a murder that had yet to happen.
Considering the deadly power of the radioactive element that was killing Litvinenko and the frightening possibility that traces of it could kill many more in London and beyond, his poisoning triggered a search for those who had delivered the isotope. The rest of Litvinenko follows the authorities in their hunt to identify and find the culprits, protect the population from death by radiation, and support Marina Litvinenko in her quest to seek punishment for those who widowed her. To say that current events enhance the relevance of Litvinenko is an understatement. It's a scary, heartbreaking tale well told, even as Putin's vicious reign continues to threaten those he wants to destroy.
Michael Snyder is a print and broadcast journalist who covers pop culture on The Mark Thompson Show, via YouTube, and on Michael Snyder's Culture Blast, via GABNet.net, Roku, and iTunes. You can follow Michael on Twitter: @cultureblaster.