My senses are sated — for now at least — and the month of May, when all the buds are bursting (and all the allergies as well), is a fine time in this town for your senses to be fulfilled as well.
It all started when my friend Sherry and I lucked into an easy midweek viewing time at the de Young for the Oscar de la Renta show. Clearly, we were meant to be there, because the usual lines of avid patrons were not in evidence, and we floated easily into a viewing as soon as we arrived. The de Young , a world-class museum by any standards, has become one of my favorite places to go and be reminded that life isn't all that bad : I could stay there for hours, just soaking in the brilliance of the airy architecture and the infinite delights of the permanent collection. But, with the Oscar de la Renta show? It's the place to go if you value beauty, craftsmanship, glamour, and astonishment. The show runs through the end of May, so you've time: Go!
I don't remember another exhibition where the viewers, men and woman alike, stood side by side audibly gasping with delight at each piece presented. My mouth literally watering at the stunning attention to detail that this genius lavished on every piece of clothing. The people next to me, as rapt as I was, made the same gasps and audible clicks of the tongue, before murmuring : "Oh!", or some such squeak of delight. At one point, a bunch of us started laughing together, as we realized we were all making the same sounds. We were a veritable chorus of admiration and breathy disbelief at what we were viewing: poetry in cloth, jewels, beading, ruffles, and luxurious shape. This exhibition is utter art. And not only the clothing, the presentation and curation of the exhibit as well. One small detail? Instead of worrying about which high-fashion shoes should go with what stunning gown, the show producers wrapped the mannequins' feet in ribbon matching the costumes, and because the feet were arched gracefully (something I've never seen in resin and wooden mannequins before), it had the effect of the viewers' imagining there were actual gorgeous shoes on the feet instead of mere ribbon. What a detail! Infinitely interesting!
SAN FRANCISCO SYMPHONY SOUNDBOX
Also, if you've the good fortune to know about the SoundBox presentations of the San Francisco Symphony, try one! Though they may be over for this season and tickets sell out as soon as they go on sale (the small space only seats 400 people), do investigate this amazingly modern program of one of the world's great orchestras. The night we went, MTT himself was there to discuss each unique piece of music with all of us who were drinking cocktails and enjoying the general atmosphere of a posh club scene. I felt so invigorated by the evening of French music, presented in various sized ensembles and solos, that Peter booked us for the next Sound Box the morning the tickets went on sale. It was sold out that day. So if you've a desire to connect to your hometown orchestra in a thrilling, intimate way, SoundBox is the way to do it. Affordably, I might add. Keep an eye out for the next one.
TRUETT-HURST WINERY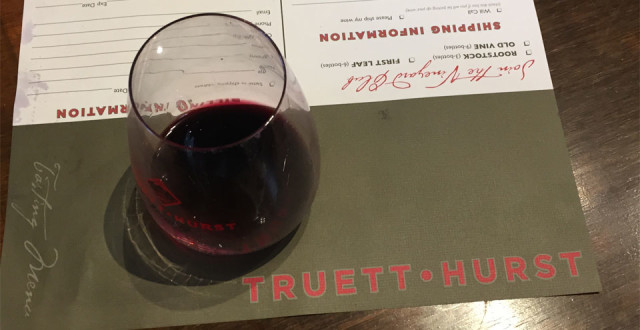 And finally, do what we did recently and go for a day of wine-tasting a mere hour away. We drove to the Truett-Hurst Winery in Healdsburg with our friends Rachel and Nick, who are club members there, and come home, with spirits renewed, in every sense. Enthusiastically plied with generous dollops of various vintages from their intriguing offerings of reds and whites, we then walked down to Dry Creek, sat in beautiful red-lacquered Adirondack chairs and had a picnic, with yet more wine! It's a sensual delight, all that wine, those salmon spawning in the river, that picnic food. Laughter, relaxed sipping, and lounging.
It healed my world.
We came home with many bottles of fine wine to drink over the next couple of months, plus memories of great times with friends.
Have I whetted your appetites for the month of May?
I hope so. Because these are just a few of the delights that have made "entering stage left" such the right thing to do for this old New Yorker.