Kelsey Nixon
Show
Kelsey's Essentials on The Cooking Channel
Airs
Season 5 premieres July 3 at 8 p.m., Eastern Standard Time
Fun Facts
Kelsey interned at Martha Stewart Living and The Food Network series, Semi-Homemade with Sandra Lee. Nixon gave birth to son Oliver on June 24, 2012.
How did you go from "final four" and "fan favorite" on The Next Food Network Star (Season 4) to your own show?
I have no idea! I think it was a lot of hard work and good luck. I left the show, and I realized I really needed to know what I wanted to say to people. Bobby Flay was a terrific mentor to me on and after show; he told me to get restaurant experience, and I also worked with Pyrex doing recipes for home cooks. I realized what I really loved was creating recipes. I was recently married, and we moved to New York City right around the time the Food Network was launching the Cooking Channel. Bobby saw potential in me, and that's how Kelsey's Essentials started. [Flay's Rock Shrimp Productions produces the show.]
Is there a Food Network star you always wanted to meet?
I've met everyone on the Food Network, which has been amazing, but recently I was nominated for a daytime Emmy award and Ina Garten was sitting next to me with [her husband] Jeffrey! She was very comfortable and so down to earth — not one ounce of ego. So I got to check "meeting the Barefoot Contessa" off my bucket list!
What are three essential tools every home cook should have in the kitchen?
A good sharp chef's knife is something everyone needs. My best tip is go to the store and hold different brands to make sure it feels right — every knife fits differently in your hand. A bench scraper, which may be surprising, but I use it every day for everything from scooping ingredients into the pan to making pastry. Tongs are an extension of your hands — you can use them to toss a stirfry or toss a salad, so those are essential, too.
What's the best "first meal" for a true beginning home cook to attempt?
Roast chicken! It's the first thing I made for my in-laws and for my parents when they visited in college. It smells amazing, looks amazing — just butter it up and stuff it, pop it in the oven, and work on your side dishes. I love smashed potatoes — I have memories of my mom worrying about lumps in the mashed potatoes, so I just smash them skins and all with a little butter and cream cheese. So easy, not stressful, and really rustic. For a veggie, I love haricot verts [thin green beans] with butter, lemon, and chopped almonds.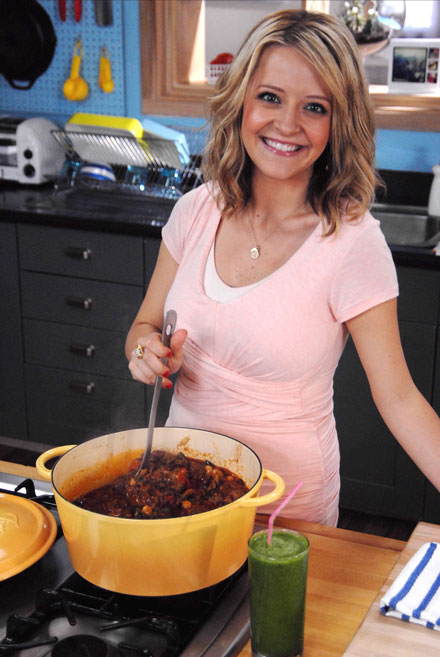 Favorite childhood food?
Banana cream pie — and it's still my favorite food.
A childhood dish that was an inspiration or a revelation?
Making fresh pesto. My mom always had a garden, and she had fresh herbs, so every summer she had all kinds of basil, and we'd make pesto in ice cube trays and call them pesto poppers. We'd put them in freezer bags and use them all year round.
Favorite places to eat in San Francisco?
I shot my first cookbook in the Bay Area recently — the photographer lived in Emeryville. I ate at Chez Panisse [before the fire], Zuni Café, Bi-Rite Creamery, Bar Tartine, and Bob's Donuts.
If you had to eat one thing for a week, what would it be?
That banana cream pie!