Cheerio! Pip-pip! Huzzah! Those joyous expletives may be more than a little out of date in England, but they merit revival in San Francisco this month. The Mostly British Film Festival is back at the Vogue Theater for the event's 14th year, showcasing select dramas, comedies, and documentaries from the U.K., Ireland, Australia, and India!
Even as questionable property sales and outright closures have had a debilitating effect on the state of San Francisco movie theaters, the venerable single-screen Vogue at 3250 Sacramento Street is hanging in there. In addition to hosting the 2022 edition of the MBFF from March 10–17, the Vogue is also offering a special festival preview showing of the upscale, tragedy-tinged 1920s period romance Mothering Sunday on March 8.
The official opening night presentation of The Duke — a wry, built-to-please, quintessentially British film co-starring the invariably excellent actors Jim Broadbent and Helen Mirren — should get the MBBF off to a rousing start. A reception will precede the March 10 screening of The Duke. From there, the schedule is studded with award winners, Bay Area theatrical premieres, and recent jewels that may have been woefully overlooked amid the pandemic. Among the latter is Ammonite, a historical drama about mid-1880s paleontologist Mary Anning (Kate Winslet) and her paramour (Saoirse Ronan).
A special grouping of music-themed films includes documentaries about Ronnie Scott's venerable SoHo jazz club (Ronnie's); guitarist Ronnie Wood of the Faces and the Rolling Stones (Somebody Up There Likes Me); and the Beatles' connection to the country of India (The Beatles and India, which will close the festival on March 17).
Despite there being no ostensible language barrier for Americans when watching a movie in English, there might be some heavy accents to negotiate in one or another festival entry, and on occasion, there are foreign tongues in play albeit with subtitles. When you consider the cultural differences that distinguish various corners of what was once the British Empire, as well as certain areas of the U.K. itself, the flavor of the MBFF becomes even more diverse and distinctive.
Here are a few highlights:
'MOTHERING SUNDAY'
(March 8, 7:30 p.m.)
Set amid elegant countryside manors in post-World War I England, Mothering Sunday is adapted from Graham Swift's novel about the passion and pain of an upstairs-downstairs affair between two attractive people: Jane, an intellectually curious housemaid for a well-to-do couple, and Paul, the brash son of a neighboring family. The lovers' tryst on Mother's Day in 1924 is the lynchpin of the story, while flashbacks and flashes forward give the romantic interlude context and reveal the workings of fate. It's directed by Eva Husson and scripted by Alice Birch, with Josh O'Connor as Paul, Odessa Young as Jane, and an impressive supporting cast featuring Colin Firth, Olivia Colman, and Glenda Jackson.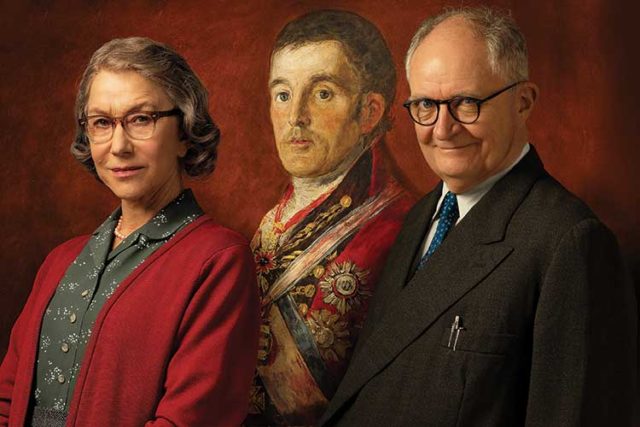 'THE DUKE'
(March 10, 7:30 p.m.)
The true story of an audacious 1961 art theft was the inspiration for The Duke, a totally delightful jumble of working-class family friction, social commentary, and crime comedy directed by Roger Michell (Notting Hill). Jim Broadbent plays Kempton Bunton, a good-hearted older man who drives a taxi and aspires to be a screenwriter. Short on cash, Kempton is angry at the British government for making people purchase TV licenses to watch the BBC. His scofflaw attitude makes his disgruntled wife, Dorothy (Helen Mirren), even more frustrated with him, although their two adult sons love his attitude. When a valuable portrait of the Duke of Wellington goes on display in a London museum, Kempton decides that the monetary value of the painting should be redistributed to right some wrongs — and a caper unfolds.
'THE DRY'
(March 11, 5:30 p.m.)
Tough-guy actor Eric Bana takes the lead in The Dry, a latter-day film noir set in a desolate, but visually compelling Australian location. Bana is Aaron Falk, a federal detective who returns to his hometown during a drought that has devastated the area's farms and forests and put citizens in dire financial straits. Although he left town as a pariah after a tragic event, Aaron has returned for the funeral of a boyhood friend. The dead man purportedly shot and killed his wife and child, then shot himself. Enough doubts are raised about the crime that Aaron is convinced to stick around and help a local cop get to the truth of the murders. Director and co-screenwriter Robert Connolly delivers an absorbing mystery with a few surprises along the way.
'FALLING FOR FIGARO'
(March 14, 8 p.m.)
In a serious turnaround from playing a New Jersey-spawned wannabe rapper in the movie Patti Cake$, Danielle Macdonald stars in the music-themed rom-com Falling for Figaro as an American expat in London who decides to chuck her burgeoning career in finance to become a professional opera singer. She'll have to leave her coworker-boyfriend behind and travel all the way up to a tiny town in rural Scotland to study with a mean-spirited voice teacher (Joanna Lumley). The vocal coach happens to have one other pupil, a cute and earnest guy who works in the kitchen of what appears to be the only pub-hotel for miles. Will sparks fly between the students? Is haggis horrifying to conceive of, let alone eat? The answer to both questions should be obvious.
'FISHERMAN'S FRIENDS' 
(March 15, 3 p.m.)
This cheery comedy was derived from the real experiences of some fishermen in a small seaside town on the Cornwall coast who got together on a regular basis to serenade locals and tourists with their repertoire of sea chanteys. They were discovered by a music-biz type, and they recorded a bunch of these folk tunes. Their album went on to win awards and become one of the most successful collections of traditional music ever released in the U.K. Fisherman's Friends throws in zany hijinks and a romantic subplot wherein the record industry exec (Daniel Mays) trying to secure a label deal for the fishermen falls for a local single mom. The result is charming, escapist fare with a boatful of rousing tunes.
'THE LAST BUS' 
(March 15, 5:30 p.m.)
Timothy Spall — the esteemed British character actor known for the Harry Potter series and Mike Leigh's gritty dramas and savvy comedies — offers a heartbreaking tour de force as an elderly widower on a taxing 800-mile bus journey from the furthermost tip of Scotland to Land's End in Cornwall due to a promise he made to his late wife. The Last Bus is a trip that's fraught with pitfalls, peppered with droll moments, and intercut with snapshots from the early days and final days of his marriage. Ultimately, it's a testament to human decency.
'THE BEATLES AND INDIA' 
(March 17, 7:30 p.m.)
Lately, Beatles documentaries are a flourishing industry. There was the McCartney 3, 2, 1 TV series, followed by Get Back, Peter Jackson's astonishing multipart examination of the band's sessions for what would end up as their final album release, including their last live performance. Now, there's The Beatles and India, using interviews and archival footage to narrowly focus on the band's fascination with Indian music and philosophy, with considerable attention paid to the Fab Four's flirtation with transcendental meditation guru Maharishi Mahesh Yogi. Note: Although there are references to their discography and the influence of India on a number of their songs, no actual Beatles music is heard in the movie.
MostlyBritish Film Festival: daily, March 10–17, $15–$250, Vogue Theatre, 3290 Sacramento Street, 415-346-2228, mostlybritish.org/
Michael Snyder is a print and broadcast journalist who covers pop culture on Michael Snyder's Culture Blast, via GABNet.net, Roku, Spotify, and YouTube, and The Mark Thompson Show on KGO radio. You can follow Michael on Twitter: @cultureblaster.