Picturesquely situated in central Oregon's high desert country — east of the Cascades near Mt. Bachelor and not far from the Three Sisters Mountains — the town of Bend is "San Diego North": lots of sunshine but cooler nights.
Over a century ago, pioneers made the declaration "Farewell Bend" when leaving the locality and its meandering Deschutes River. In 1905, the town was officially named Bend. It became the center for logging, timber mills, and tourism.
Today, Bend is a hotbed of artisan breweries and delicious local cuisine. We stayed downtown and were able to walk everywhere including the Old Mill District and Drake Park.
STAY
The Oxford Hotel (541-382-8436, oxfordhotelbend.com/) is Bend's hip boutique hotel — green, sustainable, and in a great location. In the midst of historic downtown, stay in one of 59 spacious suites in earth-tone colors and with sleek modern furniture — including recycled glass vanities shaped to resemble a river. Kitchens vary in size, but all have fresh coffee for the French Press. A workstation is equipped with a variety of electrical accoutrements.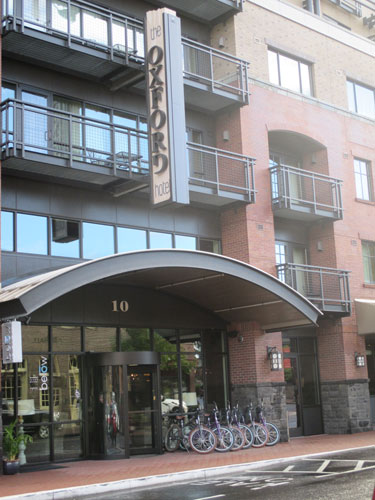 The hotel is serious about the environment: sustainable building materials, 100 percent renewable energy, all-natural bedding (including a pillow menu), and organic Dani toiletries. For an e-car, the hotel has both charging stations and electric vehicle chargers.
PLAY & SHOP
Bend is a clean, easy city to navigate. Downtown, buildings date from the early 1900s, and previously housed furniture, music, hardware, and other retail stores. Now find restaurants, wine-tasting venues, breweries, art galleries, boutiques, and bakeries. The farmers' market sets up by the river on Wednesdays from June to October (bendfarmersmarket.com/).
On the edge of downtown, Drake Park and Mirror Pond (541-389-7252, bendparksandrec.org/parks/drake-park-and-mirror-pond/) are verdant respites. The park was named for a frontier developer, and the pond is actually part of the Deschutes River, which flows extremely gently at this point so the surface is still and reflective.
The Old Mill District (541-312-0131, theoldmill.com/) provides a glimpse into life at the height of the timber business dating from 1916. While there, indulge your craving for shopping (think clothing, kitchenware, even fly fishing) and food and wine in an upscale setting. Set next to the Deschutes River, the area is a magnet for people watching.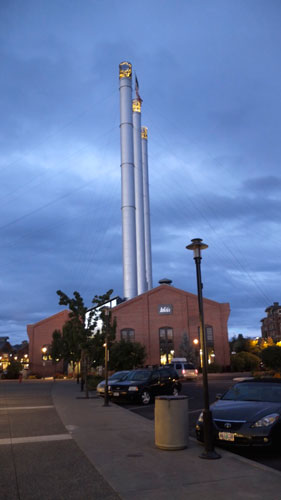 The Wine Shop and Tasting Bar (541-389-2884, thewineshopbend.com/) is a fun spot to explore international wines with more than 30 by the glass and 600 retail, and top Belgian and unique European-style beers (16 tap handles). It has a hip vibe because of the passionate and knowledgeable owner, who is also a cicerone. We chose the 2012 Philips Creek Oregon Pinot Noir and the German Bitsburger Pilsner as favorites along with a charcuterie plate loaded with triple cream brie and manchego cheeses.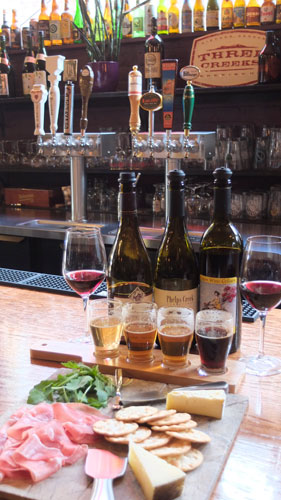 The Deschutes River (bendparksandrec.org/parks_trails/float_the_river/) is the ultimate playground, winding through Bend with numerous opportunities for water sports like rafting, kayaking, and stand-up paddle boarding. When we visited, the city was constructing three lanes in a part of the river for each of the activities. Additionally, the Deschutes River Trail provides endless scenery to enjoy while walking, biking, or running
The Deschutes National Forest (www.fs.usda.gov/main/deschutes/home), adjacent to Bend, attracts joggers, hikers, and cyclers to the miles of trails and acres of campgrounds
The Oxford Hotel offers complimentary bikes as well as a Jacuzzi, sauna, steam, and fitness facility.
DINE
For the inside skinny on Bend's latest culinary secrets, join The Well Traveled Fork (541-312-0097, welltraveledfork.com/) for a tour, one of many offered in addition to classes. We started the adventure in the Old Mill District at Savory Spice (savoryspiceshop.com) with over 400 products to liven up your cooking, then on to the Broken Top Bottle Shop (btbsbend.com/) offering a variety of wine, beer, and comfort food, with part of one room dedicated to the hundreds of beers available to purchase. Downtown, we indulged in an endless assortment of gelato, like lemon bourbon pecan, at Bontà (bontagelato.com/), then tasted olive oils and vinegars at the specialty food store Navidi's (navidioils.com/).
In a residential neighborhood close to downtown, Jackson's Corner (541-647-2198, jacksonscornerbend.com/) is located in a converted ice house. Known for their passion for all things local and sustainable (food and building materials), the restaurant is a treasured hangout. Open all day, we enjoyed lunch with thick, rich split-pea soup with ham and the tasty Thai salad with grilled prawns. We also shared the Havana sandwich, oozing with caramelized onions, barbeque sauce, mozzarella, and loaded with pork. Menus change according to what producers are growing.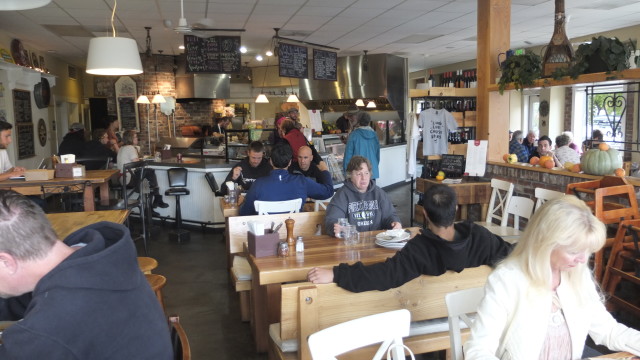 Crux Fermentation Project (541-385-3333, cruxfermentation.com/) is one of Bend's more than 30 craft breweries and a must if you're into artisan brews. They've transformed a former AAMCO transmission garage into a trendy brewery (about 20 small-batch brews are available weekly), tasting room, and restaurant. They even make baguettes using spent grain from the pilsner, which is served with cheeses, cured meats, bacon-wrapped figs, and Tough Love bacon jam. Tap favorites include the balanced and creative Cruxarillo, Banished Red, and Hop Coder.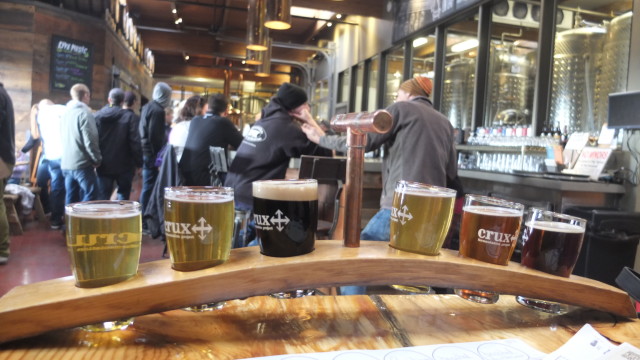 900 Wall (541-323-6295, 900wall.com) is hot dinner spot within walking distance of the hotel. With its European spin on American cuisine, the two-level restaurant offers an array of small dishes and larger plates. Start with the luscious peel-and-eat wild shrimp and a creamy risotto with wild mushrooms and porcini butter. The 900 Wall Burger is a crowd pleaser: sustainably raised beef with bacon and aioli. Dinner was paired with two 2013 Pinot Noirs from the Willamette Valley: the "Reserve" from Willamette Valley Vineyards and the other from Ken Wright Cellars.
For one of those great views of the Deschutes River and the mountains, try Anthony's Homeport (541-389-8998, anthonys.com) in the Old Mill District. The spacious dining room has an open kitchen and floor-to-ceiling windows. With a focus on the Pacific Northwest, most of the food and wine is from Oregon and Washington and the seafood from Alaska is sustainable. We savored Hawaiian ahi nachos; plump, juicy Penn Cove mussels; moist and flakey Neah Bay, Washington wild king salmon, and couldn't resist the clam chowder — rich and creamy and loaded with clams. We paired dinner with the 2012 Firesteed Cellars Pinot Noir.
OTHER ESSENTIALS
Upcoming Events: Oregon Winterfest 2016 (Feb. 12–14, oregonwinterfest.com/)
Bend A Cappella Festival (Feb. 19–21, bendacappellafestival.com/)
Bend Visitors Bureau: visitbend.com
Bend Parks & Recreation: bendparksandrec.org
Travel Oregon: traveloregon.com