In times of strife, people thirst for escapism. That's as good a reason as any to explain the current proliferation of science fiction and fantasy movies and television. One need only check the box-office receipts for the interlocked Marvel superhero movies, the Star Wars franchise, and the Harry Potter saga to understand the magnitude of their popularity. A widespread embrace of the speculative and the extraordinary is just as evident when it comes to serialized television, as networks, cable channels, and streaming services have stepped up their sci-fi and fantasy programming to meet the demand. As a result, some truly intriguing and addictive shows have found receptive audiences and, in a few cases, cult-like followings.
Loyal viewers can be so numerous and vocal that they'll keep their favorites going on streaming platforms after broadcast and cable TV cancellation. So the dazzling and complex hard sci-fi saga The Expanse, dramatizing the possible geopolitical and societal repercussions of Earth's future colonization of our solar system, moved from SyFy to a more receptive home at Amazon Prime, where it's only gotten better. Meanwhile, Fox dumped Lucifer, the witty mix of police procedural, supernatural morality tale, and romantic comedy based on a DC/Vertigo comic. In short order, worldwide fan outcry convinced Netflix to pick up this romp about the dapper Devil himself — an expert on evil who is so smitten with an attractive homicide detective that he decides to work as her consultant.
A series like Snowpiercer might not have been made a decade ago. It's a crafty TV adaptation of the dystopian Bong Joon-Ho movie regarding class struggle and bigotry during a new ice age when the last of humanity tries to survive on a massive train that perpetually moves through the frozen wastes. It's already up to a second set of episodes on TNT, and is worth watching from the very beginning.
Besides offering people portals away from the mundane, the sci-fi proliferation is being fueled in part by greater technical wizardry, affording productions the chance to create imaginative, palpably realistic-looking imagery, regardless of how amazing or otherworldly. And the writing, acting, and direction are often light years beyond the cheesy, B-movie Saturday matinee fodder that marked most onscreen sci-fi before Stanley Kubrick's scientifically researched, visually splendid blockbuster 2001: A Space Odyssey brought art-house sensibilities to the genre and the groundbreaking debut Star Trek series imbued a space-faring TV adventure show with the utopian ideal of a united federation of planets.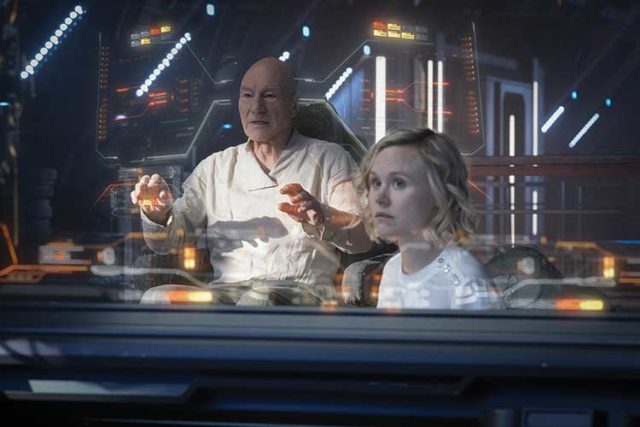 TREK ON
It's only fair that Star Trek is a significant presence in the current sci-fi boom. Despite its 1966–69 three-season run spawning a mixed bag of movie spin-offs and a recent feature-film reboot, Star Trek became most notable for its television sequels — the venerated Star Trek: The Next Generation, the complex and sprawling Deep Space Nine, and the questing Voyager — as well as the less memorable attempt at a prequel, Enterprise, and an animated Star Trek series that aired for two seasons from 1973 to 1974.
The hiatus between the last episode of Enterprise in 2005 and the 2017 debut of Star Trek: Discovery seemingly created a demand. Discovery — a series set 10 years before the original Star Trek and centered on a morally conflicted female Starfleet officer — was relied upon to launch the CBS All Access streaming service and did such a good job of corralling subscriptions that it was followed by two more iterations so far.
The first was Picard, a miniseries catching up with Jean-Luc Picard, Patrick Stewart's proud and able captain from The Next Generation, pulled out of retirement to address a crisis, accompanied by a handful of other well-loved characters from earlier Trek. The second was a genuinely funny, canon-wise animated series Lower Decks about a bunch of troublemaking but dedicated Starfleet ensigns. Next up will be the highly-anticipated Strange New Worlds with Anson Mount reprising his roundly embraced Discovery role as Christopher Pike, the captain of the Enterprise before William Shatner's legendary James T. Kirk, and Ethan Peck as a young Mr. Spock. With CBS All Access having just been rebranded Paramount Plus, you can expect more Trek content, such as an announced vehicle for actress Michelle Yeoh about Starfleet black ops, along with the company's massive feature-film library.
There's no denying the allure of the Disney Plus Star Wars-adjacent TV program The Mandalorian, a spaghetti western in space that teamed the lone-samurai title character (Pedro Pascal) with the cuddly alien Grogu or, as he's known to legions of viewers who buy merchandise adorned with his adorable image, Baby Yoda. Each episode is like a mini-blockbuster with outrageous stunts, epic battles, capers, and interplanetary intrigue that always seems to end too soon. The good news is that it will continue into a third season next year, and it will be preceded at the end of 2021 by another Star Wars series, The Book of Boba Fett, with Temuera Morrison as bounty hunter Boba and Ming-Na Wen as his mercenary sidekick.
MERELY MARVELOUS
As much excitement as The Mandalorian has generated, an equally resounding buzz surrounds Marvel Studios' nine-episode WandaVision, a Disney Plus hit that's directly connected to the extensive Marvel Cinematic Universe (MCU) but stands on its own as a surreal amalgamation of American sitcom homage, angst-ridden superhero action, and mystery that launched a zillion online fan theories. WandaVision spotlights the star-crossed relationship between Eastern European refugee/telekinetic-turned-reality-manipulator Wanda Maximoff (a versatile Elizabeth Olsen, from whimsical to righteously furious) and the mega-powered android the Vision (a droll yet noble Paul Bettany), two misfit members of the superheroic Avengers. In the aftermath of the film Avengers: Endgame, the couple resurfaces in a suburban New Jersey town, living in what appears to be a vintage situation comedy. Things get a little twisted, as if David Lynch had directed "Pleasantville, MCU." Then, they get full-on bonkers when "reality" intrudes and the Marvel saga moves thrillingly forward via the entangled fates of Wanda and Vision.
Next up this month from Marvel and Disney Plus: The Falcon and the Winter Soldier, teaming two more Avengers in what appears to be a multichapter buddy picture starring Anthony Mackie and Sebastian Stan. Loki, a show featuring the escapades of the Norse god of trickery (Tom Hiddleston) as he bounces through time and space, is also expected to cross-reference the MCU and impact the next slate of Marvel movies.
And there's more superhero fare due, including the debut of the CW's Superman & Lois, investigating the married life of the Man of Steel and his journalist wife as they raise two sons; third seasons of DC's edgy Titans and off-the-wall Doom Patrol on HBO Max; and a second violent, darkly humorous season of The Boys on Amazon Prime. HBO's The Nevers, introducing a group of Victorian women who gain astonishing powers from a cosmic anomaly, is on the way. Plus, more Stranger Things and The Handmaid's Tale are imminent. All in all, the fictional future looks fantastic.
Michael Snyder is a print and broadcast journalist who covers pop culture on "Michael Snyder's Culture Blast," via GABNet.net, Roku, Spotify, and YouTube, and "The Mark Thompson Show" on KGO radio. You can follow Michael on Twitter: @cultureblaster