When autumn starts to creep in and a certain haunt-ridden end-of-October holiday approaches, the movie and television industries invariably roll out the horror. The powers that be know audiences are always ready for the strange delight of a good fright, especially around Halloween. 
In fact, the run-up to spooky season began early this year with more than a few memorable onscreen scare-fests. This month, more are on the way. From slasher flicks with pitiless serial killers to paranormal nightmare fuel to sucker-punch portraits of evil, this selection of previews and reviews should get you ready to scream.
If there's a franchise for the studios to exploit such as the Halloween movies that feature the menace of masked serial killer Michael Myers, it shall be done. So on Oct. 14, Universal Pictures is releasing Halloween Ends — starring Jamie Lee Curtis as suburban heroine Laurie Strode, who returns to face off against her nemesis Myers and complete a trilogy that served as a multipart sequel to 1978's Halloween, the first of a dozen films spread over the course of 40 years. That makes Halloween Ends a lucky-for-somebody 13th. Talk about an unkillable thing.
The family-friendly 1993 supernatural comedy Hocus Pocus doesn't have a backlog of sequels. As a result, the three Sanderson sisters — time-traveling, troublemaking sorceresses from the colonial-era witch hunts in Salem, Mass., — weren't given a chance to display the box office durability of the monstrous, death-dealing characters like Freddy Krueger(A Nightmare on Elm Street), Jason Voorhees (Friday the 13th), and Michael Myers. But the Sandersons were played with such demented glee by Bette Midler, Kathy Najimy, and Sarah Jessica Parker that Hocus Pocus has endured as a perennial video favorite. Perhaps it was inevitable that an exec at the Disney Plus streaming channel saw a need for attractive programming to lure the eyes of candy-gobbling trick-or-treaters. Midler, Najimy, and Parker were reportedly ecstatic to reprise the Sanderson sisters who rematerialize to torment 21st century Salem and gobble up local children in Hocus Pocus 2, available on Disney Plus.
CREATURES REVIVED AND NEW CONCEPTS CREATED
Even Marvel Studios is getting into the horror act by bringing Werewolf by Night to Disney Plus on Oct. 7. This one-off special, based on the comic book series that debuted in 1972, will introduce the versatile Gael García Bernal (Mozart in the Jungle, Y Tu Mama Tambien) as unfortunate good guy Jack Russell, cursed to turn into a fearsome, yet super-heroic werewolf. Always working to extend its brand, Marvel has brought at least one additional trademarked creature from its comics to this live-action Werewolf by Night: the swamp-dwelling Man-Thing. The advance buzz suggests that Russell and Man-Thing will be established as part of the ever-expanding Marvel Cinematic Universe, making the special a dual-purpose enterprise that presumably promotes as it entertains.
Familiar licensed properties can draw attention, but it's encouraging to see impactful new creations in the marketplace. For instance, first-time feature film writer-director Zach Cregger has set a pretty high bar for himself with Barbarian, currently in theaters. This cleverly constructed experiment in terror takes an abrupt turn at the midpoint and pays off with unexpected thrills, genuine chills, some shocking and sharp bursts of humor, and a few moments of gut-churning violence — plus some commentary about changing social mores. In Barbarian, a woman comes to Detroit for a job interview, shows up at her Airbnb after dark, and finds it's located in one of the city's bombed-out neighborhoods. The house is clean and well-maintained — and already has a guy staying there. Upset but with nowhere else to go, the woman decides to stay the night and the tension mounts. As a bigger picture emerges, Barbarian gets more ominous and horrifying.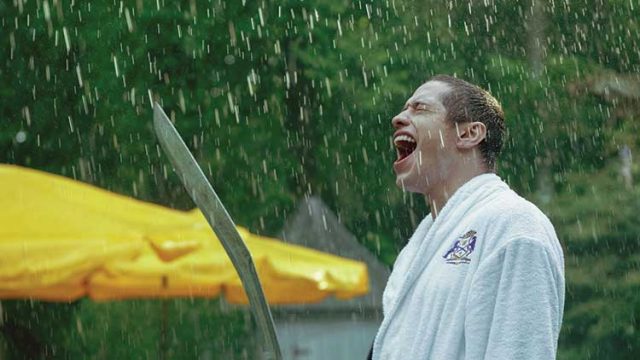 Earlier this year, filmmaker Ti West premiered X — a funky, sometimes gory indie gem — to acclaim from savvy critics and moviegoers. X is set in 1978 on a rural Texas farm where an arrogant porn producer is shooting his take on the hoary story of the farmer's daughter and the salesman. The porn crew fails to factor in the sensibilities of the elderly couple still living on the farm, and mayhem erupts. Throughout X, British-born actress Mia Goth, cast as the producer's trailer-trashy girlfriend and wannabe porn star Maxine, provides a performance so subtle and deep that it deserves an award or two.
PANDEMONIUM FROM FARMHOUSE TO MANSION
Kudos should also be forthcoming in response to Goth's work in Pearl, a prequel to X and the second movie in a trilogy from director West and his leading lady. Coauthored by West and Goth and now showing in theaters, Pearl visits the denizens of the X farmhouse during the First World War. The title character, played by Goth in protean manner, aspires to Hollywood success while bristling under the yoke of her immigrant mother and infirm father and waiting for her soldier boy husband to come back from the frontlines. It turns out that unrealized hopes and dreams can lead to unhinged behavior and spilled blood. Note: X, which can be found streaming on demand, should be seen before Pearl for maximum impact and to witness the dynamo that is Mia Goth.
Watching director Halina Reijn's inspired, sneaky-funny Bodies Bodies Bodies, one might conclude that every serial killer-murder mystery should feature nothing but obnoxious well-to-do 20-somethings as potential murderers and victims. Especially if the one played by Saturday Night Live slacker and tabloid darling Pete Davidson could meet a grisly fate. The premise of Bodies Bodies Bodies is delicious. Imagine a group of self-aggrandizing Gen Z-ers trapped in a remote mansion during a hurricane with no cell phone signal and, worse, no Wi-Fi! It's not too outlandish for these supposed friends to go from metaphorical backstabbing to, y'know, physical backstabbing, especially if they play the party game of the title. A cool whodunit replete with laughs and jump-out-of-your-chair jolts, Bodies Bodies Bodies is a horror comedy for the age of influencers. Having started its theatrical run in August, it's due to be on streaming platforms within a few weeks.
Michael Snyder is a print and broadcast journalist who covers pop culture on KGO Radio's Mark Thompson Show and on Michael Snyder's Culture Blast, via GABNet.net, Roku, iTunes, and YouTube. You can follow Michael on Twitter: @cultureblaster.