I'm not a huge fan of Rosé in general, which is a little too hyped and most are just not to my taste — but I'm an unabashed cheerleader for sparkling Rosé. Why? Well, visually for one. The color is lovely (and pink is not my color), but in a glass, it's just pretty and elegant —maybe it's that salmon-colored tinge that makes the difference. Food-wise, its naturally high acidity makes it a great complement to just about anything on the plate. Taste-wise, bubbly Rosés are generally fresh, fruity, and manage to be dry (enough) and creamy. That hits all the marks for me.
Besides being food friendly there are other reasons to drink bubbles. This one might be the most compelling — it's easier on our livers. The natural mold toxins in wine, leftovers from filtration in the production process, can have an adverse effect on liver detoxification, causing imbalances in otherwise healthy gut bacteria. Sparkling, however, has the lowest level of these mold toxins, so you and your liver can enjoy guilt-free.
Another reason is the glass — whether flutes or tulips, or the retro coupe, they're all fun and feel special. Yet another is that sound of the popping cork, which just says, "Celebrate!" Regardless of whether it's the end of the week (or day, I won't judge), a holiday, or other special occasion, all are worthy of celebrating, something we all need in today's world, right?
So here are some suggestions for holiday bubbles:
Jacuzzi Sonoma Coast Sparkling Brut Rosé 2018, $30
Made with fruit sourced from the winery's vineyards in Sonoma's Carneros and Petaluma Gap AVAs, this blend of Italian varietals Nebbiolo, Sangiovese, and Barbera has watermelon, berry, and other fruit notes and is a deep pink in color. The cool climate of the vineyards allows for a long growing season and produces wines with balanced acidity and fruit. This would be a sure bet for holiday gatherings, and its on-trend color is a lovely accent to any table. Head up to the tasting room in Sonoma, which includes a great gift area adjacent to the Olive Press, where you can also taste from a large selection of olive oils.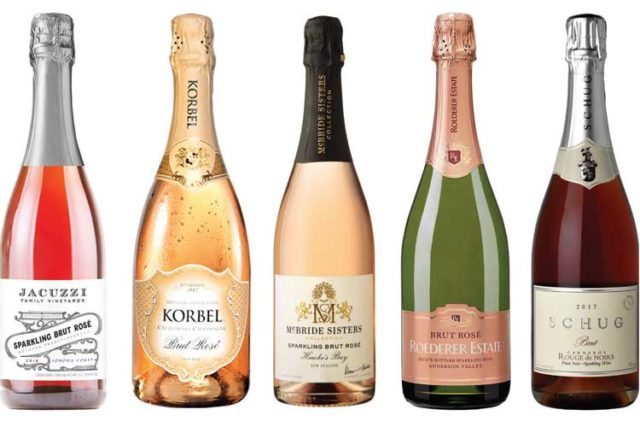 Korbel California Brut Rosé NV, $13
This sparkling is one of Korbel's most award-winning wines. It's refreshing and off-dry with berry flavors, and its lovely blush color comes from the blend of Pinot Noir, Sangiovese, and Gamay, with a portion of Chenin Blanc added for delicacy, which also lends slight melon flavors. To maintain the color balance and complexity, a small amount of young red wine is added. It's always in my fridge available for regular sipping, or to grab for a last-minute invite.
McBride Sisters Collection Hawke's Bay New Zealand Sparkling Brut Rosé NV, $25
This sparkling is my new favorite find, and I love that it's owned not only by women, but by sisters, and they are Black — one grew up in Monterey, the other in New Zealand — and their company has lots of good values, like sustainability and social awareness. This bubbly has soft, floral, berry, and creamy notes on the nose and the palate, and a dry finish. It's perfect for all foods and occasions. Check out their website for a fun brunch cocktail recipe using this sparking, Oakland 75.
Roederer Anderson Valley Brut Rosé Multivintage, $35
Adhering to the belief that exceptional estate vineyards create exceptional sparkling wines, the Roederer family spent several years exploring California wine regions before settling on Anderson Valley. This bubbly blend of 56 percent Pinot Noir and 44 percent Chardonnay is elegant and crisp with nutty citrus flavors and hints of berry, melon, and citrus with creamy undertones, despite its minimal malolactic fermentation. Be sure to stop at the tasting room on your next trip to Mendocino — their elegant tasting flutes are available for purchase.
Schug Carneros Rouge De Noirs 2016, $40
Schug is well known for its Pinot Noirs, and produces this cuvee of 100 percent sparkling Pinot Noir "for the love of it." Dry and delicate, rich with berry flavors, it's a lovely expression of the Pinot varietal. The rare color of this Pinot sparkling, significantly darker than Brut Rosé, results from a three-day cold soak of both juice and skins, followed by a cold fermentation in steel tanks of the juice only, and then followed by a secondary bottle fermentation. This "méthode traditionnelle" is the same method used to produce Champagne.
Cheers! Best wishes for a safe and happy holiday season.
Email: [email protected]