It's been over a year since much of the world locked down, and so many things changed so swiftly in all walks of life — including in the entertainment industry. Movie theaters, live performance venues, film, TV production companies, and gallery spaces closed or were put on hold while many who worked in the arts, whether on the creative or tech sides, were unable to pursue their careers as usual. But there seems to be a light at the end of the tunnel — and it's a projector or a follow spot — or both.
In mid-March, San Francisco movie houses and concert venues began to open up like spring blooms and accommodate limited attendance. The increased distribution of Covid vaccines and a continuing respect for protocols in serious circles had resulted in a decrease in infections — at least in parts of the Bay Area. The Embarcadero Cinema and the AMC Kabuki were among the theaters to first allow patrons, and the Chapel led the charge for a return to live music. The same thing was happening in other California population centers that had cooled down from purple to red on the infection scale. Yeah, Dr. Fauci still has his reservations about folks gathering at these recreational destinations, even for those who are vaccinated. Nonetheless, businesses are getting back to business.
The potential for a return to what we see in retrospect as normality is heartening, despite the restricted numbers and social distancing that remain in place where mandated. The Giants are planning to have roughly 8,000 people in the stands at Oracle Park to start this season, taking a friends-and-family pod-style approach to seating. Initially dabbling in one-time remote performances shown on video for small, select audiences, the Chapel is easing into genuine in-house-but-not-your-house concerts. That's definitely for the best, because there's nothing quite like the power and deep connection of live music caught in person. As for getting back to a night (or matinee) at the cinema, progress is definitely being made.
TENTATIVE OPENINGS
Last month, I was offered the chance to either review a movie via a streaming link or watch it while actually sitting in a theater with a handful of my fellow critics for the first time in over a year. I chose the link, feeling as if it was better to be safe. My vaccination and a wider swath of immunity should be enough to encourage me to attend one of these screenings sooner or later. For the time being, home is where the art is.
My caution aside, what seemed like Band-Aid fixes — video on demand and streaming-service premieres of films originally intended for theatrical presentation and the institution of ticketed online concerts, all to provide for private-viewing under quarantine — may actually be here to stay in some capacity. Perhaps we just got used to the convenience of these adaptations that were made in the interest of keeping us protected, keeping the show going, and keeping artists alive and as well as could be expected. Or maybe the economic reality of hitting the town seems like more of a luxury when there's an alternative without the driving, the parking, and pricier refreshments than those found in your refrigerator. Considering the potential for loutish fellow patrons poisoning the proceedings, a night out doesn't seem quite so appealing. Yet, the allure of a large-scale presentation in a communal space is unmistakable.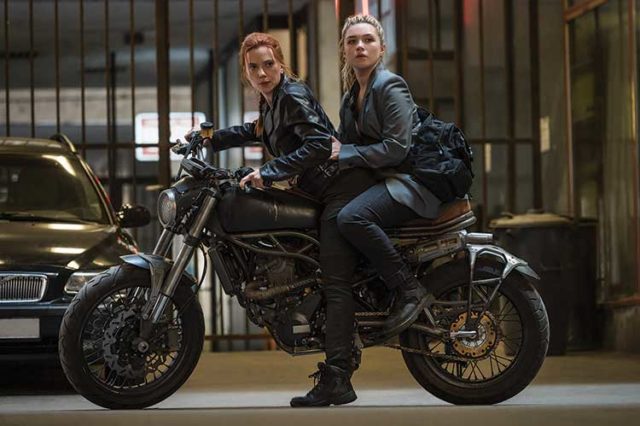 The immersive experience of seeing a blockbuster movie on the widescreen in a darkened hall with surround-sound is hard to replicate with a high-definition television in your den — unless you're Jeff Bezos with a high-def television that's Cinerama-big and a den that's the size of a small airplane hanger. Fans have been waiting a long time to finally and properly see No Time to Die, the new James Bond adventure and also Daniel Craig's last go-round in the role of Agent 007, now set for release in the fall. There's also a hankering for Black Widow, the latest feature film installment in the ever-expanding Marvel Cinematic Universe and also purportedly Scarlett Johansson's last go-round in the role of the sleek, deadly title heroine. Although it's been held back for months, Black Widow's debut is planned for July 9, just a few months away.
GO BIG OR GO HOME
Those mega-budget offerings and others — the Denis Villeneuve-directed version of novelist Frank Herbert's sci-fi classic Dune and the next couple Tom Cruise-controlled Mission Impossible installments, for example — will benefit from the theaters reopening. I, for one, will try to see each of them in one movie palace or another when given the opportunity.
To add a bit of perspective, intimate dramas, cheery comedies, boundary-pushing indie movies, and high-grade foreign fare — none of which really require the road-show treatment — are being given greater exposure due to the likes of Netflix, Amazon Prime Video, Hulu, Vudu, Apple TV, and FandangoNow. That's been a truly positive development related to a year of circumstantial house arrest. While you might not have picked yourself up and headed to the local repertory theater to see certain releases, watching them at home is easy and, considering the material, often genuinely mind-expanding. And we've now become conditioned to the idea of getting some high-profile first-run goodies via stream, alongside whatever new series has the binge buzz.
I'd call the rebirth of theaters and clubs and our ongoing acceptance of the streaming movie and online concert models a win-win. My advice is to pick and choose your shots when it comes to deciding the platform or circumstance for any diversion and enjoy the best of both.
Michael Snyder is a print and broadcast journalist who covers pop culture on Michael Snyder's Culture Blast, via GABNet.net, Roku, Spotify, and YouTube, and The Mark Thompson Show on KGO radio. You can follow Michael on Twitter: @cultureblaster.