There is perhaps nothing more beautiful than autumn along the Men-docino coast. Traveling beneath the redwood canopies, you know you're close when you see the crystal blue waves capped with frothy white foam breaking against the rocks.
The town of Mendocino is known for its quaint charm, but it has quite a storied history with Hollywood — and when the stars came to town, they stayed at the Little River Inn. The original home was built in 1853 by Silas Coombs and has remained in the family for five generations. In 1939, granddaughter Cora Coombs and her husband, Ole Hervilla, opened the Little River Inn after Hervilla asked his mother-in-law to turn her living room into a bar. Known as Ole's Whale Watch, the bar and the inn quickly became a favorite of movie royalty.
Myrna Loy stayed with her husband the year the inn opened; in 1943, the cast and crew of Frenchman's Creek starring Joan Fontaine visited; in 1947 Jane Wyman and her husband, Ronald Reagan, stayed while filming Johnny Belinda (for which Wyman won an Oscar). Perhaps the most legendary guest was James Dean, who stayed at the inn while filming East of Eden in 1954 (Dean managed to get himself booted from the Whale Watch by Hervilla for stretching his legs out on a tabletop). The Little River Inn has expanded a bit since then with 65 ocean-view rooms, dining room, dog-friendly parlor, nine-hole golf course with pro shop, and a day spa, all situated on 225 stunning wooded acres.
Because the Little River Inn is known for its star power, it seemed only fitting that Skylar Grey bring a little canine glamour to the mix, so Steve, Skylar, Blue, and I decided to check out the River Dog Seasonal Package, which is a great deal: Two nights in an ocean-view fireplace room (pet fee included), a three-hour canoe excursion, an $80 dinner voucher, a doggie goodie bag with treats, and a dossier on where to take your dog to hike, bike, boat, and swim. Packages for two begin at $671 or $851 with spa treatments (exclusive of tax and gratuity), and the package is available through Oct. 31 (use promo code RIVERD to book online at littleriverinn.com or call 888-466-5683).
ON THE WAY
About 10 miles from Men-docino we hit the vineyards of the Anderson Valley, which reminds me of what Napa was like many years ago, before it became a tourist destination teeming with tour buses, long lines, and overpriced tasting rooms. A friend told me about Lula Cellars (2800 Guntley Road, Philo, 707-895-3737, lulacellars.com), which she said was the dog-friendliest winery around. Winemaker Jeff Hansen has nearly 30 years in the business, making wine in Napa Valley before establishing Lula (named for his grandmother) in 2010. Hansen produces wines entirely from Mendocino County grapes and sold only on property or through their wine club. "The goal at Lula is to create world-class wines and sell them directly to consumers at reasonable prices," Hansen says. He makes around 3,000 cases annually, comprised of Pinot Noir, Zinfandel, Dry Gewurztraminer, Pinot Gris, and Rosato (Rosé of Pinot Noir). "Whether we sell them in six months or 12 months, when they're gone that's it," he says. One year ago, Lula opened a 22-acre property in Philo (along Highway 128) where ocean breezes sweep across rolling hills every afternoon. Honey, tasting room manager Dan Reed's rescued yellow Lab, greeted our arrival with gracious enthusiasm. Skylar and Blue had a bit of pent up energy after the long ride, so Jeff took us on a tour of the 14-acre Pinot Noir vineyard, replete with a new 10,000-square-foot area available for weddings and other private events. "Do the dogs want to go swimming in the pond?" Jeff asked, but by that time Sky and Blue were already in the water, chasing frogs and cooling off.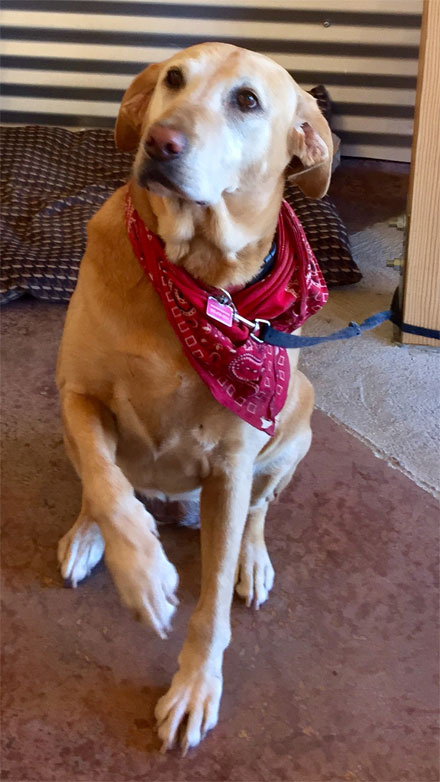 While Steve and the dogs wandered through the vineyards, I sat down under the shade trees with Jeff to taste his wines, including the double gold medal-winning 2012 Mendocino Pinot Noir, redolent with coriander and black cherry notes perfect for pairing with grilled salmon or duck. The gold medal-winning 2012 Costa Vineyards Pinot Noir was rich with flavors of plum and berries, while the 2013 Mendocino Zinfandel was herbaceous, slightly spicy, and lush enough to stand up to sausage or barbecued ribs. The 2012 Pinot Gris and the 2014 Mendocino Dry Gewurztraminer would be my picks to pair with chicken or flaky white fish like halibut, but my favorite was the 2014 Rosato, the fifth vintage of Lula's dry rosé made from the juice of Pinot Noir and Tempranillo grapes fermented at very cold temperatures to retain the fruit-forward flavors (think strawberries and watermelon) with hints of spice. It was the best rosé I've ever had, and I grabbed several bottles (a steal at $20 each) to give as holiday gifts.
WHERE TO STAY
As you drive up past serene gardens surrounding classic white Victorians, it is clear why the Little River Inn has been the place to stay in Mendocino for 75 years and counting. Our room was a little piece of heaven, luxurious but cozy with a fireplace and huge windows overlooking the mighty Pacific. The bathroom's highlight is an enormous jetted soaking tub, deep enough for an adult to float in. "I can't wait to get in that," I said to Skylar, who was more interested in her goodie bag than the tub. Comfy Adirondack chairs on our private porch proved the perfect place to relax at the end of a long day. We watched the sun set to the sound of crashing waves while sipping a glass of Lula Rosato.
WHERE TO PLAY
The first morning we took Skylar and Blue to the nearby beach where they were able to romp, swim, and stare at harbor seals that were just as curious about them. Our dog dossier guided us to several "McDog Parks" — off leash spaces, some fenced, others right on the water — as well as to fishing and whale-watching excursions.
The next day we headed to the docks of Catch a Canoe (707-937-0273, catchacanoe.com) to board a handcrafted redwood outrigger that is both beautiful and (thank goodness) incredibly stable. The Big River is stunning, flowing 55 miles westward along the rugged coastal range into Mendocino Bay. The lower eight miles are perfect for canoeing, and we glided peacefully through sea grass flats and under towering redwoods where we caught glimpses of otters, seals, and eagles. The only sounds were the swooshing of our paddles and the pit bulls snoring as they snoozed in the sun. This is a must-do if you love sharing outdoor adventures with your dog.
WHERE TO DINE
Dining with your dog usually means sitting outside or room service. One of the coolest things about the Little River Inn is the oceanfront dog-friendly parlor that presents a rare privilege: dining with your dog indoors (there's only one table, so reserve in advance). Executive chef Marc Dym takes advantage of the local bounty of seasonal seafood and produce. When we visited, wild-caught king salmon was at its peak, served mid-rare with sumptuous spinach purée, Parmesan polenta, and basil coulis. It's also hard to go wrong with charbroiled New York pepper steak topped with mushroom brandy jus, or confit pork "osso bucco" — unctuous, slow-braised shank served over polenta with fennel marinara sauce and roasted garlic red chile broccoli.
For lunch and lighter fare, the proper clam chowder made my Rhode Island roots giddy — a briny, juicy, thin broth full of fresh steamed clams (in the shell), smoky bacon, potatoes, onion, celery, and just a touch of cream. Steve ordered calamari, dusted with rice flour for extra crispness and flash fried. I'm usually not a huge fan of fried calamari, but I couldn't stop eating these.
For breakfast, I had to try the legendary Ole's Swedish hotcakes — light, thin, crepe-like pancakes dusted with powdered sugar and a squeeze of lemon. Steve enjoyed the crab cake Benedict, and the dogs were greeted with biscuits and tons of attention (which they liked even better than the biscuits).
WHERE TO SHOP
Mendocino Village provides shopping with more of those incredible Pacific Ocean views. I collect mermaids, so I loved the small sea-themed stores featuring mermaid items; Steve's into books so he visited Gallery Bookshop (Main and Kasten Streets,
707-937-2665, gallerybookshop.com). We both love chocolate, so we picked up some decadent handmade "Coastal Redwood Bark" (white chocolate dotted with fresh raspberries) at the Mendocino Chocolate Company (10483 Lansing Street, 707-937-1107, mendocino-chocolate.com). And for the kids, Out of this World (45100 Main Street, 707-937-3335, outofthisworldshop.com) offers a wide array of telescopes and science-related toys.
On our way out of town, we took the dogs for a ride on the historic Skunk Train (299 East Commercial, Willits, 707-964-6371, skunktrain.com) along the iconic Redwood Route. Sky and Blue were the only dogs onboard, so they became the mascots for our fellow passengers. The gift shop at the station is a hidden gem for finding unique California-themed items, such as postcards made from packets of native wildflower seeds, and like most places in Mendocino, Skylar and Blue were welcomed.
For more information on Mendocino, visit mendocino.com or call 888-636-3624.