Since celluloid began threading through projectors, the movie industry has banked on exploiting our love of love stories. That's continued today as digital code translates into sound and light for the purpose of making our hearts swell and tear ducts leak. Over the decades, there's been no shortage of feature films about couples coming together in amusing or stressful circumstances, traversing comedic or dramatic gauntlets and, more often than not, attaining happy endings of one sort or another. And frequently the studios and distributors take the obvious route of releasing such projects on or around Valentine's Day.
Movies about lovers are as de rigueur in mid-February as bouquets of flowers and boxes of chocolates. Director Garry Marshall actually built his 2010 ensemble comedy Valentine's Day around the holiday. Perhaps hedging his bets, he also top-loaded it with star power: Julia Roberts, Jennifer Garner, Anne Hathaway, Shirley MacLaine, Bradley Cooper, Jamie Foxx, and a few more big names or talents on the rise. Not that the final product was anything beyond mediocre. But it was released on Feb. 12, two days before Cupid's big blast, and went on to gross over $215 million. Pretty good numbers for a romantic comedy — especially a tepid one.
People have their favorite romance movies and are known to watch them over and over. For instance, when my sister wants to get a dose of cinematic lovey-dovey, she goes for the classics. Her motion pictures of choice are the elegant 1957 weepy An Affair to Remember with Cary Grant and Deborah Kerr and the 1980 sci-fi fantasy Somewhere in Time with Christopher Reeve and Jane Seymour. And she has at least one less-heralded go-to in the genre: the sweeping 2008 historical saga Australia, starring Hugh Jackman and Nicole Kidman. At almost three hours in length, this Down Under epic is a bit of a slog and also suffers from odd shifts in tone, but my sister adores Jackman and Kidman and eagerly watches their affair evolve when she craves a shot of onscreen passion.
These days, you'd expect a market clamoring for the sort of escapism promised by Hollywood tales of love, but the most significant relationship films that are coming out in the general vicinity of Valentine's Day 2021 are two rather dark dramas about older couples in crisis. For all their downbeat aspects, Supernova and Two of Us address the capacity of love to foster devotion, in line with the familiar marital vow promising steadfastness "in sickness and in health."
NAVIGATING LOVE AND LOSS
Supernova, written and directed by Harry Macqueen, concerns the committed partnership between Sam, a well-known concert pianist played by Colin Firth, and Tusker, an acclaimed author played by Stanley Tucci. These companions of 20 years have been out and proud, and now they're taking a road trip through the British countryside on their way to a special recital by Sam. Rather than a joyful getaway, the journey, including stopovers with friends, is fraught with trepidation because Tusker is grappling with dementia. It doesn't take long to realize that there's a crossroads ahead, and an emotional collision is inevitable. To the actors' credit, they never overplay the situation and still earn our concern. Tucci, in particular, is marvelous as Tusker confronts the possibility of losing so much so soon and worries how it will impact Sam. The depiction of fidelity and the potential for tragedy are palpable and powerful. 
Supernova is in theaters and will be available via digital platforms on Feb. 16.
As for the twosome of Two of Us, their coupling is a problem in itself. The drama, France's submission for the upcoming Academy Awards, finds the clandestine love between Nina (renowned German actress Barbara Sukowa) and Madeleine (Martine Chevallier of the Comédie-Française) threatened by multiple crises. For years, these two women have lived in separate apartments across a hall from one another, but they've been lovers on the down-low the entire time — and careful not to tell the family of the once-married Madeleine. Now retired and longing to live openly, Nina and Madeleine plan to leave France for Rome and move in together, until unforeseen developments force them to dig deep in different ways and somehow salvage their shared future. Neither character is above reproach in the way they react to the challenges they face; Nina is particularly desperate. Nonetheless, Sukowa and Chevallier keep them genuine and sympathetic.
Two of Us will open in theaters and be available digitally on Feb. 5.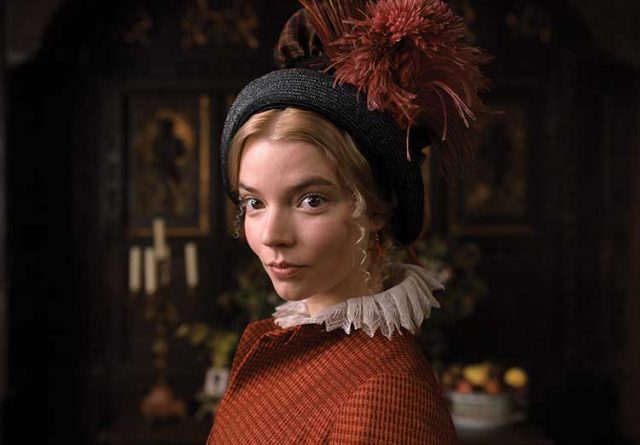 THE LIGHTER SIDE OF ROMANCE
Although the mix of sad and sweet provided by Supernova and Two of Us can be satisfying, you may be seeking a lighter mood in the spirit of Valentine's Day. Consider this pair of recent movies concerning the things we do for love — or what love does to us. Emma is the latest screen adaptation of the eponymous 1815 novel by Jane Austen. Even if the material is familiar, director Autumn de Wilde has delivered a fresh, delightful interpretation of Austen's 19th century comedy of manners about a good-looking, well-to-do, and clever young woman whose desire to meddle in the romantic lives of her friends prevents her from realizing there could be an ideal partner for her in close proximity. Anya Taylor-Joy, currently reaping kudos for her performance in the binge-spurring miniseries The Queen's Gambit, is adorable as Emma, the perfect blend of sophistication, smugness, and genuine decency. Her supporting cast, including Bill Nighy as her father, Johnny Flynn as the aristocratic boy-next-door, and Mia Goth as the dear friend Emma wishes to assist, are just right.
In a more contemporary vein, Plus One tags along with two young, recently single friends, Ben and Alice, who decide to escort one another to the summer's string of weddings because everyone around them is getting married. Their plan is for Ben to be Alice's wingman and vice versa as they each try to hook up with someone new and wonderful. The result is a fine rom-com. The leads are played by a couple of show-biz legacy kids: Jack Quaid, son of actors Dennis Quaid and Meg Ryan, and Maya Erskine, daughter of jazz drummer Peter Erskine. They're both really good, and Maya is a genuine discovery — brash, sometimes profane, yet lovable. Plus One may seem like a trifle at first. Still, it has so many honest moments about modern relationships and the wavering line between friendship and love that it is, in fact, quite a gem.
VINTAGE LOVE FROM THE VAULTS
As alluded to in this piece, there are many vintage romantic movies that deserve a revisit and are available on cable outlets or via the streaming services with deep libraries. On the classic comedy side, you'll find Clark Gable and Claudette Colbert bickering and falling for one another during a road trip in Frank Capra's adorable 1934 rom-com It Happened One Night. How about The Lady Eve, the piquant, surprisingly moving 1941 screwball comedy about a female con artist (Barbara Stanwyck) trying to fleece the nerdy heir (Henry Fonda) to a brewery fortune — a masterpiece from the masterful filmmaker Preston Sturges? Also of this wacky ilk: The Shop Around the Corner (1940), Bringing Up Baby (1938), and His Girl Friday (1940).
Legendary tear-jerkers in the manner of An Affair to Remember include the 1942 wartime gem Casablanca — pure power and passion in a tale of reunited star-crossed lovers Rick (Humphrey Bogart) and Ilsa (Ingrid Bergman) who try to survive treacherous circumstances in the exotic North African city of the title. Along similarly heart-breaking lines: the evergreen Gone with the Wind (1939), A Matter of Life and Death a.k.a. Stairway to Heaven (1946), and Brief Encounter (1945).
Roman Holiday, Audrey Hepburn's delightful 1953 coming-out party, is a chaste pleasure wherein she plays a princess who meets a smitten newspaperman (Eddie Albert) and goes among commoners for the first time. The grandiose 1967 adaptation of the best-selling novel Doctor Zhivago presents suave Omar Sharif and dewy Julie Christie as its lead lovers amid snowy post-Russian Revolution landscapes. For fantasy fans, Jean Cocteau's La Belle et la Bête is the artist's visionary, dreamlike 1946 take on the Beauty and the Beast fable.
MAKING YOUR HEART SING
You can even go the musical route with the brightly-colored 1964 French bauble The Umbrellas of Cherbourg, starring a young Catherine Deneuve and featuring the bittersweet songs of Michel Legrand. And West Side Story — the 1961 movie of the Broadway hit — moves Shakespeare's Romeo & Juliet to New York's inner city neighborhoods and updates it with enduring music by Leonard Bernstein and lyrics by Stephen Sondheim.
Great couples and great couplings abound in the studio vaults: Bogie and Bacall in ToHave and Have Not, Woody Allen and Diane Keaton in Annie Hall, Patrick Swayze and Demi Moore in Ghost, Richard Gere and Julia Roberts in Pretty Woman, Jack Lemmon and Shirley MacLaine in The Apartment, and Leonardo DiCaprio and Kate Winslet in Titanic. And if you're feeling particularly randy, the go-to comic couple is Meg Ryan and Billy Crystal in 1989's When Harry Met Sally; the orgasm-at-a-deli scene will either quell your erotic impulses or fire you up, even as it makes you laugh.
Michael Snyder is a print and broadcast journalist who covers pop culture on Michael Snyder's Culture Blast, via GABNet.net, Roku, Spotify, and YouTube, and The Mark ThompsonShow on KGO radio. You can follow Michael on Twitter: @cultureblaster