Since its inception, the movie industry has had a recurring problem with the marginalization of women. Actors never wanted for strong lead roles, while actresses struggled to find on-screen opportunities beyond supporting parts as wives, lovers, ingénues, and the occasional wise elder. Consequently, it's been gratifying to watch a spate of new feature films that spotlight female characters and are graced by memorable performances from women who are each at the pinnacle of their craft.
Even as recently as the 1990s, male-centric movies have predominated. There have been exceptions over the years, as distaff stars from Louise Brooks and Mary Pickford to Katherine Hepburn and Bette Davis to Meryl Streep and Julia Roberts were front and center on various film projects, albeit sometimes co-billed with masculine counterparts. But the rise of such bankable and acclaimed actresses as Kate Winslet, Nicole Kidman, and Julianne Moore, coupled with an increase in the number of women directing movies, appears to be redressing the balance.
In the recent weeks, we've seen bravura performances from relative newcomers (Ana de Armas as Marilyn Monroe in the fictionalized biopic Blonde and Mia Goth in the indie horror movie Pearl) and savvy veterans (Sigourney Weaver in the prickly dramedy The Good House, Emily Watson in the seaside village psychological drama God's Creatures, and Thandiwe Newton in the class-conscious mix of mystery and thriller God's Country). And three current and particularly powerful films should bring accolades to their respective stars — Cate Blanchett, Viola Davis, and Aubrey Plaza — as awards season rolls around.
'TÁR'
Cate Blanchett's work in a broad range of genres — period drama (Carol), fantasy (The Lord of the Rings), apocalyptic comedy (Don't Look Up), and more — has earned her seven Academy Award nominations and two wins (Blue Jasmine and The Aviator). Tár, released in theaters this past month, is Blanchett's latest justifiable bid for a best actress Oscar with her magnificent embodiment of title character Lydia Tár, a pioneering, world-renowned orchestra conductor and scholar at the height of her career.
Played by Blanchett in tour de force style, Tár seems to have it all. She's in charge of a major orchestra in Berlin and is about to conduct a high-profile performance of Mahler's Fifth Symphony. She has an eagerly awaited book about to be published. She and her wife, lead violin in the Berlin orchestra, are devoted to raising their elementary school-aged daughter.
But Lydia has had to surmount many obstacles to get where she is —and she's arrogant to the point of rolling over anyone who doesn't agree with her perspective and philosophy or doesn't let her do what she wants. And that heedless attitude, coupled with her appetites, could bring her down in tragic fashion, especially in our age of cancel culture. Written and directed by Todd Field, Tár methodically shifts from slow-burn to blistering, while Blanchett is absolutely stellar throughout.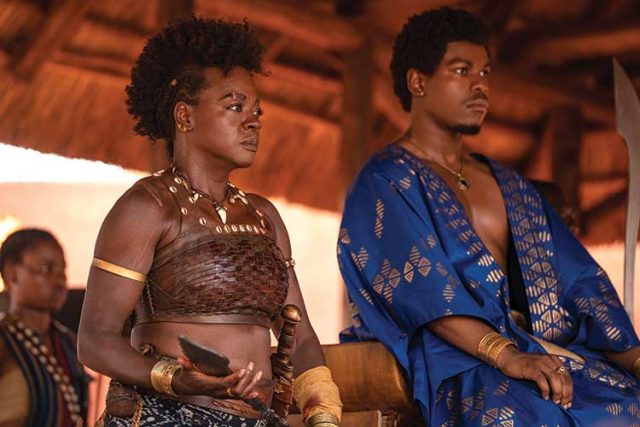 'THE WOMAN KING'
Currently in select theaters and scheduled to be streaming on-demand Nov. 23, The Woman King is an exciting and revealing historical epic. Based on the true story of the Agojie — an all-female warrior unit that protected the West African kingdom of Dahomey during the 17th to 19th centuries —the film gives Viola Davis an opportunity to portray a noble and imperious leader while also playing an action hero.
The Woman King concerns one unit of the Agojie dealing with white colonial slavers and enemies of Dahomey and its king. It would be quite a task to turn the larger-than-life figure at the heart of this story into someone believable and relatable —and Davis is up to it. While offering moments of vulnerability, Davis is at her most magnetic as the brave and dedicated General Nanisca who instructs new recruits, while rallying the Agojie troops to fend off aggressive neighboring tribes and protect Dahomey's citizens from being captured and sold into slavery.
The Agojie were clearly the inspiration for the Dora Milaje warrior women of the fictional African nation of Wakanda in Marvel Studios' Black Panther. Consequently, The Woman King serves as an eye-opening introduction to a genuine culture and way of life that we seldom see depicted on the big screen. In addition to being a well-deserved yet unconventional showcase for Davis, The Woman King, which is directed with passion and verve by Gina Prince-Bythewood (The Old Guard), tells a story that previously might have been buried in the annals of the past. That's something to cheer.
'EMILY THE CRIMINAL'
Aubrey Plaza's career in television and movies got rolling with comedic turns. But in the decidedly serious crime drama Emily the Criminal, she delivers some career-best acting as the titular character. Emily is a would-be professional artist in Los Angeles who's been slapped down by student debt and bad breaks and can't get a decent job due to an incident that resulted in a criminal record. Frustrated by her low-level food-service job and in need of more cash, she does a one-off as a "dummy shopper," which involves purchasing items with stolen credit cards. The easy money is appealing, as is Youcek, the suave young guy who brings her into the questionable operation. So she starts to weigh the risk-reward ratio of continuing with such an illicit business.
As Emily the Criminal progresses, the relationship with Youcef, the stakes, and the tension ratchet up. The movie never seems to go over the top in terms of heist plausibility, and Emily's plight — the vocational hamster wheel of menial jobs in the face of inescapable debt — is all too familiar in modern American society. Dialing down her trademark cocktail of cynicism and sarcasm and using it as a shield, Plaza subtly makes Emily's desperation and determination real and memorable amid the riveting and unnerving heist aspects of the narrative. Emily the Criminal, well written and sharply directed by John Patton Ford, is currently available on various streaming platforms. More significantly, it gives an unconventional actress a first-rate showcase, allowing Plaza to stretch and impress. Like Tár and The Woman King, it's among the best movies of 2022.
Michael Snyder is a print and broadcast journalist who covers pop culture on The Mark Thompson Show, via YouTube, and on Michael Snyder's Culture Blast, via GABNet.net, Roku, and iTunes. You can follow Michael on Twitter: @cultureblaster.