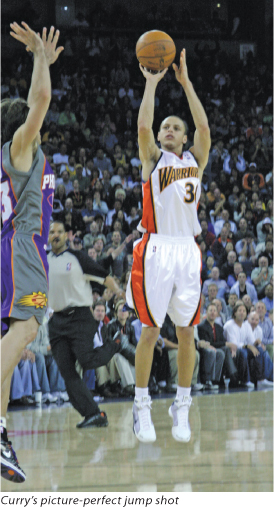 On the evening of the first game of his professional career in the NBA as a Golden State Warrior,  Stephen Curry's 10-minute drive from his Lake Merritt apartment to the Oakland Coliseum was delayed by a traffic jam. It would be one of the few times all season the rookie would be stressed.
"There was a film crew from NBA.com that wanted to document my first opening night. They wanted video footage of me pulling into the parking lot through to when the game started, but they didn't know when I'd be arriving. So when I got to the arena, I walked all the way to the locker room, and when they came in, they were like, 'Agh, we missed your entrance! Can you go back to the car and do it again?'
"So I went out and pulled the car back in, hopped out, and walked back to the arena again so they could film it. I was down on the court 30 minutes later for my warm-up. I thought I'd be nervous the whole time, but it felt pretty natural."
That marvelous comfort level is due not only to countless hours of practice and playing big games, but also from the DNA and experiences passed down from Stephen's dad, 16-year NBA veteran Dell Curry. When his father was a player, he would bring Stephen and younger brother Seth to the court for pregame warm-ups. Most kids are delighted just to be at an NBA game and maybe score an autograph. Curry was in shorts and sneakers, shooting around with the stars of the league.
"My dad played with Vince Carter for three years in Toronto, and I used to play one-on-one against him during practice, [and with] Tracy McGrady too. I used to love playing one-on-one against those guys when I was 11, 12, 13 years old. It was great to see Vince when we played Orlando and actually play against him in a real NBA game. We talked a lot before the tip, and it was very cool to have that kind of connection. I was just a young kid when he was playing with my dad, and now here
I am playing against him at the highest level. He was sort of like, 'Hey, you grew up!'"
Dell Curry reminisced about those days during a recent visit to Oracle Arena, where he was working as an analyst for the Charlotte Bobcats, Stephen's hometown team.
"Steph got to shoot around and play as a kid in front of lots of people – NBA fans and NBA players. He got used to people looking at him, watching him play and shoot at a young age. That experience is not to be underestimated and was invaluable for him."
Flash forward to the current point of this season and some of the highlights the rookie guard has posted along with the company he is keeping in the record books:
• The first triple-double of his career in a win over the L.A. Clippers on Feb. 10 by registering 36 points, 13 assists and 10 rebounds, becoming just the sixth rookie in NBA history and the first since
Kevin Johnson posted a 35-point, 10-assist, 10-rebound performance in 1988.
• In the first quarter of his triple-double game, Curry had 17 points, five rebounds and five assists, which made him the first NBA player in the past 10 years to have at least 15 points, five rebounds and five assists in a single quarter of an NBA game.
• Curry had a total of three 30-plus-point games and three 13-plus-assist games in February. He is the first rookie to record at least three 30-point games and three 13-assist games in the same calendar month since Oscar Robertson in February 1961.
• On Feb. 25 vs. Denver, Curry registered his second game of the year with at least 30 points and 12 assists, joining Oscar Robertson and Michael Jordan as the only players to have more than one such game in their rookie year.
• He was named Western Conference Rookie of the Month for January by averaging 19-plus points, four-plus-rebounds, five-plus-assists, and two steals in 15 games. Also during the month, Curry joined Oklahoma City's Kevin Durant as the only players in the NBA in January to average at least 15 points per game while shooting at least 48 percent from the field, 48 percent from long range, and 89 percent from the line. According to Elias Sports Bureau, Curry is the first rookie in NBA history to post such numbers during a full calendar month (minimum five games played).
In a season full of injuries and trades, the Warriors front office definitely got this draft pick right.
"Besides his scoring ability, he could make the pass in the half court that led to a basket and he could make a pass from the backcourt for a basket," noted Warriors general manager Larry Riley.  "We scouted him in college and came away very impressed with his toughness and leadership abilities."
Curry flew under the radar as a high school player at Charlotte Christian even though he set the school's all-time scoring mark with over 1,400 points. He was named all-state, all-conference, and team MVP while leading his team to three conference titles and three state playoff appearances. He finished his senior season by shooting over 48 percent from 3-point range.
Despite that success Curry went virtually unnoticed by major Atlantic Coast Conference schools. The perception was he couldn't handle the physical nature of the league, so they passed on him.
Because Curry's father played for Virginia Tech and is in their Hall of Fame, Curry wanted to play for the Hokies, but Tech did not offer him a scholarship. Curry's only other scholarship offers were from Davidson College, Virginia Commonwealth and Winthrop. Curry chose Davidson College, a school that had not won an NCAA Tournament game since 1969, but had established a winning program under head coach Bob McKillop.
Virginia Tech was interested, but the Hokies wanted the thin Curry (6-foot-1, 170 pounds) to walk on for one year and take a redshirt season to get stronger. Rather than go to his father's alma mater and wait a year, Curry wanted to go where he would get to play right away.
"Virginia Tech was all I knew growing up," Stephen said. "Once I got into the decision-making process, they sort of took a backseat as far as the best situation for me. There was no better situation than Davidson."
Curry soon established himself as a star on the team. After a rocky first game at home, the next game he scored 32 points in a 78–68 loss against Michigan in Ann Arbor. Curry would wind up averaging 21.5 over his freshman year and lead Davidson to the conference championship victory, earning an automatic bid to the NCAA Tournament. Despite Curry's 30 points, the Wildcats were dispatched in the first round against Maryland in Buffalo. Davidson finished 29–5, including 17–1 in the Southern Conference.
During the 2007–2008 season, Curry transformed his basketball reputation from a highly talented sophomore to a household name. After playing UNC and Duke to close games in the pre-league season, Davidson ripped off a 22-game win streak, finished with an 18–0 conference record, and entered the NCAA Tournament as a number 10 seed.
Against perennial tournament teams, Curry led Davidson to one improbable win after another, toppling number seven seed Gonzaga in the first round, number two seed Georgetown in the second, and number three seed Wisconsin in the Sweet 16.
Curry scored 40 against Gonzaga, highlighted by a 30-point second half with 8 to 10 from beyond the three-point line. In the next game, Curry outscored the entire Georgetown team 25–22 over the final 14:24 to lead Davidson to the 74–70 monumental upset.
The magic continued against Wisconsin as the sophomore phenom poured in 33 points against one of the toughest defenses in the Big Ten.
Looks like the ACC scouts misjudged Stephen Curry.
Against number one seed Kansas in the Elite Eight, the win streak came to an end on a last second shot, and Davidson fell 59–57.
Over the course of four games, Curry had scored 128 points in 160 minutes and was named MVP of the Midwest Division. A combined crowd of 114, 591 came out to watch Davidson in two games at Ford Field in Detroit, with millions more watching on television across the country.
Stephen Curry had become a star.
"The greatest two weeks of my life," Curry fondly recalled.
In the spring after the miraculous NCAA run, he appeared on fellow-Carolinian Charlie Rose's program on PBS, The Early Show on CBS, and Late Night With Conan O'Brien on NBC. He was a finalist for the Wooden Award for the national player of the year. In the summer, he went to the ESPYs as a candidate for breakout athlete of the year, was written about on ESPN.com, on CBSSports.com, on SI.com, and was invited to the elite LeBron James camp.
"Unlike so much of college basketball," wrote Michael Rosenberg of the Detroit Free Press, "Curry is more appealing the closer you get."
"It's impossible,"  The Columbus Dispatch's Michael Arace observed, "to take your eyes off him."
Former Davidson president John Kuykendall noted, "He has so much grace in what he does. I hope it continues, a kind of innocence, a kind of delight, to what he does. He plays basketball like he's playing pickup baseball in the summertime. There's joy in that act, and that's a mark of grace. His jump shots go in from Cornelius and Huntersville, and he doesn't hang around and say, 'Golly, wasn't I good?' I think that's lovely."
Warrior fans have been treated to the wonder of Stephen Curry all season long and many basketball aficionados and analysts across the country are supporting him for Rookie of the Year honors.
With the Warriors scheduled to play the L.A. Lakers on national television this past March 15, ESPN promoted the game with clips of Kobe Bryant and Curry.
As humble and stable as a blue-collar worker with the talent and I.Q. of a basketball Einstein, Stephen Curry is the new face of the Golden State Warriors.