Christmas movies are part of the fabric of Western culture. And no matter how much you hope the season will be about "peace on Earth and good films to all men (and women)," it doesn't always play out that way.
Some holiday movies will genuinely touch your heart. Yes, the corn quotient can appear to be high, especially with the classics. Renowned for its emotional climax set at Christmas, It's a Wonderful Life — the beloved 1946 drama from populist director Frank Capra concerning the immense importance of one ordinary man's life — is a perennial. The line between quintessence and cliché, however, can seem mighty thin when something is so well known and so long-lived. Still, the tears are jerked, the smiles break out, and the good feelings suffuse us, which is probably as Christmas-sy as you can get.
But, as hard as we try, we can't forget the multitude of bad holiday features out there. Alas, for every misfire that can generate unintentional laughs as camp (Santa Claus Conquers the Martians) or sheer idiocy (Arnold Schwarzenegger's Jingle All the Way), there are many more films that are just bad, tedious and painful to watch (Surviving Christmas, Fred Claus, Christmas With The Kranks, Ernest Saves Christmas, Jack Frost, and so on).
So it's off to the vaults for some timeless suggestions that will serve as a livelier alternative to the video Yule log on your home entertainment screen. Here, in alphabetical order, are seven Christmas films that warm my eggnog, trim my tree, and deck my halls. (It's a Wonderful Life isn't included, because it doesn't need to be. It's sacrosanct!) A few are extremely familiar; some not so much. I trust that you'll enjoy some of them, unless you're unlucky enough to succumb to your inner Grinch.
Bad Santa (2003)
Directed by Terry Zwigoff
Surely the most profane Christmas film on this list — and the funniest. Every year, an alcoholic department-store Santa (Billy Bob Thornton) and a conniving little person, who serves as his elf and partner-in-crime, get jobs in a different mall and rob it after casing the place. In the middle of their latest caper, Santa meets a hot bartender who falls for him and a sad, chubby boy who needs a friend. Hilarious and a bit poignant.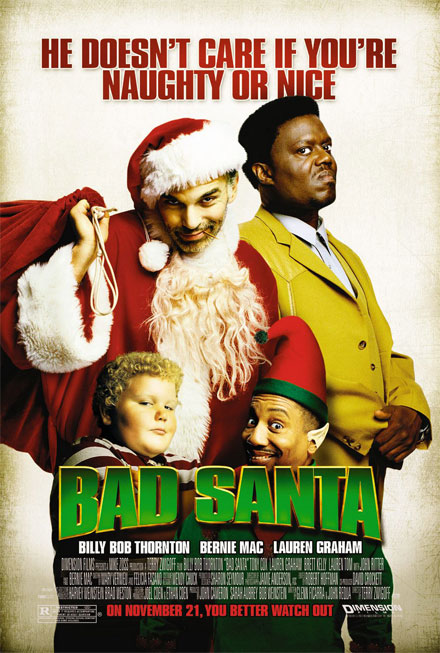 A Christmas Carol (1951)
Directed by Brian Desmond Hurst
There is no better cinematic retelling of Charles Dickens's immortal, supernatural morality tale than this British version starring Alastair Sim as the archetypal Scrooge — a greedy codger for the ages whose overnight conversion to kindness and generosity has true resonance. There have been many live-action interpretations of the story, not to mention various cartoon adaptations from a Mr. Magoo TV special to a recent and less-than-satisfying motion-capture feature. But this nearly flawless template trumps them all.
A Christmas Story (1983)
Directed by Bob Clark
Who'd imagine that the director of the notorious low-brow teen sex comedy Porky's would go on to helm one of the cleverest, most amusing and wholesome Christmas films ever? But he had the advantage of a script drawn from legendary humorist Jean Shepherd's wonderful novelized memoir of growing up in an Indiana town during the Depression. Such a good and durable family-friendly flick that it sometimes runs in marathon repeat Christmas Day showings on a certain cable network.
Elf (2003)
Directed by Jon Favreau
The most unobnoxious role in Will Ferrell's career, to date, is that of an ungainly human adopted and raised as an oversized elf in Santa's workshop until he's sent out into the real world to find his destiny. This cute, cheerful and amusing comedy is also enhanced by the presence of an endearing Zooey Deschanel as the man-child elf's naïve love interest, alongside veteran actors including Edward Asner, James Caan, Mary Steenburgen, and, as Papa Elf, the devastatingly droll Bob Newhart.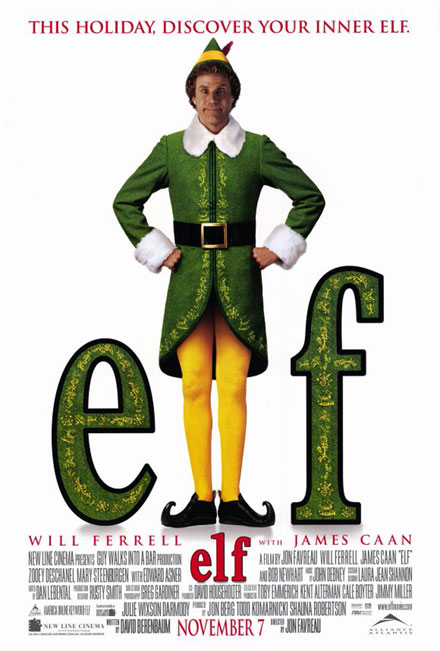 Holiday Inn (1942)
Directed by Mark Sandrich
My favorite Christmas film of all time is a musical mix of romance and comedy that benefits from the seemingly effortless performances of stars Fred Astaire and Bing Crosby — and a collection of holiday-themed tunes (including "White Christmas" in its movie debut) by one of the greatest American songwriters, Irving Berlin. Crosby and Astaire play scheming members of a song-and-dance trio that breaks up on Dec. 24 when they compete for the hand of their female partner. Leaving the act, Crosby's character decides to open an inn in Connecticut where he puts on shows, but only on holidays. Then, Astaire's character decides to snake his former colleague's new girlfriend. Note: This is not to be confused with the inferior 1954 remake White Christmas. And to caution the politically correct: There is a Lincoln's Birthday number done in blackface by Crosby and co-star Marjorie Reynolds.
Miracle on 34th Street (1947)
Directed by George Seaton
I guess another title for this sweet fable could be "Good Santa," with its saintly bearded fellow who gets the coveted Santa gig at Macy's in Manhattan and swears that he's the real Kris Kringle. Despite how cloying a message movie such as this one could be, it's surprisingly down-to-earth. And in addition to note-perfect performances by Maureen O'Hara, John Payne, and Edmund Gwenn as the loveable old geezer with the Claus complex, you get the opportunity to see a very young and super-cute Natalie Wood in one of her first roles.
The Nightmare Before Christmas (1993)
Directed by Henry Selick
Starting with the brilliant idea of one mythical holiday land in conflict and merging with another, this idiosyncratic fantasy features unforgettable characters, exquisite stop-motion animation, and a set of memorable and witty songs by Danny Elfman. The premise involves Jack Skellington, the Pumpkin King of Halloween Town, finding a portal into Christmas Town. He decides to take over the cheerful, previously unfamiliar dimension and replace Santa, with troubling repercussions. Co-written by Tim Burton, it's one of his most charming and enduring creations.