The Decorator Showcase is always fun, but this year's event is a colorful, decade-surfing ode to the good life that shouldn't be missed. Some 38 designers put their personal touches on a 1917 Elizabethan-style mansion at 3630 Jackson Street that was designed by famed architect Julia Morgan for the "Dried Fruit King" Abraham Rosenberg and his wife, Alice. Now through May 25, visitors can explore the house inside and out and witness the transformation (Tuesdays through Sundays, 10 a.m. to 3 p.m.; Sundays and Memorial Day, 11 a.m. to 4 p.m.). From quirky wall coverings and dramatic lighting to vintage furnishings and nature-inspired accessories, a variety of eclectic looks both enliven and ground these sumptuous, highly livable rooms. Here are the 10 top trends at this year's Showcase.
1. Nature-inspired decor. Candace Barnes of Living Green Design said it best when she described the idea behind her grand entryway design. By bringing natural elements, including a Japanese maple tree, inside the house, "guests can make the transition from the outside to the inside less harsh … and keep everyone in the room just a little longer." Like Barnes, several designers take this Mother Nature-loving approach: On the walls of "A Gentleman's Private Lounge" by Eche Martinez is an oversized mural composed of a 19th-century Acadia arboretum etching. A gorgeous glass chandelier depicting branches dripping with icicles is a focal point in Phillip Silver's living room. And floating white peonies in a shallow pool lend a touch of Zen to the "Ode to Innocence" garden patio by Alex Ray and Frank Eddy.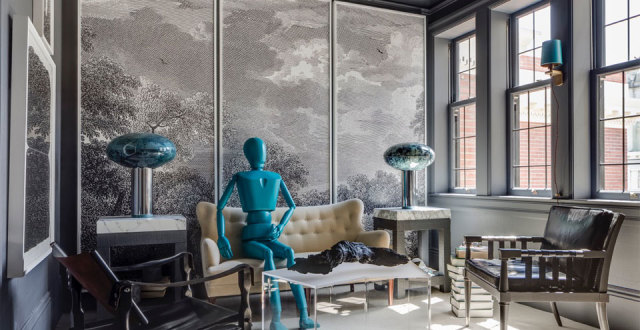 2. Unexpected art. As in past years, three-dimensional, colorful art makes a splash. This year's offerings are more whimsical than ever, with unexpected wall art and sculptures that encourage visitors to stop and admire. Three-dimensional art made from colorful spray-paint cans enlivens Cecilie Starin's "Street Soirée" space. A wall sculpture made from strips of paper maps punctuates the wall near a stairwell. An attention-grabbing sculpture constructed of gold metallic leaves hangs above a mantle in Phillip Silver's living room. And the compelling eye images in Jane Richardson Mack and John Romaidis's art installation, "Stare Well," make you do a double take on your way down to the lower level.
3. Dramatic lighting. Show-stopping lighting is all the rage at this year's Showcase. Barnes chose a contemporary Bohemian glass chandelier from Prague, courtesy of Lasvit, for ultimate effect in her grand entryway. For her "Jeune et Sophistique" bedroom, Amy Weaver shipped in from France a fanciful ceiling light in the form of a white dress by Parisian artist Geraldine Gonzalez, while the light in a neighboring closet takes the form of a blue Tiffany box wrapped in ribbon. And Martinez selected a jet engine light fixture to complement the jet-setting theme of his "Gentleman's Room."
4. Creative walls. If these walls could talk, they would surely have something inspirational to say. Designers Jennifer Wundrow and Heather Brock of Nest Design Co. selected a daring lip-print wallpaper by Voutsa for a sexy look in their bathroom entitled "Lip Service." Evars + Anderson Interior Design chose a Christian Lacroix wallpaper with a colorful butterfly print and 3-D effect to make a small utilitarian laundry room more fun to fold clothes in. Barnes's staircase pays homage to Morgan, with quotes by the architect hand-drawn by calligraphy artist Shannon Kaye. And Starin added drama to her "Street Soirée" by wrapping the walls in a compelling mural by San Francisco street artist Ian Ross.
5. DIY. Yes, even exclusive designers are getting into the do-it-yourself act, with several at this year's Showcase creating or commissioning one-of-a-kind accents for their rooms. Wundrow and Brock constructed a striking metal backdrop for a cast-iron tub by nailing super-thin sheets of brass to the walls. Tineke Triggs of Artistic Designs For Living transformed a James Malone fabric depicting Vogue magazine covers into wallpaper in her "En Vogue Salon." And Italian-born designer Glenda Flaim created her own red silk drapes (called Fatto a Mano for "Made by Hand") in a Julia Morgan-inspired dressing room.
6. Groovy colors. While this year's palette runs the gamut from sophisticated blue-grays to nature-inspired neutrals, mod colors stand out. Perhaps this is an appropriate trend, as the hit series Mad Men wraps up, and 1960s fashions continue to come off the runways, but bright, almost-psychedelic colors like pink, fuchsia, tangerine, turquoise, and teal seemed to have jumped off an Emilio Pucci dress directly into many of these rooms. Acid-green silk velvet benches jazz up Starin's dining room. Shades of crimson, tangerine and blush brighten Nest Design's lip-themed bathroom. Hot pink and teal enliven Kathleen Navarra's family room. And lots of pink and orange punch up Silver's Yves Saint Laurent-inspired living room.
7. His and hers. The girls and boys get their own spaces inside the house this year. For the ladies, several designers went back to the boudoir for inspiration. Glamorous soaking tubs, feminine colors (think pink), and sultry ornamentations find their way into powder rooms, closets and bedrooms, from Triggs's high-fashion-inspired salon featuring gem-like pendants and a dramatic glass chandelier, to the soaking tub and girly lipstick theme of Nest Design's powder room, to Hilliard Design's elegant dressing room glammed up with fashion prints. For the guys, "Gentleman's Bathroom" by Nancy Evars and Dimitra Anderson feature masculine elements like a black-and-white mosaic floor and a black-stained wood vanity topped with polished black marble.
8. Hobbies on display. Many of the rooms flaunt recreation and playtime, and a lived-in atmosphere where the television is actually turned on in the living room and music plays in various areas of the home. The focal point of the "Pent Room" by Jeff Schlarb of Green Couch Interior Design is a pool table, but guitars and other playful elements are also on display. Allison Caccoma's kids' playroom includes a karaoke machine, art supplies, and music-themed pillows. A skateboard collection is displayed inside the closet of a boy's bedroom by William Racké and Susan Chastain. And we mustn't forget Jane Richardson Mack's wine cellar, an elegant space likely designed with Bay Area wine collectors in mind.
9. Heavy metal. Industrial-inspired accents revved up many of the rooms. From Barnes's custom bronze Pyramid table in the "Grand Entry" to the striking metal chandelier hanging over the dining room in "Street Soirée," solid and mixed metals are everywhere. Metal niche shelving lends an edge to Julie Rootes's powder room. An oak and metal island punctuates Kathleen Navarra's kitchen, and a sleek wood-and-metal bar gives Alison Davin's tea salon a refreshingly modern look. Found cast iron was also used to create Gale Jesi's sculptures in the third floor landing/gallery.
10. Vintage accents. Designers can't get enough of surfing the decades — and centuries — for inspiration. This year, Eche invited into his gentleman's quarters a Frits Henningsen settee from the 1940s. Evars and Anderson added glamour to their men's bathroom with a vintage crystal-and-bead pendant light. Racké and Chastain chose a mid-century desk and chair for their boy's bedroom, while Triggs's salon includes a 1962 vintage chandelier. Look for these and other vintage furnishings and accessories peppered throughout the house.